Service Level Management (SLM)
Service Level Management (SLM) is a process used in IT service management (ITSM) to define, monitor, and review the performance of IT services. The goal of SLM is to maintain and gradually improve business productivity and customer satisfaction by ensuring that the service delivery and support meet the agreed service levels.
Purpose and Role: The primary purpose of SLM is to establish clear service delivery standards and ensure that IT services align with business objectives. SLM defines service level agreements (SLAs) that outline the expected level of service between a service provider and a customer.
Service Level Management (SLM) deals with negotiating, agreeing, and documenting existing services with some level of policies. SLM deals with the following two kinds of agreements:
Service Level Agreement (SLA)
Operational Level Agreement (OLA)
The following diagram describes activities involved in SLM process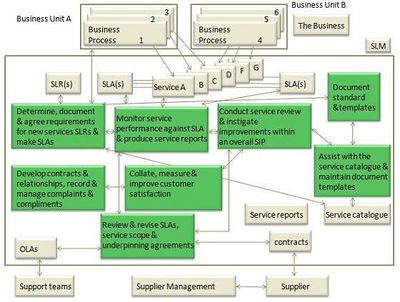 Components: Key components of SLM include:
Service Level Agreements (SLAs): These are formal agreements that define the level of service expected from the service provider.
Operational Level Agreements (OLAs): These are agreements between the IT service provider and another part of the same organization that assists with the provision of the service.
Underpinning Contracts (UCs): These are contracts with external suppliers that support the service provider's delivery of IT services.
Importance: SLM is critical to ensuring that IT services meet the needs of the business and customers. By defining clear performance metrics and standards, SLM helps prevent misunderstandings and conflicts over the level of service expected.
History: SLM has its roots in ITIL (Information Technology Infrastructure Library), a set of detailed practices for IT service management that focuses on aligning IT services with the needs of the business.
Benefits: SLM benefits include improved customer satisfaction through more reliable service delivery, clearer communication and understanding between service providers and customers, and better alignment between IT services and business objectives.
Pros and Cons:
Pros: Improved service delivery, greater customer satisfaction, reduced risk of service failures, and improved communication between IT and business units.
Cons: It can be time-consuming to establish and manage SLAs, and it may be challenging to accurately define service levels that align with business objectives.
Examples: For instance, a cloud service provider may establish an SLA with a customer that outlines specifics about uptime (e.g., the service will be available 99.99% of the time), speed (e.g., data will be transmitted at a certain speed), and support (e.g., issues will be resolved within a certain timeframe). The provider uses SLM processes to monitor service performance and ensure it meets the standards outlined in the SLA.
See Also
References