Enterprise Asset Management (EAM)
Enterprise asset management (EAM) is the lifecycle management of the physical assets of an organization. It covers subjects including the design, construction, commissioning, operations, maintenance and decommissioning or replacement of plant, equipment and facilities. "Enterprise" refers to the scope of the assets in an Enterprise across departments, locations, facilities and, potentially, supporting business]] functions eg; Finance & GL, Human Resources and Payroll. Various assets are managed by the modern enterprises at present. The assets may be fixed assets like buildings, plants, machineries or moving assets like vehicles, ships, moving equipments etc. The lifecycle management of the high value physical assets require regressive planning and execution of the work.[1]

Enterprise asset management (EAM) consists of asset register, work order management, inventory and procurement functions in an integrated business software package.[2]EAM software usually follows ISO 55001:2014, an international standard for asset management systems.

Enterprise asset management (EAM) means the whole life optimal management of the physical assets of an organization to maximize value. It covers such things as the design, construction, commissioning, operations, maintenance and decommissioning/replacement of plant, equipment and facilities. "Enterprise" refers to the management of the assets across departments, locations, facilities and, in some cases, business units. By managing assets across the facility, organizations can improve utilization and performance, reduce capital costs, reduce asset-related operating costs, extend asset life and subsequently improve return on assests. Enterprise asset management is the business processes and enabling information systems that support management of an organization's assets, both physical (such as buildings, equipment, infrastructure etc.) and non-physical (such as fixed, IT, and digital asset management). In capital-intensive industries such as utilities, process/discrete manufacturing, healthcare as well as real estate, physical assets (buildings, infrastructure and equipment) form a significant proportion of the total assets of the organization. These industries face the harsh realities of operating in highly competitive markets and dealing with high value assets and equipment where each failure is disruptive and costly. At the same time, they must also adhere to stringent occupational and environmental safety regulations. Figure 1. below is a graphic that illustrates the point. It is thus important for organizations to maximize the return on investment from their asset base. EAM is a paradigm employed to achieve that goal. As business and market requirements are dynamic, the output specifications for the organization's assets change constantly (e.g., increase in output capacity due to new customers). EAM provides the framework for capital and labor allocation decision processes across the competing categories of equipment addition/ reduction, replacement, over-hauling, redundancy setup and maintenance budgets in order to meet business needs.[3]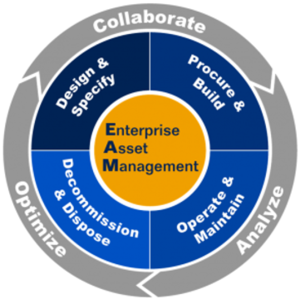 Figure 1. source: Norm Poynter

EAM is categorized as follows:
Physical asset and infrastructure management
IT service management
Digital asset (electronic media and content) management
Fixed asset management and accounting
Emerging asset management

The EAM framework optimizes and extends asset life cycles and reduces Total Cost of Ownership (TCO) while maximizing Overall Asset Productivity (OAP) and Return on Assets (ROA), which is key for manufacturing and similar industries with high-value equipment. In summary, EAM is geared toward the following results:
Maximized ROA
Reduced costs and risks
Improved asset decision making
Compliance with required regulations
Increased asset service responses and enhanced efficiency
Lowered TCO[4]

The Importance of Enterprise Asset Management (EAM)[5]
A properly implemented EAM system provides answers to the who, what, where, when, why and even how of your assets:
Who is using the asset, or last used it?
What is the assets description, specifications and value?
Where is the asset now and where has it been?
When is the next scheduled maintenance and when was the last maintenance performed?
Why should we keep this asset? Is it contributing to profit-making efforts?
How do we fix or maintain the asset?

Functions of Enterprise Asset Management (EAM) software (See Figure 2.)[6]
Most full-fledged EAM suites have features for executing all the typical business functions of EAM -- see the figure.
What research firm Gartner calls core EAM focuses on maintaining an accurate, detailed database of assets, their characteristics and history, as well as documents about regulatory compliance. Because the registry is involved in most aspects of EAM, organizations sometimes employ master data management to ensure the accuracy of asset data. Financial management and analytics tools are also commonly included in EAM software.
Asset lifecycle management is another common EAM software feature. It encompasses the major stages of an asset's life, from initial design to planning its production -- or construction, if it's a building or other infrastructure -- warranty management, decommissioning and disposal.
Supply chain management is essential in EAM because materials and components must be secured for building, maintaining or repairing assets. Most EAM software has features for inventory management, materials management and procurement. Demand planning tools can help with forecasting.
Maintenance planning and scheduling is arguably the most heavily used component of EAM, apart from the asset registry. Here, EAM software users keep track of available personnel and their skills, issue work orders for maintenance or repair jobs, record hours, and arrange for payment. Predictive or preventative maintenance features, typically powered by the EAM software's analytics tools, are common, and there may be project management software to manage more complex jobs.
Early EAM software was standalone, or it was networked and operated by multiple users who entered data manually. Today, much of the asset data comes in automatically from sensors attached to the asset and connected over wireless or wired networks, sometimes across thousands of miles, to the EAM system. This connectivity enables remote monitoring of assets, as well as mobile access to the EAM software.
EAM software is often integrated with ERP software, primarily for accounting purposes, though some organizations also use their ERP system's procurement; human capital management; supply chain management; and environment, health and safety functions instead of, or in combination with, those in the EAM software. An EAM package might also be integrated with niche software that handles a subset of the EAM process, typically with a computerized maintenance management system (CMMS) or with maintenance, repair and operations (MRO) software.
Integration with a GIS can provide improved mapping by showing asset locations and maintenance routes. Also, 3D visualization software can augment an EAM system's asset information.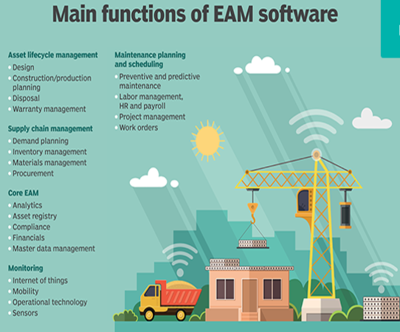 Figure 2. source: Techtarget

Best Practices for a Successful Enterprise Asset Management (EAM) Implementation[7]
When preparing to launch an EAM system or program, consider the following best practices to prepare for a successful implementation that delivers long term results.
The first question to ask is, who is responsible for EAM… Information Technology (IT), operational and/or administrative departments, leadership? The answer is everyone. While organizations will assign responsibility to an EAM lead, the success for large EAM implementation lies with the "buy in" and support from all levels of the organization.
Make the business case by identifying costs upfront, for both labor and materials, and the anticipated benefits your organization will realize. Benefits may include increases in fleet availability and warranty cost recovery; reductions in material and purchasing costs; reduction in new equipment costs and inventory levels; and last but not least, improvement in labor productivity. Having the whole picture avoids misleading corporate expectations and negative views of the new EAM program.
Industry-specific regulatory requirements should be accounted for and included in the EAM planning process. For U.S. federal surface transportation, the Moving Ahead for Progress in the 21st Century Act (MAP-21) provides required guidelines for the Federal Transit Administration (FTA),the definition of the term "state of good repair," and related standards for measuring the condition of capital assets (including equipment, rolling stock, infrastructure and facilities). A key component of the Transit Asset Management (TAM) requirement is the development of a TAM plan to preserve and expand transit investments. Having well maintained, reliable transit infrastructure—track, signal systems, bridges, tunnels, vehicles and stations—will help ensure safe, dependable and accessible services. The Occupational Safety and Health Administration and Environmental Protection Agency are additional examples of regulatory agencies.
Make use of available industry best practices, such as PAS 55 and ISO 55000. PAS 55 was published by BSI British Standards and provides an objective structure for good asset management. ISO 55000 is an international standard that covers the management of all physical assets. Organizations previously using PAS 55 can migrate to ISO 55000. Having a common structure with common terminology reduces the chance for "apples and oranges" within EAM.
Acknowledge that EAM program implementations are complex and engage your stakeholders early and often. EAM is a living process and stakeholders as well as IT professionals should continue to monitor their business processes and system performance against corporate objectives and goals on an ongoing basis, both during and after program completion.

Enterprise Asset Management System as a Platform (See Figure 3.)[8]
A useful and often quoted definition of asset management comes from the text of the British Standards Institute Publically Available Specification (PAS) 55: Optimal Management of Physical Assets.
    "Asset management is the "systematic and coordinated activities and practices through which an organization optimally and sustainably manages its assets and asset systems, theirassociated performance, risks and expenditures over their life cycles for the purpose of achieving its organizational strategic plan."

The Enterprise Asset Management system should be the central point that receive all the physical and financial information of assets from all touch points in the asset's lifecycle, and update the information to other systems. The Enterprise Asset Management is a separate system from the other systems and tools, but it's a system that connects with all the other applications, such as procurement, fixed asset management, project management, maintenance, warehouse management, mobile asset tracking, resource scheduling, and work order management tool.

Enterprise Asset Management System as a Platform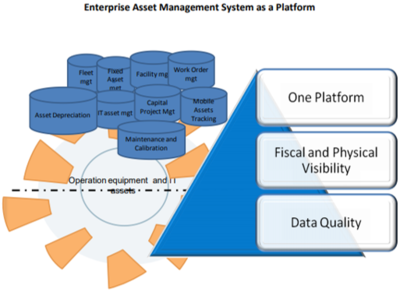 Figure 3. source: mhi.org

Enterprise Asset Management system should be a platform. Unfortunately, this concept of Enterprise Asset Management system as a platform is still new. There are two key reasons for the lack of adoption for this concept: out dated legacy technologies and lack of focus on achieving better return on investment in equipment.
From a technology perspective, Software as a Platform (SaaP) is a new concept. Most organizations are still dealing with a lot of applications that don't talk to each other. They haven't started thinking about how to streamline their application portfolio.
From an operational perspective, enterprise asset management had not been an operational focus until recently. In some asset heavy industries like manufacturing, oil and gas, they have
been focusing on the Maintenance applications, or Computerized Maintenance and Management System (CMMS). The CMMS application will help to manage the costs of their fixed assets, and that's where they focus on managing assets. That's perhaps why the sometimes, Enterprise Asset Management (EAM) system is discussed as if it were in the same category of interchangeable with Computerized Maintenance and Management System (CMMS). But EAM and CMMS are different applications. EAM is better suited to be the platform, why CMMS is perhaps one application on the platform for most organizations.
In the past few years, when businesses are dealing with shrinking operating margins and government agencies are dealing with shrinking budget, they begin to focus on extracting value from managing assets. That's why there is an increasing attention to the enterprise asset management systems, which prompted the update of the standards for enterprise asset management business processes and tools. The ISO 55000 for asset management is going to be introduced in 2014, and most organizations are gearing up to be certified for that standard.

Optimizing Enterprise Asset Management (EAM) Through IoT[9]
Achieving higher visibility through connected devices eliminates inconsistencies and errors that result from manual tracking and data entry. EAM is a powerful way to drive reliability, operational effectiveness, asset planning and scheduling for manufacturing, supply chain operations as well as Maintenance, Repair and Overhaul (MRO) management. At its core, the IoT optimizes EAM by bringing disparate systems, sensors and information together, making data accessible and actionable in several fundamental ways:
End-to-End Solutions. End-to-end solutions exist for leveraging enterprise-wide IoT deployment. Upper-level management and command control centers can access information collected by sensors in real time. With the IoT, connected assets allow for increased collaboration between maintenance, operation, and performance, enabling a cohesive push toward continuous improvement throughout an organization.
Automated Systems. Automation is the heart of the IoT. It streamlines data collection and analysis to provide detailed, as well as broad, asset risks and opportunities. This promotes faster decision making and more effective risk management.
Predictive Maintenance via Big Data. Knowing asset location and status is great, but knowing when a failure might unfold – before it happens – gives enterprises a crystal ball into the future. Next-generation EAM leverages analytics and Big Data to identify relationships between asset performance and malfunction, and reduces downtime by notifying MRO team members of necessary maintenance to prevent such failures.
Decreased Asset Costs. Less downtime leads to a reduced total cost of ownership of assets. Since problems can be corrected before they occur, overall equipment life expectancy increases.
Accurate, Lean Inventory Management. While maintaining inventory, whether its spare parts or product stock, remains crucial, analytics also empower better demand forecasting. Supply chain managers can move to a just-in-time (JIT) replenishment model, reducing carrying costs, as well as reducing logistics costs, effectively reducing the burden on assets and increasing asset performance.

Benefits of Enterprise Asset Management (EAM)[10]
In facilities and real estate management, EAM includes buildings, infrastructure, and technical installations as well as assets such as space, workspaces, fleet, vending machines, meeting rooms, and employee centric assets and facilities. The primary goal of EAM is to optimize the full life cycle of these assets by:
standardizing, integrating, and continuously optimizing asset related processes
achieving more flexibility in usage and a more effective utilization of assets
operating and maintaining assets at lower cost
increasing continuity, reliability, and security of assets
complying with health and safety legislation and asset lease accounting regulations
reducing the sustainable impact of assets
replacing non-performing assets

Enterprise Asset Management (EAM) Structure and Challenges (See Figure 4.)[11]
EAM is defined as "the set of integrated processes and tools for managing and maintaining operational assets at target service levels while optimizing life-cycle costs and asset life." As such, it combines three core disciplines, all of which must work in concert if the system as a whole is to function smoothly:
Asset management: Planning for and managing all assets through their entire life cycle, from when they are put into service through major maintenance and upgrades to final decommissioning
Maintenance management: Conducting required preventive and reactive asset maintenance
Workforce planning: Managing the maintenance workforce
A well-structured EAM program incorporates these three disciplines, which must be tightly integrated. The overall asset and maintenance management strategy, based on the company's operational and business needs, governs the program. That includes the assets themselves, and an asset management plan tailored to each asset or group of assets over its entire life cycle — acquiring, maintaining, and monitoring the asset; refurbishing it as needed; and replacing it when its life cycle ends. The program also covers financial management of the assets, including projections, estimates, and budgeting. The overall strategy should also determine how the team responsible for managing the assets will function, what processes are needed to monitor the asset through its life cycle, and what IT systems are required to support those processes (see Figure 4.). As straightforward as this structure seems, many companies and senior leaders remain unhappy with their EAM efforts. While every company's situation is different, there are essentially six primary reasons that many such programs don't meet expectations: poor EAM strategy development; inadequate stakeholder management; poor processes and procedures; insufficient change management and training; problems with data management; and insufficient integration with the supply chain.

The key components of an asset management program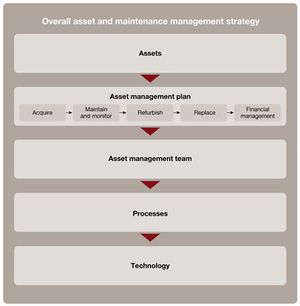 Figure 4. source: Strategy&

EAM vs. CMMS[12]
Computerized Maintenance Management Systems (CMMS) and Enterprise Asset Management (EAM) software have the same purpose. Both solutions have the same goals of maintaining, managing and protecting company assets by streamlining and automating maintenance management, inventory management, work order generation and scheduling. And both shift organizations from a reactive maintenance strategy to a proactive one. But comparing CMMS and EAM is like comparing a Granny Smith apple to a Red Delicious one. Each software is unique. CMMS was first to arrive on the business software scene. In the '60s, CMMS started as a punch-card system used by large companies to monitor assets and the way they conducted maintenance. As the technology advanced over the years, so did the need to connect numerous facilities. According to strategic maintenance specialists Plant Engineering, EAM emerged to do this. But age is only one of the differentiators between the solutions. When it comes down to it, EAM software is a more robust version of CMMS. The CMMS Software Guide has summarized the difference by saying, "EAM is a long-term, expandable comprehensive solution that includes all CMMS functions while a CMMS system is focused on maintenance systems and operations."
The main functions of a CMMS include:
Automating maintenance scheduling.
Managing company inventory and work orders.
Maintaining an asset tracking database.
Enterprise asset management software, however, is able to work with larger sets of users from multiple sites. The system is also able to monitor all aspects of a maintenance strategy, from notification to follow-up. In addition to the capabilities of a CMMS, EAM solutions typically involve:
Life-cycle planning and analysis. The robust software tracks an asset's historical maintenance records, as well as its financial records, to create better budget projections and predict replacement dates.
Multiple maintenance method monitoring. Going beyond preventive maintenance, an EAM tracks all the metrics needed to use predictive and reliability-centered techniques. All three strategies can then be combined to determine an asset's future state and continued reliability.
Workflow analysis. As an all-encompassing solution, an EAM is able to track technician workflows from start to finish. This makes it easier to find and address hiccups in the overall system.
Although different in capabilities, the advancement of the modern CMMS is quickly closing the gaps between the two solutions.

Current Enterprise Asset Management Trends[13]
Industrial IoT (IIoT) and analytics are being adopted for predictive maintenance. When an asset's health becomes a concern, an alert goes to the maintenance planner who creates a work order to address the issue before it becomes unplanned downtime. Mobile devices allow the technicians to process the work order while they are doing the work. This transition from paper to electronic devices improves data quality and integrity. The EAM or CMMS system becomes a trusted work planning and execution tool for the management of people, parts, information and priorities.
See Also
Enterprise Architecture
Enterprise Architecture Framework
Enterprise Architecture Management (EAM)
Federal Enterprise Architecture Framework (FEA)
Department of Defense Architecture Framework (DoDAF)
The Open Group Architecture Framework (TOGAF)
Adaptive Enterprise Framework (AEF) Technical Architecture Framework for Information Management (TAFIM)
Zachman Framework
References
Further Reading