Enterprise Information Architecture (EIA)
Enterprise Information Architecture (EIA) is the part of the enterprise architecture process that describes — through a set of requirements, principles, and models — the current state, future state, and guidance necessary to flexibly share and exchange information assets to achieve effective enterprise change.[1]

Explaining Enterprise Information Architecture (EIA)[2]
Linking an enterprise's strategic plan with its enterprise data architecture, enterprise application architecture and enterprise technical architecture results in enterprise information architecture. A well-documented architecture is a logical organization of information pertaining to the following corporate-level, enterprise-wide elements:
Strategic goals, objectives, and strategies
Business rules and measures
Information requirements
Application systems
Relationships between applications and data elements
Technology infrastructure
Enterprise information architecture also establishes guidelines, standards, and operational services that define the enterprise's systems development environment. When an enterprise's architecture is so documented, it can be used to accomplish the following:
Facilitate change management by linking strategic requirements to systems that support them and by linking the business model to application designs
Enable strategic information to be consistently and accurately derived from operational data
Promote data sharing, thus reducing data redundancy and reducing maintenance costs
Improve productivity through component development, management and reuse
Reduce software development cycle time

Components of Enterprise Information Architecture (EIA)[3]
The enterprise information architecture comprises of three sub-components/sub-architectures, namely:
Business Architecture: Business architecture provides the integrated view of the data from a business-oriented perspective.
Technical Architecture: Technical architecture provides the outlook of the present technical environment and the migration plan to bring the desired technical environment.
Organization Architecture: Organization architecture deals with high-level organizational structure as well as the processes done by each individual unit in the organizational units in the company.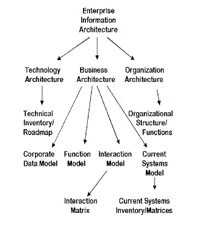 source: TDAN

Characteristics of a well-defined EIA implementation[4]
Primary characteristics that can be used to distinguish a well-defined EIA implementation include the following:
Gaining transparency —The information remains independent from application specifications, application implementations, and user interfaces. It provides a transparency layer between the information and application domains.
Considering enterprise business requirements —The architecture takes into account the overall information needs of the entire enterprise and specific LOBs or individual organizations.
Avoiding inconsistencies — It helps identify inconsistencies, conflicts, overlaps, and aps in the data and information, and offers a concept, framework, and methods to resolve this, and it is useful to select adequate solutions.
Managing Service Level Agreements (SLA) — It provides mechanisms for the definition and management of information-centric SLAs which can be monitored and enforced.
Enabling decision making —The architecture enables more consistent and efficient IT decision making that is linked to business needs. It does this because it is both flexible and extensible.
Addressing reusability aspects — Enforcing an EIA means that information assets are shared and reused, avoiding data duplication and thus reducing development, service, and support costs.
Addressing data scope —The Information Reference Model used by the enterprise describes the scope of the used data and information supported by the EIA.
Defining a technology strategy — It establishes the framework upon which the technology strategies adopted by the enterprise depend. In addition, it defines the set of principles that guide how an organization's information systems and technology infrastructure are engineered.

Benefits of Enterprise Information Architecture (EIA)[5]
Some benefits of building and maintaining an EIA are:
Facilitates assessment of packaged applications for "fit" within the organization (assuming a Corporate Data Model and Function Model is developed)
Eases integration of acquired companies' data into our systems environment because the [data can be "mapped" into a "logical" Corporate Data Model (rather than directly into physical tables)
Facilitates development of a common language (and understanding) amongst our lines of business because the models are developed from an enterprise-wide perspective
Speeds the orientation process of new employees because they can quickly become acquainted with the business through analysis of selected portions of the models
Provides a "roadmap", via the Corporate Data Model, for assessing existing (in-house built) operational data structures and planning for their re-engineering into an integrated set of structures
See Also
References
Further Reading