Enterprise Information Portal (EIP)
An Enterprise Information Portal (EIP) is a class of applications that enables organizations to unlock internally and externally stored information and provide users a single gateway to the personalized information needed to make informed business decisions. Portal integration works to consolidate, manage, analyze, and distribute information across and outside an enterprise.[1]
Integration and presentation are the two main functions of an EIP. An EIP should be able to extract information from multiple sources and adjust the information in the portal.[2]

Types of Enterprise Information Portal (EIP)[3]
On the public Internet, an information portal employs a profile of the user's information requirements and the services of a search engine to help consumers quickly find information that matches their needs. An Internet portal provides the consumer with a single interface to the vast network of servers that constitute the Internet. Information portals in the corporate environment have a similar objective: to provide business users with a single interface to information scattered throughout the enterprise. Enterprise information portals fall in two main categories.
1. A collaborative processing EIP helps users organize and share workgroup information such as e-mail, discussion group material, reports, memos and meeting minutes.
2. A decision processing EIP, on the other hand, helps executives, managers and business analysts access corporate information for making key business decisions. Decision processing EIPs support a wide range of different types of corporate business information and offer significant potential to organizations to leverage this information for business benefit. A decision processing EIP helps business users locate any given piece of business information, no matter where it resides in the supply chain. It also helps organize objects that create information in the information supply chain, such as queries, reports, and analyses. Business analysts use the portal to find these objects, run them and retrieve the results. These objects can also be run automatically on a schedule- or event-driven basis, and the results delivered to executives and managers via e-mail or the corporate intranet. Information viewed through a decision processing EIP is prioritized and tailored to match the role of the user in the organization. One key aspect of a decision processing EIP is that it not only integrates business information across the organization, but also employs collaborative processing to track the decisions and actions taken based on this information. The combining of corporate business information, user knowledge and collaborative processing is sometimes labeled knowledge management. Decision processing portals could be described as knowledge management portals; but given the number of different definitions in use for knowledge management, the term knowledge management portal is best avoided.

Decision Processing EIP Architecture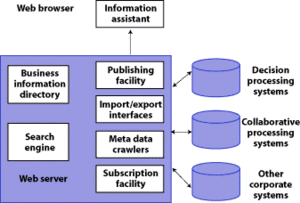 source: Alexandra Popa

Elements of Enterprise Information Portal (EIP)[4]
In one model, an EIP is made up of these elements: access/search, categorization, collaboration, personalization, expertise and profiling, application integration, and security.
Access/search: Access/search allows a user to get all the information needed (but no more) in the desired context. For example, a loan officer does not need marketing information to approve a loan. An EIP makes sure the loan officer gets only the information needed.
Categorization: An EIP categorizes all information so that it is delivered to the user within the context needed (think of the subject structure on Yahoo)
Collaboration: An EIP allows individuals to collaborate regardless of geographical location.
Personalization: The information provided to individuals using an EIP is personalized to that person's role, preferences, and habits.
Expertise and profiling: Expertise and profiling is essential for the collaboration element of an EIP. Individuals within an enterprise are profiled according to their experience and competencies. If an individual needs to collaborate with others, he can choose those that are qualified for the project.
Application Integration: This allows individuals to deliver, access, and share information regardless of applications used.
Security: This provides information to users based on security clearance. The user logs on and is given access only to information that the user is authorized to access.

Impact of Enterprise Information Portal (EIP)[5]
Relatively few companies have metrics in place to measure the financial impact an EIP-based solution can yield. The same statement holds for e-mail, yet few companies would operate without it. When financial metrics are not abundant, general business goals that impact financial performance can be used to justify the purchase of EIP software:
See Also
Enterprise Data
Enterprise Information Architecture (EIA)
Enterprise Information Integration (EII)
Enterprise Information Management (EIM)
Enterprise Information Security Architecture (EISA)
Enterprise Information System (EIS)
Enterprise Information Technology (EIT)
Information Architecture
Information Assurance (IA)
Information Asymmetry
Information Capabilities Framework (ICF)
Information Engineering (IE)
Information Flow
Information Framework (IFW)
Information Governance (IG)
Information Lifecycle
Information Lifecycle Management (ILM)
Information Management
References
Further Reading
Defining the Enterprise Information Portal Joseph M. Firestone
Measure the benefits of enterprise information portals and knowledge management TechRepublic
Three trends in enterprise information portals ZDNet