Abowd and Beale Framework
Abowd and Beale's interaction framework identifies system and user components which communicate via the input and output components of an interface. This communication follows a similar cyclic sequence of steps from the user's articulation of a task, through the system's performance and presentation of the task, to the user's observation of this task's results, upon which the user can formulate further tasks.[1]
The framework introduces languages for input and output in addition to the core and task languages. By concentrating on the language translations, the interaction framework allows us to determine if the concepts are being communicated correctly.
Interaction Steps: The interaction framework identifies four steps in the interaction cycle:

the user formulates the goal and a task to achieve that goal
the interface translates the input language into the core language
the system transforms itself into a new state
the system renders the new state in the output language and sends it to the user Translations
The four translations involved in the interaction framework are
articulation - the user articulates the task in the input language
performance - the interface translates the input language into stimuli for the system
presentation - the system presents the results in the output language
observation - the user translates the output language into personal understanding[2]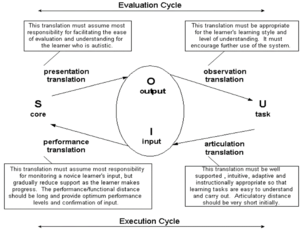 source: ISEC
See Also
References