Bloom's Taxonomy of Learning Domains
Bloom's Taxonomy was created in 1956 under the leadership of educational psychologist Dr Benjamin Bloom in order to promote higher forms of thinking in education, such as analyzing and evaluating concepts, processes, procedures, and principles, rather than just remembering facts (rote learning). It is most often used when designing educational, training, and learning processes.[1]
The framework elaborated by Bloom and his collaborators consisted of six major categories: Knowledge, Comprehension, Application, Analysis, Synthesis, and Evaluation. The categories after Knowledge were presented as "skills and abilities," with the understanding that knowledge was the necessary precondition for putting these skills and abilities into practice. While each category contained subcategories, all lying along a continuum from simple to complex and concrete to abstract, the taxonomy is popularly remembered according to the six main categories.
Knowledge "involves the recall of specifics and universals, the recall of methods and processes, or the recall of a pattern, structure, or setting."
Comprehension "refers to a type of understanding or apprehension such that the individual knows what is being communicated and can make use of the material or idea being communicated without necessarily relating it to other material or seeing its fullest implications."
Application refers to the "use of abstractions in particular and concrete situations."
Analysis represents the "breakdown of a communication into its constituent elements or parts such that the relative hierarchy of ideas is made clear and/or the relations between ideas expressed are made explicit."
Synthesis involves the "putting together of elements and parts so as to form a whole."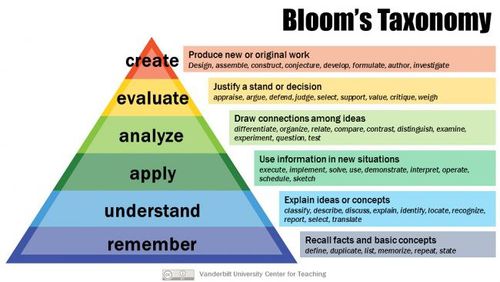 source: Vanderbilt
References