Configuration Lifecycle Management (CLM)
Definition of Configuration Lifecycle Management (CLM)
Configuration Lifecycle Management (CLM) is the management of all product configuration definitions and configurations across all involved business processes applied throughout the lifecycle of a product. The development of the concept of CLM has been prompted by the proliferation of configuration capabilities in different enterprise systems and a subsequent need to establish a master system of records for product definition logic and configurations, especially for manufacturing companies that rely on business processes related to assemble-to-order or mass customization. CLM differs from other business disciplines as it focuses on the cross-functional use of information on configurable products. This entails that users of CLM include both back-office engineers, financial controllers, among others, and marketing, sales, and customers.[1]
Configuration lifecycle management (CLM) encompasses all configuration models across a product's life cycle. CLM covers manufacturers' needs for complex configurable products, which tend to require more seamless integration of all their business units and external stakeholders in terms of process continuity and data exchange. CLM differs from existing life cycle management tools because it focuses on sharing the configuration knowledge and data of a configurable product throughout its entire life cycle across all the involved business units of an organization.[2]
The Need for Configuration Lifecycle Management (CLM)[3]
CLM defines goals to:
Establish Leadership and Executive BuyIn: develop a CLM vision and strategy as a corporate objective
Streamline Processes: use CLM as a platform for cross-functional collaboration
Improve Product Development: shorten development times, support model-driven development, and provide faster product availability to market
Transform Business: establish dedicated support in the organization for managing configuration definitions throughout the lifecycle
Harmonize Data: provide an open and interoperable platform through standards and data harmonization
THE CLM VISION[4]
A Configuration Lifecycle Management (CLM) system is the master system of record for configuration logic and individual configurations. The figure below illustrates how a CLM system is integrating traditional enterprise systems such as ERP, CRM, and PLM.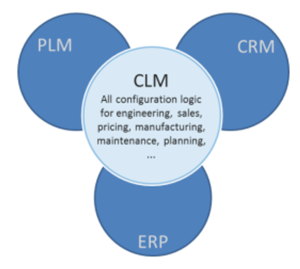 source: Configit
All configuration-related business processes access CLM for configuration definitions and queries. At the simplest level, the product configuration is an interactive process in the selling of a product whereby a customer chooses a value or an option, which is then validated via a configuration engine before allowing the customer to make the next choice about the remaining variables to be configured. This process of choice followed by validation, continues until all choices have been made and a complete and valid configuration has been found. The apparent simplicity of this process hides a significant amount of complexity to construct the rules used to drive the configuration process, and it does not reveal all the processes involved in running a business with customizable products.
Product configuration is the process through which product features (which represent both technical aspects and customer choices) are modeled in a configuration application. A product model is developed, which consists of a set of parameters called feature families, a set of possible values for the parameters called features, and rules describing dependencies among the features.
A product model consists of rules to control the technical parameters of the product as well as rules that control the commercial presentation of the product. A product model is then used by a configuration engine to assist in generating a configured product. Product configuration management is, therefore, the process through which a full or partial product configuration is solved via a configuration engine to generate an analytical, digital, or physical representation of a product.
What variants of the products are valid for a specific customer depends upon a range of parameters, including the customer's market and the local regulations and conformance conditions in that market. The exact time for the delivery of the product will also influence what options are available, as will the overall business decisions made from a profit perspective on what will be offered to customers on a market-by-market basis.
Phases of Configuration Lifecycle Management (CLM)
The key idea in a CLM solution is that there is only a single version of configuration truth, i.e., the CLM system is the master of record. Thus, the product model contains rules to support all phases of configuration, from design to ordering and manufacturing, to maintenance. Below is a brief description of how product configuration is an essential part of the seven key phases:
Develop. During the development of new products, decisions have to be made on how to modularize the product so that it will be amenable to customization. The allowable variants and options must be defined so that the necessary dependent engineering, sourcing processes, and other business processes can be initiated. In this phase, the allowable combinations forming the configuration space are defined. This involves defining legal and technical constraints representing, for instance, as a concrete example, the permitted radio frequencies for wireless door locking in specific markets. It is important to understand the consequences for the downstream processes and profitability of the decisions taken on the offered options. This involves analyzing the space of allowed configurations.
Price. Pricing is a key activity for any business. It involves analyzing the cost prices and the market-acceptable sales prices and, from these, deducing the expected profit margins. With customizable products, this is grossly complicated because the calculations have to be made over the full space of possible configurations and not just on a list of predetermined products.
Market. When marketing a customizable product on a global scale there will be differences in the offering across the geographical markets. The differences arise as a consequence of local regulations and varying customer preferences. It is necessary to ensure that the offered configurations match the needs. Sales and Marketing departments often express the mapping of offerings to markets using large availability matrices, which, in essence, are configuration rules.
Sell. The sales process involves the key operation of deciding on a specific configuration meeting the customer's requirements. A customer will be faced with a lot of choices, and it is important to ensure accurate guidance when making the selections so that the end result will be a satisfactory product at an acceptable price. The result of the sales process is a valid order to be fed into the downstream systems.
Source. Manufacturing complex products involves using parts and assemblies from sub-suppliers. When the overall product is configurable the parts and assemblies vary according to the individual configurations. It is, therefore, important to ensure that the sourcing of parts is such that correctly configured sub-assemblies are delivered in the right sequence for the production line. Configurations must, therefore, be communicated correctly to the suppliers. Other constraints to be considered are the suppliers' yearly or monthly capacity which must be taken into account in the production planning.
Build. The building of the product is defined by the configuration. Each product will have its own defining configuration that is used for selecting the correct parts to be mounted. An error in a configuration is very costly if it makes its way down to the factory floor. The result can be that the end product will be useless or that the production line must stop for a period of time while the problem is overcome. Other constraints to be considered are build constraints on the production line reflecting known line labor balancing issues and lineside feeding constraints.
Maintain. After a product is delivered it will typically go through service and maintenance, where these activities are also dependent upon the configuration of the product. The configuration of the product can also be changed over time by upgrading sub-systems.
Challenges Addressed by Configuration Lifecycle Management (CLM)[5]
CLM addresses complex configuration challenges:
Provides a Single Source of Truth for Configurable Data: structures and stores information as one valid data source
Administers Analytics and Planning: supports product rationalization and creates transparency in the supply chain
Streamlines Product Portfolios: defines variety and feature options of global product presentation to regional markets in an efficient and effective manner
Maintains an Enterprise Platform for Data Sharing: delivers an integrated and seamless flow between multiple connecting systems
Implements Process Standardization: eliminates the loss of information between business sectors and ensures common process success and alignment
Manages Complexity and Scale: handles the ever-increasing complexity of configurable products
Enables Validation of Products: confirms configurations are valid for any particular purpose
Enhances User Experience: presents accurate and timely information and guidance
Change and Release Management: controls product changes and updates throughout the entire product lifecycle and ensures relevant updated information is distributed to proper channels
PLM Vs. CLM Vs. ERP[6]
The following table lists the main aspects of PLM, ERP, and CLM with Respect to Configuration Management:
CLM and Digital Transformation[7]
Tracking cost reductions generated from digital optimization efforts are easy to sell to any CEO and board of directors because they promise and deliver results that make an impact on financial performance. Manufacturers excelling at digital transformation start by optimizing every aspect of their operations, especially those directly aligned with customers.
By integrating the many front-end processes enabled by CRM, CPQ, and product configuration systems with back-end systems comprised of ERP, PLM, and CAD, manufacturers are growing faster. They digitally transform their businesses using Configuration Lifecycle Management (CLM) as the foundation for future growth.
Here are the areas where combining digital transformation and CLM are combining to create high-growth business models that will flourish in the years ahead:
Creating smart, connected products that integrate IoT sensors to provide a rich, real-time stream of data that opens up entirely new revenue opportunities. CLM is the gateway to services-based revenue streams with gross margins 2X and 3X that of typical hardware. Rather than fight pricing ways and rely on transaction revenue alone, manufacturers are designing and selling smart, connected products that are the future foundation of services revenue. And CLM is making the transition from transaction business models to service-driven ones possible. Configit's latest study of North American manufacturers found 52% of them are planning to build IoT-enabled, smart, connected products in 2019.
CLM enables better sales and marketing coordination, in addition to streamlining new product and service launches, giving engineering teams more time to work on new products. 48% of manufacturers see higher product quality as a result of adopting a more CLM-driven strategy. Improvements in quote accuracy are improving product quality. 41% are seeing order turn-around times reduced, increasing customer loyalty. And 35% are achieving more short-notice production flexibility. CLM contributes to growth by unifying front-end and back-end processes, enabling organizations to invest more in future products.
CLM is proving to be an excellent platform for manufacturers to define their digital transformation roadmaps supporting entirely new businesses. By orchestrating PLM, CAD, ERP, and CRM systems to a common cadence when each has its own cycle time or speed, manufacturers are creating a platform for future new products and new business success. Digitally transforming manufacturing needs to always begin with the customer and work back into engineering (PLM & CAD systems), manufacturing (ERP)], and sales and marketing (CRM). CLM enables manufacturers to plan and launch new products more efficiently and at a lower cost when all four systems are integrated from the customers' perspective first. Improving time-to-market on new products and excelling at time-to-customer are two of the most important metrics customer-driven manufacturers rely on today.
Enabling executives to see more opportunities to excel in every area of customer experiences is fueling new product ideas and entirely new businesses. When a single platform is enabling engineering, manufacturing, sales, and marketing to share a single, unified view of the customer, senior management quickly sees areas where they can excel even further.
See Also
Configuration Management (CM)
Configuration Management Database (CMDB)
Configuration Item (CI)
Enterprise Resource Planning (ERP)

References
Further Reading