Enterprise Architecture Management (EAM)
Enterprise Architecture Management (EAM) is the practice of enabling and driving business value using enterprise architecture. EAM sets the direction, strategy, and governance for enterprise architecture planning - vision, mission, goals, guidelines, policies, principles, communications, monitoring, control, and other activities that ensure the development and deployment of enterprise architecture in support of business value.
EAM sets the direction for all activities related to enterprise architecture
EAM connects business strategy and enterprise architecture
EAM uses enterprise architecture for business transformation
EAM promotes collaboration between all the stakeholders in the enterprise[1]

Enterprise Architecture Management (EAM) helps answer the following questions:
What business capabilities are necessary to meet your business strategy?
What people, process, technology, and information support your business capabilities?
How do standards, policies, external and internal forces impact your business?
What are the critical cost drivers within your organisation?
How do you manage investment in your project, application and technology portfolio?[2]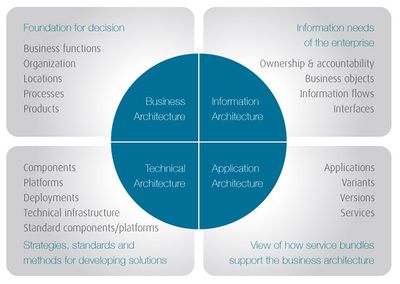 Figure 1. source: Software AG

Overview of Enterprise Architecture Management (EAM)[3]
The fundamental prerequisites for effective EAM are a current, consistent baseline of information about the as-is landscape and an integrated planning process from demand to budget to reach the to-be landscape. The enterprise architecture function also involves reviewing and consolidating detailed architecture decisions and migration plans to identify efficiencies, advance standardization, and align business and IT priorities. As IT architectural layers, business support processes, and organizational structures become more sophisticated and prone to constant change, EAM will only result in haphazard business and IT alignment if the primary focus is on delivering sets of technically based models. This approach is only helpful insofar as it depicts the enterprise architecture as a snapshot in time, but it offers no reiterative process support to develop architecture solutions and test against different scenarios, benchmarks, and standards as dictated by the ever converging business and IT strategy. Moreover, a model-centric approach is prohibitively time-intensive to keep updated and leaves too much room for error as changes to the architecture occur unchecked and isolated in the heads of small groups of architecture specialists. Instead, the EAM effort has to bring the highly distributed knowledge of all experts to the table and allow every participant to provide such knowledge and input in the terms that best fit the experience and expectations of the contributing stakeholders.

The Need for Enterprise Architecture Management (EAM)[4]

EAM helps you to maintain an overview and prevents different projects from being initiated at random.
EAM encourages and facilitates reusability and helps you to avoid duplication of effort, which will ultimately lead to cost savings.
EAM helps you to align business requirements, business processes and IT or other infrastructure more effectively.
(EAM makes your organisation more flexible and more agile. With a better structural overview, you will find it easier to assess whether and how to respond to changes, which is all the more important as things are changing faster than ever before.

Enterprise Architecture Management (EAM) Development Phases (See Figure 2.)[5]

Phase 1: EAM for holistic engineering of information systems

Conceptual structure of Architecture (e.g. Zachman Framework)

Phase 2: Advanced Information Systems Management

defining role models,
planning, implementation and controlling the processes for IT/IS landscape (not only single applications) and ensuring transparent decision-making
defining decision rights and accountabilities
Advanced EAM frameworks not only provided architectural artefacts and models, but also contained guidelines for EAM planning, implementation and controlling
Advanced EAM frameworks containing guidelines in addition architectural artefacts and models (e.g. TOGAF with ADM)

Phase 3: Strategic Business Management

EAM is no longer understood as just an IT department job, but as a strategic function
EAM plays an important role in organisational transformation and development
Integrating EAM into the strategy development and strategy implementation processes results in strong synergies, improved decision making and faster strategic change.
Strategic decision-making is based on enterprise architecture information, and takes enterprise architecture-specific objectives and policies into account.
Adding motivation to Architecture Frameworks and guidelines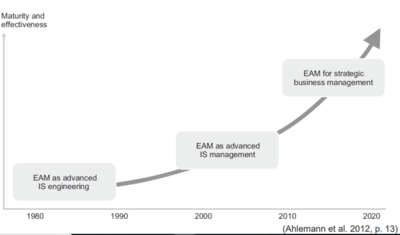 Figure 2. source: Knut Hinkelmann

Enterprise Architecture Management Vs. Enterprise Architecture Modeling[6] Enterprise Architecture Modelling is a set or series of point-in-time snapshots of the enterprise. These snapshots give us a view of the components and capabilities of the enterprise over time helping us visualize the journey of the enterprise over time. An emphasis on enterprise architecture modeling can result in a complete set of enterprise models that do not deliver business value. An obsession with enterprise architecture tools can create a lot of activity without much movement towards transforming the business to create shareholder value. Enterprise Architecture Management focuses enterprise architecture modelling to creating business value. Enterprise Architecture Modelling visualizes the enterprise. Enterprise Architecture Management uses these visuals to create business value for the enterprise helping us answer the two critical questions:
1) Are we doing the right things?
2) Are we doing them right?

Enterprise Architecture Management Benefits[7]

Prepare early for disruptive change: Adapt your strategy, products and processes quickly in response to external factors (e.g., competition, economic, political, social, legal and technological changes) and deal effectively with the impact of internal factors (e.g., product portfolio, organisation structures, legacy applications).
Mitigate your risks: Achieve early visibility of risks in different parts of the architecture. Mitigate these risks by conducting periodic risk assessments and taking adequate measures.
Invest wisely in your project portfolio: Get a clear picture of projects that directly support your business strategy and reduce investment in non-strategic projects.
Enable innovation on enterprise level: Learn what technologies are being used in different units. Reuse technologies rather than reinventing the wheel and share the knowledge with all units to support innovation on enterprise level.
Safeguard the future: Future-proof your organisation by following guidelines, standards, and architecture principles and by monitoring the right key performance indicators.
See Also
References
Further Reading