Business Transformation
According to Deloitte Consulting, Business Transformation is the opportunity to define a bold ambition that goes beyond incremental change —the opportunity to rethink your business and operating models to deliver breakthrough value. It involves strategic decisions that affect where you'll grow, how your organization operates, and what kinds of performance improvements you can expect.[1]
Business Transformation is a change management strategy that has the aim to align the People, Processes, and Technology initiatives of a company more closely with its business strategy and vision. In turn, this helps to support and innovate new business strategies. For any transformation of a business or business processes innovation is one of the key drivers. Having a strong innovative capacity within the culture of the business can be a make or break of a transformation process.[2]
Any radical organizational change can be termed business transformation. Typical transformation projects include mergers and acquisitions, business process outsourcing, and the introduction of shared service centers, enterprise software, and initiatives motivated by sustainability requirements. Unlike business process re-engineering, which closely focuses on business processes, business transformation requires a more holistic approach.[3]
Business transformation is achieved by one or more of realigning the way staff work, how the organization is structured, the core product or service portfolio of the business, and how technology is used. Typically organizations go through several stages in transforming themselves:
recognizing the need to change and gaining consensus amongst stakeholders that change is necessary
agreeing on what form the change should take, the objectives of the change, and a vision that describes a better future
understanding what the organization is changing from and what needs to change in detail
designing the new organizational way of working and its support and management
testing and implementing changes, usually in waves, typically over a number of years
bedding in the change so that the organization cannot move back to how it was and achieves the intended benefits[4]

An effective business transformation means your organization can survive and thrive as you pursue new innovation-driven opportunities that emerge, as you respond to shifting market demands, and as you navigate evolving regulatory complexities. You'll want to proceed with caution, however. Transformation today takes place at dizzying speeds, requiring a level of integration and alignment that many enterprises are not prepared to handle.
Gartner recommends that organizations establish and evolve a Business Transformation and Process Management initiative with a structured approach using five major organizing principles. This approach may vary depending on the problems you are trying to solve and the decisions you are trying to make:
Strategize and Plan: Anchor the transformation or process management program to strategic business results that your organization must deliver within 12 to 18 months. For large programs, prioritize projects to deliver optimized business results and communicate a common vision.
Develop Governance: Solicit peer input to craft process governance and decision policies. Get executives to hold process owners accountable for business outcomes. Assess process styles and interdependencies to determine the impact of operational change.
Drive Change Management: Motivate behavior that accelerates delivery of desired business outcomes. Communicate and socialize ideas via multiple channels. Get buy-in from stakeholders at all levels. Avoid change fatigue and establish a broad capability for Big Change.
Execute: Optimally operate the initiative in accordance with business goals, and update it in response to changing business requirements. Use BPM technologies and services to extend existing systems of record and accelerate differentiated and innovative solutions.
Measure and Improve: Continuously capture process intelligence from stakeholders, events, social interactions, and structured and unstructured processes to assess in near-real-time. Apply advanced technology to dynamically adjust and optimize processes.[5]

Business Transformation Management Methodology (BTM2)[6]
Comprising four phases: ENVISION, ENGAGE, TRANSFORM, and OPTIMIZE, the methodology integrates discipline-specific technical and methodological expertise from transformation-relevant subject areas. The BTM2 provides real-world guidance and support for transformation projects by bringing together the disciplines of Strategy, Value, Risk, IT Transformation, Program, Project, Change, Process, and Competency Management. While Strategy, Value, and Risk Management set the course for business transformation, other disciplines enable the transformation process. The discipline of Meta Management incorporates topics such as culture, values, and standards, as well as formal and informal structures and roles. It also orchestrates work streams involved in business transformation projects.
Meta Management (see figure below) Every business transformation is different. Success depends on the complex interplay of actors in a multifaceted ecosystem. According to this understanding, the focus of meta management as the fundamental discipline in BTM2 lies in providing a framework that helps to manage the complexity of business transformation.
Strategy Management describes how organizations or organizational units can successfully plan transformation alignments and implementations. A frequent cause of failure is erroneous or inaccurate planning of a transformation strategy.
Value Management manages the value of investment throughout the entire lifecycle of a solution. VM ensures and supports the alignment between IT & business processes and company strategies. VM should be seen as a pragmatic approach to drive value adoption in business & IT investments.
Risk management provides fundamental guidance to the planning, development, and effective execution of a business transformation. Hence, it is essential that business transformation managers seek to manage those risks that relate to the process of transforming an organization towards a desired future state and those risks that relate more to the possibility that this desired state becomes either obsolete or sub-optimal.
Business process management(BPM) has evolved as one of the most important management capabilities today. Also in BTM2, it plays an essential role as an enabling factor for successful business transformations. Where does this importance come from? The answer is fairly simple: Since processes essentially are what organizations do, transforming organizations essentially means changing an organization's processes. Therefore, the body of knowledge on contemporary business process management can contribute a lot to BTM2.
Transformational Information Technology (IT) management has different objectives. First of all, it evaluates the impact of current IT processes, IT competencies, and IT systems on business transformation and vice versa. Additionally, transformational IT management defines IT-related success criteria for business transformation. Transformational IT management safeguards the design, implementation, roll-out, and deployment of business transformation. It enables operations, maintenance, and support of transformation deliverables. Last, but not least, transformational IT management also covers operations (continuous improvement).
Organizational Change Management People and their abilities and motivations are one of the main wild cards in business transformations. Business transformation often involves a change of, or introduction of new elements to, the corporate culture which may lead to a misinterpretation of corporate signals and values, and a shift in power structures, both of which may entail serious constraints to the success of a business transformation unless adequately managed.
Competence and Training Management - Business transformation requires a longer-term and often major change in the competencies of team members and the management. For example, when transforming an HR department from an administration-oriented unit to one providing strategic consulting, not only the competencies for transformation, for example, in the area of leadership, must be trained. Numerous team members previously working primarily in administrative roles must first be prepared and suitably trained with regard to their new strategic consulting competencies.
Program and Project Management - Program management serves as an overall vehicle for the transformation effort. It aims to support the implementation of the decided strategy in order to achieve the expected benefits in business transformations. A program is defined as a group of related projects managed in a coordinated way to obtain benefits and control unrealized when they are managed individually.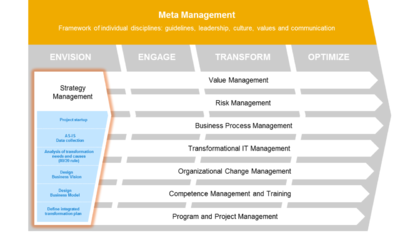 source: SAP
See Also
References
Further Reading