Digital Transformation (DX)
Digital Transformation (DX) is the integration of digital technology into all areas of a business, fundamentally changing how you operate and deliver value to customers. It's also a cultural change that requires organizations to continually challenge the status quo, experiment, and get comfortable with failure.[1]
Digital transformation requires strong leadership to drive change. But it also requires a vision for what parts of the company you want to transform. Companies in all industries and regions are experimenting with — and benefiting from — digital transformation. Whether it is in the way individuals work and collaborate, the way business processes are executed within and across organizational boundaries, or in the way a company understands and serves customers, digital technology provides a wealth of opportunity.[2]
Areas for Digital Transformation
Digital Business Transformation Areas[3]
Digital transformation in the integrated and connected sense which it requires can, among, others, touch upon the transformation of: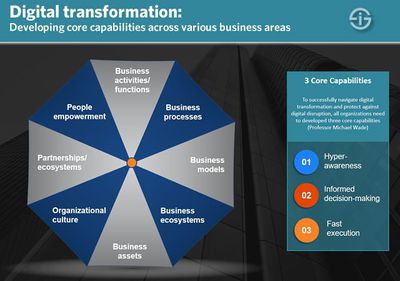 source: i-Scoop
Business activities/functions: marketing, operations, human resources, administration, customer service, etc.
Business processes: one or more connected operations, activities and sets to achieve a specific business goal, whereby business process management, business process optimization and business process automation come into the picture (with new technologies such as RPA). Business process optimization is essential in digital transformation strategies and in most industries and cases is a mix of customer-facing goals and internal goals today.
Business models: how businesses function, from the go-to-market approach and value proposition to the ways it seeks to make money and effectively transforms its core business, tapping into novel revenue sources and approaches, sometimes even dropping the traditional core business after a while.
Business ecosystems: the networks of partners and stakeholders, as well as contextual factors affecting the business such as regulatory or economic priorities and evolutions. New ecosystems are built between companies with various background upon the fabric of digital transformation, information, whereby data and actionable intelligence become innovation assets.
Business asset management: whereby the focus lies on traditional assets but, increasingly, on less 'tangible' assets such as information and customers (enhancing customer experience is a leading goal of many digital transformaton "projects" and information is the lifeblood of business, technological evolutions and of any human relationship). Both customers and information need to be treated as real assets in all perspectives.
Organizational culture, whereby there must be a clear customer-centric, agile and hyper-aware goal which is achieved by acquiring core competencies across the board in areas such as digital maturity, leadership, knowledge worker silos and so forth. Culture also overlaps with processes, business activities, collaboration and the IT-side of digital transformation. In order to bring applications faster to market changes are required. That's the essence of DevOps: development and operations. In order to make IT and OT work together in businesses/processes/activities, change is required too (it's not just the information and operational technologies, it's the processes, culture, collaboration). Etc.
Ecosystem and partnership models, with among others a rise of co-opetive, collaborative, co-creating and, last but not lost, entirely new business ecosystem approaches, leading to new business models and revenue sources. Ecosystems will be key in the as-a-service-economy and in achieving digital transformation success.
Customer, worker and partner approaches. Digital transformation puts people and strategy before technology. The changing behavior, expectations and needs of any stakeholder are crucial. This is expressed in many change subprojects whereby customer-centricity, user experience, worker empowerment, new workplace models, changing channel partner dynamics etc. (can) all come in the picture. It's important to note that digital technologies never are the sole answer to tackle any of these human aspects, from worker satisfaction to customer experience enhancement. People involve, respect and empower other people in the first place, technology is an additional enabler and part of the equation of choice and fundamental needs.
The Importance of Digital Transformation
Why is digital transformation important?[4]
Worldwide, digital transformation could be worth $18 trillion in additional business value, according to analyst house IDC. Meanwhile, research firm Gartner's CIO Agenda suggests digital business will represent an average of 36% of a business's overall revenue by 2020. The group's report, Gartner's IT Market Clocks for 2016: Digital Transformation Demands Rapid IT Modernization, found that 66% of companies doing digital transformation expect to generate more revenue from their operations, while 48% predict that more business will arrive through digital channels. Other reasons for doing it were to empower employees with digital tools (cited by 40%) and to reduce costs (cited by 39%). It's clear that there's no better time to embark on your own digital transformation journey if you want to reap the rewards down the line.
While cutting costs and refining an organisation's operations with the latest digital technology is appealing enough on its own, embracing a digital transformation doctrine can also make an enterprise more secure and robust in the face of IT outages.
Many IT administrators and CIOs might extol the virtues of having an on-premise app or database server where direct access is variable if something goes wrong and that by keeping such infrastructure nearby the IT department can ensure it's secure. That may have been true a decade ago, but the growth of cloud services, platforms and infrastructure have seen vast improvements in how reliable cloud-hosted and cloud-native apps and services can be.
Major cloud providers like Amazon Web Services, Microsoft Azure and the Google Cloud Platform, invest millions upon millions of dollars into building out their cloud infrastructure, from expanding capabilities to boosting redundancy and security. These days cloud providers can offer better services and security than all but the most robust private data centres and server rooms. And they can offer such cloud services at extremely competitive prices. As such, it makes pursuing digital transformation, especially from a 'move to the cloud' perspective a much easier and appealing process than it might once have been.
Digital Transformation Stages
The Six Stages of Digital Tranformation[5]
In a research done for Cognizant and Altimeter, Brian Solis (Principal Analyst at Altimeter) distinguishes six stages of digital transformation: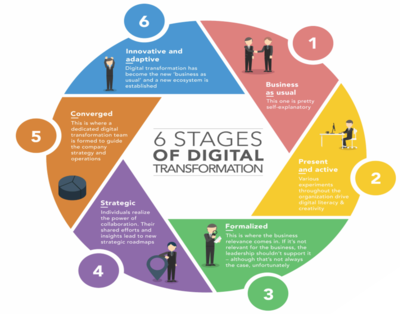 source: Digital HR Tech
Business as usual – This one is pretty self-explanatory.
Present and active – Various experiments throughout the organization drive digital literacy & creativity.
Formalized – This is where the business relevance comes in. If it's not relevant for the business, the leadership shouldn't support it – although that's not always the case, unfortunately.
Strategic – Individuals realize the power of collaboration. Their shared efforts and insights lead to new strategic roadmaps.
Converged – This is where a dedicated digital transformation team is formed to guide the company strategy and operations.
Innovative and adaptive – Digital transformation has become the new 'business as usual' and a new ecosystem is established.
By the time we get to the sixth and final stage of a digital transformation, the mindset of the organization – or actually that of those who are in it – has shifted completely to that of a digital mindset.
Digital Transformation Roles
Essential Digital Transformation Roles[6]
While emerging tech and revamped processes are crucial, having the right skills on staff is essential to any digital transformation.
Software engineers, cloud computing specialists and product managers remain key roles for companies seeking to roll out new products and services. Data scientists and data architects are also in high demand, as companies seek to glean insights out of vast troves of data, and transformations lean increasingly on machine learning and artificial intelligence. Plus, IT departments supporting business-wide transformations also require UX designers, digital trainers, writers, conversational brand strategists, forensic analysts, ethics compliance managers and digital and workplace technology managers.
Digital Transformation Levers
The 8 Levers of Digital Transformation[7]
At it's core, Digital Transformation is driven by the tangible shift in the role of the technology within an organization. No longer as purely a support function that enables business processes, technology is now capable of much more. his has all become possible due to 6 core emerging technologies:
These technologies, in fact, mobilize 8 levers to Digital Transformation–spanning both Growth (business drivers) and Operational Improvement (business enablers). These 8 levers are listed and depicted in the diagram below.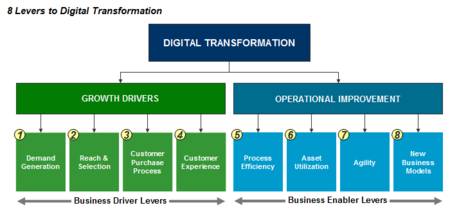 source: Bizhumm
Growth Drivers

Demand Generation: Emerging technologies, particularly social media (and social media marketing), are facilitating Demand Generation by building awareness and brand interest. With an increasing number of customer touch points and ability to collect and unify customer data across these various touch points, we are better able to understand our customers and their interests—leading towards customer "micro-segmentation."
Search & Selection: We can now be where customers can easily find us—and likewise, can easily find customers wherever they may be. This has been largely made possible through Mobile and Internet technologies. This includes across channels (online and offline), across devices (e.g. PC, mobile), and across platforms (e.g. website, search, email, social). GPS and location-based services allow us to find customers based on where they are and where they have been.
Customer Experience: Prior to the Internet era, customers had limited interactions with a company—e.g., retail salesman, telephone customer service. With emerging technologies—namely, Social Media, Mobility, Internet of Things—the number of customer touch points has increased dramatically. This is both an increase in number of ways for the customer to reach company and an increase to the number of people within a company to reach the customer. Companies now have the ability to constantly engage with the customer. Thus, Customer Experience has grown in an increasing importance. In fact, growth tends to come through Customer Experiences and relationships that adapt to their dynamics and demands. Personalization is critical to an improved experience for the customer.
Customer Purchase Process: As Customer Experience has evolved through an increase in touch points and personalization, naturally, so has the Customer Purchase Process. Customers can be reach now with:

New and optimized products and services
New and optimized channels
New pricing models
Operational Improvement Levers: Operational improvement can be achieved through new combinations of information, processes, channels, and workforce abilities that leverage new, high-performance business and operating models. In our framework, we've broken down the levers as:

Process Efficiency
Asset Utilization
Agility
New Business & Service Models
It is important to realize that we may not be able to realize digital ambitions if we are tied down by the cost, complexity, and limited capacity of legacy systems. Companies are increasingly reducing costs to further invest in a unified digital infrastructure. A digital business platform supports a diverse set of customer and operational requirements with a single set of resources.
Digital Transformation - Opportunities and Challenges
The Opportunities and Challenges of Digital Transformation[8]
Digital transformation is a major challenge and opportunity. When planning for digital transformation, organizations must factor the cultural changes they'll confront as workers and organizational leaders adjust to adopting and relying on unfamiliar technologies. Digital transformation has created unique marketplace challenges and opportunities, as organizations must contend with nimble competitors who take advantage of the low barrier to entry that technology provides. Additionally, due to the high importance given today to technology and the widespread use of it, the implications of digitization for revenues, profits and opportunities have a dramatic upside potential. We can understand digital transformation through some real-world examples.
Digital transformation in hospitality management: It focuses on ambitious digital transformation, aiming to put the customer back at the center of its strategy and operations. We need to assess organizational structure to embrace digital transformation and identify how data from online content and reviews might play a role in increasing booking. Latest advancement in this respect are Online Travel Agencies, service aggregators like Expedia, Booking.com. We have another competitor in market which is not only digitally transforming the hospitality industry but actually bringing disruption with the help of technology, AirBnb.
Digital Transformation in e-commerce: Digital experience has become inevitable without e-commerce interaction. Big players like Amazon.com, Alibaba.com have already disrupted the shopping journey. But now we have more challenging tasks of avoiding sequence of events that lead to the security breaches like theft of debit and credit card numbers as well as the personal information of millions of customers. We need to improve over our infrastructure with minute details like safe transactional operations, improved customer satisfaction along with data security.
Digital Transformation in banking: It focuses on digital transformation of banking sector in seeking regional growth amidst a new digital era. Banks have already invested heavily in technology and infrastructure, which bring dramatic changes and rewired this sector for digital innovation. From online banking (bank in your pocket), to ATM availability at every nook and corner has enriched the user experience. Major forces of the digital transformation strategy involve the overhaul of organization, the rapid enhancements of highly scalable digital platforms, the leverage on technology to sculpt the customer experience, and the internal evolution and external partnering in seeking new digital innovation.
Digital Transformation in training: With the increase of online learning tools and facilities organisations and individuals are looking for more flexible ways per personal development. Using video driven lectures, online learning communities and learning management systems allows creating new business models which disrupt the traditional lecture driven training sessions.
Digital transformation in healthcare: It concentrates on the application of IT-reliant services for facilitating the management and delivery of health services. It involves storage and exchange of clinical data (e.g. electronic medical records, electronic health records), inter-professional communication (e.g. secure e-mail and direct messaging), computer-based support (e.g. clinical decision support systems, computerized physician order entry), patient-provider interaction and service delivery (e.g. patient referral and handover systems), and education. Most studies implicitly report on cases from primary care (e.g. family doctors, medical specialists), secondary care (e.g. hospitals, clinics), or medical research facilities. However, digital transformation in healthcare also takes place in areas other than clinics and research facilities, like for example community-based health promotion and outpatient care services.
Multidisciplinary Approach to Digital Transformation
The factors driving companies in Digital Transformation[9]
While customer experience continues to play a key role in the digital transformation process, other factors influencing the company's actions and choices towards maturity include innovation, agility and digital relevance.

source: IQUII

Digital Transformation requires a multidisciplinary approach that involves more actors, processes and knowledge:
Governance and Leadership must be able to guide business evolution;
People and Operations must be involved in the process of transformation and change;
Creating processes and strategies that improve touchpoints and customer experience;
Introducing figures and competencies within the organization that increase Digital Literacy;
Technological integration between functions, groups and processes to support a holistic customer experience;
Collection of Data, Insight, and Analytics, and the measurement of initiatives developed by the organization.
This last point is particularly important for those companies that are pursuing a digital transformation process.
The lack of data or ROI that can make the Digital Transformation's value measurable (highlighted as one of the biggest challenges by 69% of companies) curbs growth towards digital relevance.
Digital Transformation Model
A Model for Digital Transformation[10]
Technology is one of the main aspects that should be taken into consideration when you are planning to transform your organisation into a digital workplace. A Digital Transformation Model was developed by Laserfiche, to help businesses understand where they must begin with the transformation process. There are five main phases that every organisation should undergo on their journey of becoming digital.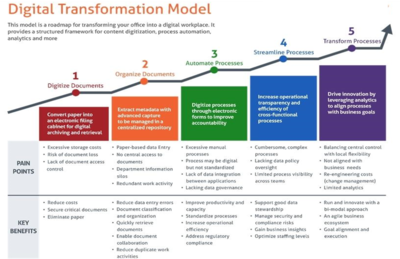 source: laserfiche
Phase 1: move from paper to digital information. When a company is struggling with managing paper documents, because it is scattered, difficult to find or unorganised, and the filing room is a mess, it means the company is in phase one of the Digital Transformation Model. The first step is to start scanning all the paper documents into electronic documents, enabling documents to be uploaded, viewed and even exported. Digital files will also serve as a backup for files lost in natural disasters.
Phase 2: categorisation of documents. When you often have problems such as absence of rules, and classification results in inconsistent filing practices, digital documents being unorganised or not being able to obtain a certain digital document, it means your company is in phase two of the Digital Transformation Model. Documents such as invoices, for example, can now be put under the 'accounts payable' category, which will make it easy to navigate and easier to secure. File practices will also become consistent and work and collaboration will be streamlined; in other words, the documents that have to support compliance are immediately accessible.
Phase 3: the process of eliminating inefficient processes. Your company is in this phase when documents still originate on paper before being scanned into the repository, when processes aren't standardised, when certain tasks and processes are tracked in e-mails rather than the repository, and when business leaders lack the ability to manage and audit information access. In order to solve this problem, you have to eliminate all standardised paper forms and replace them with a smaller set of standardised electronic forms that can be submitted through your company's intranet. Forms can then be sent directly to relevant managers to be reviewed and signed. You will notice that wasted time and resources will be greatly reduced, repetitive processes will be defined and standardised, accountability for the way information is handled will be increased, and reports and audit tools will migrate the risk of non-compliance.
Phase 4: includes the cumbersome processes. You will know your organisation is in the fourth phase of the Digital Transformation Model when you have the following automated difficulties:

Automated processes are implemented, but they are really difficult for employees to understand.
There is no clear data policy oversight due to incomplete data.
You aren't able to measure the successes or failures.
When you have difficulty in integrating other people, such as customers into your process.

Phase 5: to eliminate ineffectiveness. Your content is secured, and all your documents have been digitalised and you have easy access, but it doesn't mean that your transformation is complete. You may still encounter difficulties, such as:

Processes that are not aligned with business needs.
You can only make limited plans for the future.
Your organisation is reactive, but not proactive.
Digitization Vs. Digitalization Vs. Digital Transformation
What's the difference between digitization, digitalization, and digital transformation?[11]

Digitization is the move from analog to digital. Not so long ago, businesses kept records on paper. Whether handwritten in ledgers or typed into documents, business data was analog. Then computers went mainstream, and most businesses started converting all of those ink-on-paper records to digital computer files. This is called digitization: the process of converting information from analog to digital.
Digitalization is using digital data to simplify how you work. The process of using digitized information to make established ways of working simpler and more efficient is called digitalization. Note the word established in that definition: Digitalization isn't about changing how you do business, or creating new types of businesses. It's about keeping on keeping on, but faster and better now that your data is instantly accessible and not trapped in a file cabinet somewhere in a dusty archive. Think of customer service, whether in retail, field ops, or a call center. Digitalization changed service forever by making customer records easily and quickly retrievable via computer. The basic methodology of customer service didn't change, but the process of fielding an inquiry, looking up the relevant data, and offering a resolution became much more efficient when searching paper ledgers was replaced by entering a few keystrokes on a computer screen or mobile device.
Digital transformation adds value to every customer interaction. Digital transformation is changing the way business gets done and, in some cases, creating entirely new classes of businesses. With digital transformation, companies are taking a step back and revisiting everything they do, from internal systems to customer interactions both online and in person. They're asking big questions like "Can we change our processes in a way that will enable better decision-making, game-changing efficiencies, or a better customer experience with more personalization?" Now we're firmly entrenched in the digital age, and businesses of all sorts are creating clever, effective, and disruptive ways of leveraging technology.
Netflix is a great example. It started out as a mail order service and disrupted the brick-and-mortar video rental business. Then digital innovations made wide-scale streaming video possible. Today, Netflix takes on traditional broadcast and cable television networks and production studios all at once by offering a growing library of on-demand content at ultracompetitive prices.
Digitization gave Netflix the ability not only to stream video content directly to customers, but also to gain unprecedented insight into viewing habits and preferences. It uses that data to inform everything from the design of its user experience to the development of first-run shows and movies at in-house studios. That's digital transformation in action: taking advantage of available technologies to inform how a business runs.
Criticisms of Digital Transformation
Critical Assessment of Digital Transformation[12]
To critics, digital transformation simply offers tech vendors another opportunity to rebrand their offerings: it's not uncommon to see systems and services being sold as the answer for digital transformation. This kind of over-selling helps explain why Gartner believes digital transformation is approaching the trough of disillusionment.
Tech workers also express cynicism about grand talk of digital. No technology worker spends their working day digitally transforming, rather than coding, programming, and developing. And the phrase can be applied so broadly that it becomes effectively meaningless.
"I don't think there's such a thing as digital transformation," says Gideon Kay, European CIO at advertising specialist Dentsu Aegis. "I just think it's two words that people put together. There is rapid transformation that is driven by technology. Yet all change in society and business these days is impacted by some level of technology."
See Also
References
Further Reading