Website
A website is a collection of web pages (documents that are accessed through the Internet), such as the one you're looking at now. A web page is what you see on the screen when you type in a web address, click on a link, or put a query in a search engine. A web page can contain any type of information, and can include text, color, graphics, animation and sound. When someone gives you their web address, it generally takes you to their website's home page, which should introduce you to what that site offers in terms of information or other services. From the home page, you can click on links to reach other sections of the site. A website can consist of one page, or of tens of thousands of pages, depending on what the site owner is trying to accomplish.[1]
Websites come in a nearly endless variety, including educational sites, news sites, porn sites, forums, social media sites, e-commerce sites, and so on. The pages within a website are usually a mix of text and other media. That said, there are no rules dictating the form of a website. A person could create a website of nothing but black and white photos of roses, or the word "cat" linked to another Web page with the word "mouse." However, many sites follow a standard pattern of a homepage that links off to other categories and content within the website. Originally, websites were categorized by their top-level domains. Some examples include: Government agency websites = .gov Educational institutions' websites = .edu Nonprofit organizations' websites = .org Commercial websites = .com nformation sites = .info Although these top-level domains extensions still exist, they say little about a website's actual content. In the modern day internet, the ".com" extension is by far the most popular domain, a long with many other country-specific extensions.[2]
Websites are typically dedicated to a particular topic or purpose, ranging from entertainment and social networking to providing news and education. All publicly accessible websites collectively constitute the World Wide Web, while private websites, such as a company's website for its employees, are typically a part of an intranet. Web pages, which are the building blocks of websites, are documents, typically composed in plain text interspersed with formatting instructions of Hypertext Markup Language (HTML, XHTML). They may incorporate elements from other websites with suitable markup anchors. Web pages are accessed and transported with the Hypertext Transfer Protocol (HTTP), which may optionally employ encryption (HTTP Secure, HTTPS) to provide security and privacy for the user. The user's application, often a web browser, renders the page content according to its HTML markup instructions onto a display terminal. Hyperlinking between web pages conveys to the reader the site structure and guides the navigation of the site, which often starts with a home page containing a directory of the site web content. Some websites require user registration or subscription to access content. Examples of subscription websites include many business sites, news websites, academic journal websites, gaming websites, file-sharing websites, message boards, web-based email, social networking websites, websites providing real-time stock market data, as well as sites providing various other services. End users can access websites on a range of devices, including desktop and laptop computers, tablet computers, smartphones and smart TVs. A website is hosted on a computer system known as a web server, also called an HTTP (Hyper Text Transfer Protocol) server. These terms can also refer to the software that runs on these systems which retrieves and delivers the web pages in response to requests from the website's users. Apache is the most commonly used web server software (according to Netcraft statistics) and Microsoft's IIS is also commonly used. Some alternatives, such as Nginx, Lighttpd, Hiawatha or Cherokee, are fully functional and lightweight.[3]

Website Vs. Domain Name[4]

A domain name is a form of internet address that's most commonly used to identify websites and email addresses. For example, this website's domain name is winningwp.com, and if you have a Gmail account under, say, [email protected], then gmail.com is the domain name.
A website is what people see when they enter a domain name into their web browsers — it's the collection of pages, files, data, and images that make up the final product that's visible on-screen.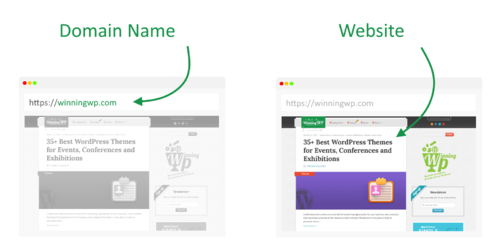 source: Winning WP

You can think of a website as a document file — akin to a physical file that you'd keep in a filing cabinet. A single document file usually relates to a single — more or less complex — topic. It consists of a number of individual documents (rarely just one), pictures, tables, and whatnot. To some extent, a website is the online version of that. In that scenario, a domain name is simply how we can find that document file.

Dynamic vs. Static Websites[5]
If the aim is for your site to take on the role of a digital business card, then a static website will usually suffice. HTML documents with the desired information are created and are stored under their own URL on the web server. When a user enters the web address, they are presented with a static HTML document that looks exactly like those stored on the server. But what happens when a website needs to regularly add new content? With a static website, the changes need to be manually carried out in the HTML code of each individual subpage of the web project. With dynamic websites, this manual step is avoided since the web server freshly generates the websites each time they are called up. Instead of continuously issuing the static HTML pages unmodified, the server adjusts the page content automatically according to the last update. The dynamic website is based on a strict division of the content and layout. Both aspects are assembled when the site is entered into the browser. Dynamic websites therefore require more high-performance servers than static websites, as well as a database such as MySQL, with which the server can manage the elements of the website. Generally, dynamic websites rely on pre-defined layouts and design templates, which are filled with relevant content. Due to their flexibility, dynamic websites are the more popular choice.

Elements of a Good Website[6]

The homepage (or landing page) should be able to quickly guide your (potential) customer to the information they are looking for. The landing pages need to focus on the customer viewpoint. Remember, your website is really NOT all about you or your company. It is about showcasing your products or services in a manner that resonates with your audiences. Your landing page should be clean and simple. Don't let customers get distracted by untidy visuals. Create easy-to-scan texts (headings, highlights, bullet points, pictures, easy to read fonts) so that they can easily find what they need.
A call to action is a combination of words that urge the reader, listener, or viewer of a sales promotion message to take an immediate action, such as "Write Now", "Call Now", or (on Internet) "Click Here". A call to action should be short and sweet. An effective call to action is between two to five words. There should also be a sense of urgency: If you want your customer to download something, "Download Your E-book Today" is a good example
Design is the main reason why people don't trust certain websites. This is a very valid point. We are a visual species and everything we see has an impact on our emotions, decisions and perception. If you find your website could use a boost in trust from visitors, there are a few things you can do:
Include links to media coverage
Display logos of prominent clients
Showcase your social media followers
Avoid cheap looking or low quality photography
Avoid pre-made website templates

Proper layout
How do you find yourself reading pages on a website? Most internet users look at pages in an F-shaped pattern. Horizontally designed sited encourage a Z-shaped reading pattern. Because site visitors like to skim through subheads, bullet points and they only concentrate on the first two paragraphs, focus your website design with these areas in mind.
Good SEO (search engine optimization)
Top positions on the search engine result pages receive a majority of the impressions and clicks, so ranking in these top positions can result in significant traffic increases for your website. The digital landscape has changed dramatically over the past few years, but SEO still remains an effective and important marketing strategy. SEO is one of the most cost-effective marketing strategies because it targets users who are actively looking for your products and services online. In an effort to make your website easier to navigate for the search engines, SEO simultaneously helps to make your website more navigable for users as well.
When it comes to building traffic and keeping visitors on your page, load time plays a primary role. According to Google Analytics, 40% of Web users leave pages that take more than three seconds to load. On average, websites take about 2 seconds to load, but less than one second is optimal to see a big increase in traffic.
We live in a mobile age. You can barely have dinner with friends and family without some of us constantly checking out our mobile phone. Imagine this: a friend sends you a link via text message or email and when you try to open that link on our mobile device, you are presented with unorganized garbage. This will kill any chance the company has to convert you into a customer. If the user can't easily browse and read the content on your website from their mobile device, they will leave uninspired.

Benefits of Having a Website[7]
Today, having a company website is as crucial as having a shop, office or telephone number. Research has found that 6/10 customers expect brands to have content online about their business. Why wait any longer your customers are looking for you! If you own or operate a business which hasn't taken that step into the online world, here are 10 reasons that will leave you wondering why you hadn't done it sooner
Having a website means customers are always able to find you – anytime, anywhere. Even outside of business hours, your website continues to find and secure new customers. It offers the user convenience as they can access the information they need in the comfort of their own home, with no added pressure to buy. Plus, as most companies nowadays have their own website, there's every chance you could be losing customers to your competitors by staying offline
At its simplest, a website provides a quick and easy way of communicating information between buyers and sellers. You can list your opening hours, contact information, show images of your location or products, and use contact forms to facilitate enquiries from potential customers or feedback from existing ones. You can even upload promotional videos to really engage your customers and sell your business in an effective and cost efficient way. This is also a good way to promote your social media channels and build up a community with your customers
In today's modern world, there is an expectation for any reputable company to have some kind of online presence. Potential customers would likely be distrusting of any business that didn't have a telephone number or a physical address, and the same can be said for not having a website and email address. These are useful tools to share crucial information about your business with customers and answer all the What's and Why's that they may have. What's more, having a good quality, easy-to-use website makes customers feel comfortable using your services, as they will assume they can expect the same positive experience in all areas of your business.
As well as simply displaying information, you can also use your website to sell goods & services directly to consumers, in some cases removing the need to use "brick-and-mortar" stores which involve large operating costs (staff wages, rental, utilities to name just a few). Eliminating these overheads will also allow you to lower your prices, giving your business that real competitive edge. It can also be used internally within your business; do you have any news you want to share with colleagues or have any important information that can be accessed by management? Having an internal website can save you a lot of time as everything you need is one place and can be accessed at any time.
As your site is accessible to anyone all over the world, the ability to break through geographical barriers has never been easier. Anyone, from any country, will be able to find your company and as such, is now a potential customer.
Analytic tools allow you to identify who your typical customer is, how they found you, what they like, and adapt your business to maximise purchases through your site. The diverse range of data available can also help you better understand how your social media channels affect your brand, and can even highlight opportunities to change the offline aspects of your business such as branch opening times, promotions and product ranges.
Tools like Google AdWords or advertising on Facebook give you the power to reach customers with much more accuracy and reliability than with traditional offline advertising methods. SEO and online advertising are a great way to help build up awareness, if it's done correctly traffic to your website can see an increase. Be the first company that a potential new customer sees when searching for a specific product or service online, and use your website's contact page or e-commerce features to make purchasing a product or finding a retail outlet easier than ever before.
If you don't have a website it is highly likely that your competitor will do, this means that you are missing out on gaining new customers and can be in the forefront of their minds. It is crucial that no opportunities are missed and are gained by the competition.
Websites provide an easier way to handle customer service. Offering answers to regularly asked questions in a FAQ (Frequently Asked Questions) section, you can reduce customer service costs and save yourself time and money, as well as providing much more information. This also means that customers can receive a reply instantly and saves time, which helps to encourage positive customer relations in the long run. This could be a benefit for you, all positive feedback can be uploaded into a testimonial, your customers are happy why not show it off?!
Websites, in general, are great ways to in providing a place that potential investors can be referred to. It shows what your company is about, what it has achieved and what it can achieve in the future.
See Also
Internet
Internet of Things (IoT)
Internet Message Access Protocol (IMAP)
Internet Reputation
Web Presence
SEO
Search Engine
SERP
References
Further Reading