Enterprise Mobility
Enterprise Mobility focuses broadly on tele-work and remote work trends. Experts define enterprise mobility as not only the ability of workers to work outside of an office, but the mobility of corporate data through technology networks. Enterprise mobility means setting up remote work platforms where individuals complete their professional duties by sending data from one place to another, usually through the global Internet. With the emergence of mobile phone technologies and other new advances in the last 20 years, this form of enterprise mobility has really taken off. As for corporate data mobility, there are also many different types of tools that accommodate this type of enterprise mobility, including videoconferencing platforms, cloud computing systems for file storage, web collaboration tools and more. Companies have also developed detailed models for accommodating enterprise mobility -- for example, the COPE or 'corporate owned, personally enabled' model. The COPE model is built on BYOD or 'bring your device' business model, where in recent years, companies have started to allow employees to use personal devices for work tasks. One of the overarching questions with enterprise mobility is security. As the corporate data travels, it's often vulnerable to data breaches or unauthorized access. Companies use a wide spectrum of tools to manage these risks, from VPN tunnels to endpoint security technologies.[1]
The Need for Enterprise Mobility[2]
Enterprise mobility enables new dimensions of IT alignment. In order to develop an integrated mobility strategy, a few aspects have to be considered. Initially, the competitive environment has to be analyzed to identify the market potentials and possible action points for mobilization. This approach ensures a long-term planning and investments protection. Great improvement opportunities consist in the mobilization of workflows and new channels for the company's employees, and most importantly, the customers. This requires analyses and processes to be redesigned in terms of enterprise mobility. All these tasks should be performed in compliance with involved people, technologies and processes. The main driver behind investments in mobile is shown in figure below: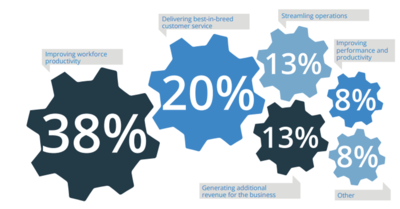 source: M-Way Consulting

As a result of current trends and innovations, enterprise mobility can't be disregarded anymore. A company-wide mobile strategy is the right start for mobile-oriented projects and investments. The following three reasons demonstrate why enterprises need a mobile strategy:
BYOD is the mobile reality in enterprise: Most companies consider that BYOD is unavoidable. Many customers use their smartphones in business environments and want to benefit from the advantages of their high-potential mobile devices. A BYOD insight of Cisco discovered, that 90% of American workers use their own smartphones for work (Cisco, 2013). Included business works are for instance answering emails, interacting with work related mobile apps or making work calls. But at the same time, only 39% of workers who use their own smartphones for work don't protect them with a password. So, the companies have to define mobile guidelines and policies for the in-house usage of mobile devices. In addition, they need to meet the security challenges coming with both personal and corporate-owned devices. Supporting BYOD is an important part of the mobile strategy and leads the company to a successful approach into the mobile world and all of its advantages. At the same time, the mobile strategy provides a statement of requirements and guidelines without compromising corporate policies or risking sensitive data loss.
Enterprise mobility is more than "we have an app": In the beginning of mobile initiatives, enterprises often developed and deployed one single mobile application and had the opinion that they were mobile visionaries with a strategy up their sleeve. But one single app is not enough to meet the objectives of an enterprise-wide mobile strategy. Requirements analysis, strategic planning, research, testing and lifecycle management are required preliminaries for mobility approaches. The software development needs to be agile – ongoing prototype phases should be part of the whole project lifecycle. So, the enterprise can move from project-based work to the paradigm of the mobile lifecycle. Included elements of this basic approach are:

Design and build mobile workflows and their corresponding apps for web, hybrid or native clients
Integration of existing infrastructure and services
Deployment of enterprise apps to internal or public app stores
Management of apps and mobile devices for deployment and monitoring
Analysis of mobile usage and distributed apps and devices
Security management for corporate data

Mobile projects need coordination: Many enterprises manage multiple mobile projects at the same time. The collaboration of different organizational departments with the IT department as well as involved employees is very difficult. The problem solving and troubleshooting over several project teams and stakeholders has to be managed by a consistently and company-wide strategy. Only with this approach, enterprises can avoid individual apps and mobile initiatives, which will be on the fringes. With the help of a mobile strategy, the whole company can benefit from long-term effects due to accurate budget planning and investment regulation. The complexity of huge mobile projects can get under control with explicit specifications in advance and will result in coordinated implementation steps during the mobile workflow.
The Benefits of Enterprise Mobility[3]
Some of the positive results that companies can expect from a successful implementation of an enterprise mobility solution are:
Increased operational speed and efficiency gains: This benefit is especially applicable in industries that are dependent on maintaining a complex web of activities or assets to keep their business running. An example would be retail companies, who are dependent on multiple players in the supply chain. Whether you are a bricks-and-mortar store or an eCommerce business, fulfillment is everything. If customers can't get their product, they will go down the street or to another website. Enterprise mobile apps that provide inventory tracking from the time an order is placed to the time it gets shipped out or purchased (scanning out via iPad app, for example) can expedite operations to fulfill orders more quickly, and increased visibility of sales results by product can help companies to make better decisions about what inventory items are best to keep on hand.
Efficient data collection: More efficient data collection drives better decision making and is enabled by the ability to share important information in real-time using a mobile device. Look at the health care industry and their use of enterprise apps for patient care. These specific mobile apps enable caregivers to collect data about a patient directly from the bedside and report it to a centralized location (the cloud or to a connected back-office system), so that doctors can make diagnoses and care decisions more quickly and with more accurate information, resulting in healthier patients. Often mobile application security is a concern, especially in the health care industry, but with the help of a Mobile Application Management (MAM) solution, health care organizations can be certain that their information is secure and private patient information is not compromised.
Faster information reporting: Not surprisingly, this leads to better decision-making. A classic example of this benefit is the concept of a management dashboard feature attached to an enterprise app used by employees, whether they are field workers, retail store managers, or salespeople. Managers can quickly see the results of the prior day or even real-time results right on their phone and act on them without having to wait until they get to the office.
Improved workforce productivity: As a result of real-time data collection, artificial intelligence and reporting, this benefit can be demonstrated effectively with mobile sales apps. CRM capabilities enable salespeople to input data on a given lead in real-time, thus giving both their corporate office and the salesperson up to date information on their pipeline, while a consumer-facing component can calculate what-if scenarios (such as in the case of a car or insurance purchase), which can accelerate the sales close cycle. With a MAM solution, companies can easily deploy mobile apps to quickly get their app into the hands of their sales team, or set up an enterprise app store for employees to find and download apps.
Better Resource Allocation: Better allocating resources increases profitability, and can be demonstrated in the field service industry. Many mobile solutions exist which can track a technician's status on each job and location, and then can dynamically reassign workers to different jobs to optimize efficiency and meet demand. This results in improved customer satisfaction due to lower wait times, improved employee utilization, and lower related costs such as mileage reimbursements and customer credits for late appointments.
Increased visibility to remote operations: Although all companies with disparate locations or operational facilities will find this attractive, this benefit is especially useful to the oil and gas industry. With each project location (e.g. oil rig) often located in a remote area with limited infrastructure, it can be difficult for corporate staff to keep tabs on the project's progress or to have any knowledge of things that may go wrong. With a good enterprise mobility solution, oil and gas companies can more effectively monitor operational issues such as delivery of equipment or downtime, and can be informed of any safety issues before they hit the headlines.
More collaboration: This benefit can be evidenced by the concept of enterprise social networking, which, particularly in large companies with multiple levels of hierarchy, encourages cross-level and role communication to improve cross-functional teamwork and problem-solving. A real life example of this is Humana's enterprise social system, which is now used regularly by 26,000 employees to facilitate communication and teamwork. If a solution like this is made mobile (think Facebook on your phone, but for work purposes), the adoption will skyrocket.
The Challenges of Enterprise Mobility[4]
The mobile IT environment has become far more diverse and challenging in terms of devices, operating systems, security risks, and other issues that are commonly of concern to organizations. Users within the enterprise now demand a mobile experience that is on par with or better than commercial applications. This new mobile world is redefining the function of traditional IT in the workplace and presents organizations with a set of complex security, management, cost, compliance, and legal issues that need to be addressed.
Security: Mobile devices provide a much larger and more diverse attack surface for an adversary. With the growing trend of Bring Your Own Device (BYOD) policies in organizations, these risks are further elevated. A lost or stolen employee-owned device with permanent VPN connections for email and other applications can provide easy access into the enterprise network where corporate data and sensitive information are stored. Techniques like device locking, data-at-rest encryption, enterprise- and application-level sandboxing, device virtualization, and secure boot loaders that mitigate corporate risk are all evolving in the commercial world. Mobile Device Management (MDM) and Mobile Application Management (MAM™) are relatively mature and help with risk mitigation — it is not expensive or difficult to get robust and scalable tools that are designed for this next generation of mobile IT.
Policy and Compliance: Establishing and adhering to an organization-wide policy for mobile devices is a key step towards the effective management of enterprise technology. Questions like whether or not to allow BYOD, how to effectively sandbox user and personal data, how much to lock down an enterprise device, whether or not to allow split tunneling of user traffic, and whether to route all uplink and downlink traffic through enterprise infrastructure need to be addressed at both a corporate and department level since all have ramifications at various levels within the organization. Once organizational policies are defined clearly, employee education and enforcement of the policy on the device and network are necessary. Plans for immediate and effective remediation should be implemented in the event a policy is violated.
Usability: Consumers have grown to expect a user experience from enterprise applications that matches or exceeds that provided by commercial applications. A clunky enterprise app or a device that is considered too locked down isn't likely to be widely adopted, and users will find ways around policy that is deemed to be too restrictive. Optimizing usability requires that the enterprise create commercial quality apps without compromising the security posture of the device or the network. Consumers are comfortable downloading apps from an app store; creating a similar experience in the enterprise will likely increase enterprise application use and adoption. Users should also be confident that they are free to use their devices for personal use with the assurance that there will be a clear separation between personal and enterprise content.
Enterprise Applications: Enterprise mobile applications need to effectively extend backend IT services and present enterprise data to a mobile device quickly and easily. Integration between the mobile device and backend systems should be a seamless and effective process both for an enterprise app developer and the end user. For the developer, implementing security policies and access to backend services like authentication, directory, and authorization services should be a transparent process that is easily incorporated using standard libraries and APIs. Given the wide array of devices and operating systems that the application needs to work on, solutions that allow web developers with traditional programming skills to create device and operating system agnostic mobile applications will be critical in achieving application development scale.
Rapid Rate of Change: Designing a scalable and secure mobile enterprise architecture is complex, especially given the fact that the technology platforms and devices are evolving at a fast pace. Most IT organizations are accustomed to a Microsoft-like 5-6 year product lifecycle in which they have the time to plan changes and slowly implement them. Mobile evolves very fast from every perspective — devices, versions of operating systems, diversity of available applications, and the types of security threats on these devices are constantly changing. A well thought-out and successful mobile strategy will plan for change and select architectures that allow for future adaptation to emerging trends.
Cost Management: A mobile device's cost continues long after initial deployment and is often challenging to determine and manage. Besides the capital costs associated with the devices, usage rates are only increasing with the proliferation of bandwidth-hungry applications With BYOD, enterprise users present the organization with a wide array of bills and user-purchased service agreements. Cost visibility in real time is essential to defining and maintaining expense policies. International roaming charges can have a serious impact on costs and have been the focus of many recent cost-related mobile decisions. Most Mobile Device Management suites provide real-time cost visibility. Targeted analytics that yield insight into usage patterns in relation to business operations and geographies can help with understanding costs.
Enterprise Mobility Trends[5]
As the first wave of MDM solutions are becoming marginalized, EMM solutions have vaulted into the lead as the crux of enterprise mobile engagements. In this next phase, balancing user mobility, data security and application usability from endpoint to endpoint — or from location to location — will emerge as priorities. These enterprise mobility trends will drive the space:
Employee mobile application adoption intensifies at the enterprise level: A few years ago, the enterprise focus was on B2C applications, but now there's more activity in the B2B environment because employees want to be able to work anytime, anywhere and on any device.
Enterprises pair mobile initiatives with analytics: The industry can expect growth in the back end of mobile enterprise platform analytics, including sales and cloud collaboration platforms, and analytics for VoIP, customer resource management and other productivity software. The IoT market will bring in more data that can be used to create new offerings and services.
Applications drive mobile initiatives: Enterprise IT is leveraging applications that are accessed by a plethora of mobile endpoints to provide a degree of stability to their chaotic infrastructures.
Security and real-time risk awareness are top concerns: Enterprise IT contends with an influx of mobile enterprise devices that access a growing number of applications using corporate resources and data. If security is compromised, security professionals want to know immediately.
Multiplatform/Multiarchitecture AD tools are on the rise: There are numerous vendors in this market space and new ones are entering all the time. BYOD and the increase in multiplatform needs will drive interest in this type of platform development.
The use of advanced mobile UX design: For both the customer and the employee, it's all about the experience. But with limited time, budget and skills, it can be challenging to develop great employee mobile apps. In order to address this difficulty, companies are buying digital firms, allowing them to expand their creative capabilities and offerings.
An increase in mobile-connected smart objects: The number and type of smart objects will continue to increase. Smart homes, toys and garden automation are just a few examples of up-and-coming areas of advancement. Opportunities may include using a mobile device as a remote control, a diagnostic tool or a way to view and analyze the information collected by sensors.
See Also
Mobile Application
Mobile Application Management (MAM)
Mobile Content Management (MCM)
Mobile Device Management (MDM)
Mobile Information Management (MIM)
Enterprise Mobility Management (EMM)
Bring Your Own Device (BYOD)
References
External References
Enterprise Mobility and Its Impact on IT Gartner
Why You Need A Sound Enterprise Mobility Strategy CMS Wire
Benefits of Mobility Solutions RFIDC
CIO Desk Reference
(Relevant content on this topic in the CIO Toolkit on CIO Index)