Mobile Content Management (MCM)
Mobile Content Management (MCM) is a type of software that enables content to be easily and securely shared from any device in a specific enterprise. With more and more employees bringing mobile devices into the workplace for business use, it is important for businesses to be able to manage the content that appears on those devices to ensure that company information is uniform and that it remains secure. MCM allows employees to view necessary content on any device that they choose to use and from any location. MCM means that the entire company will have the same access to content on their mobile devices. MCM also allows the system's administrator in any given workplace to easily share files to all mobile devices on the network. Furthermore, MCM allows employees to easily send and share content from their mobile devices, either within the network or to clients outside of the network. MCM also provides security for the content on mobile devices. Overall, MCM simplifies the way that content is shared and accessed in the workplace. With a wide range of mobile devices on the market that all come with different operating systems, security settings, and capabilities, it is very important for companies to be able to create a sense of uniformity between their employees' devices as they are used in a business context.[1]

Employees stay productive wherever they work with secure, anytime access to essential business content. With secure mobile content management (MCM) software, IT can protect confidential business information across the mobile workforce without slowing down business productivity. That means employees can access critical business content and collaborate seamlessly across any network, on any mobile device, without security prompts interrupting their workflow.[2]

A well-designed mobile content management strategy enables employees to securely access mission-critical enterprise data and collaborate with other employees across any network or mobile device without being slowed down or restricted from data they need access to for their work function. As a result, solutions from mobile content management seek to provide the ideal balance between worker productivity and business content-related mobile security. MCM enables employees to efficiently access their work documents, spreadsheets, email, schedules, presentations and other enterprise data while working remotely while also ensuring the security of the enterprise's data residing on the mobile device or transmitted across networks. MCM differs from other mobile security initiatives in that it focuses specifically on data, and in many cases collaboration on data among co-workers, rather than on the devices or applications that utilize the data. Mobile Content Management involves the encryption of sensitive data and ensuring that only authorized applications can access, transmit or store this data using strong password protection.[3]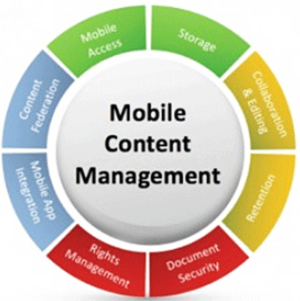 source: Webopedia

Key Functional Capabilities of Mobile Content Management (MCM)[4]
Mobile Content Management delivers the following key capabilities.
Mobile Content Management works best when integrated into an MDM solution

Mobile Content Management System (MCMS)[5]
Mobile content management system (MCMS) refers to a category of content management systems (CMS) that has the ability to both deliver and store content and services to a wide variety of mobile devices, which includes smartphones, mobile phones, PDAs, and tablets. An MCMS can either be an individualized system or a part of a greater CMS and exist in the form of an add-on, module, or feature. Because mobile devices are rapidly growing in widespread use and have become much more complex, the demand for management of mobile content has risen greatly. The delivery of mobile content faces unique hindrances that include weaker processors, smaller screen size, less wireless bandwidth, and decreased capacity for storage in comparison to desktop computers. With an MCMS, a company can much more easily manage content on a wide range of mobile devices. An MCMS consists of four major features. First, the MCMS can perform multi-channel content delivery. This means that all data is stored in raw format on a central server and can be delivered to all types of mobile devices in various formats that are compatible with each individual device. Second, an MCMS incorporates content access control. This means that services such as authentication, authorization, and access approval exist for all content. Third, an MCMS allows for a specialized templating system. This means that a website can either be seen in all versions at one domain name (the multi-client approach) or at a targeted sub-domain name for the mobile site (the multi-site approach). Fourth, an MCMS allows for location-based content delivery, which enables the use of targeted content delivery based upon location.

Key features of Mobile Content Management System (MCMS)[6]


Choosing the right MCM provider[7]
It's imperative that businesses, small and large, incorporate Mobile Content Management (MCM) strategies into their greater management plan. Successful MCM providers ensure flexibility and security to end-users, without compromising productivity. The following features should be considered when choosing the right MCM provider for your environment.

Mobile Content Management (MCM): Challenges[8]

Employee productivity is dependent on their ability to access and share work-related content across multiple content repositories including their own network file systems, cloud-based repositories and enterprise storage solutions. The challenges include:

Advantages of Mobile Content Management (MCM)<ref>Advantages of Mobile Content Management (MCM) fusionmobile.co.ukbr />
See Also
Mobile Application
Mobile Application Management (MAM)
Mobile Device Management (MDM)
Mobile Security
Enterprise Mobility
Enterprise Mobility Management (EMM)
References
Further Reading