ITIL Availability Management
What is ITIL Availability Management?
ITIL Availability Management ensures the availability of the IT Services in a way that all components of the IT Services ie:
IT infrastructure
IT processes
IT resources
support the achievement of agreed availability goals. Availability Management is part of Service Design[1] The official definition of Availability in ITIL is the ability of a configuration item or IT service to perform its agreed function when required.

The Goal of the Availability Management Process[2]
The main goal of the Availability Management process is ensuring that the level of service availability meets or exceeds the current and the future agreed needs of the business in a cost efficient way for all delivered services. Generally, availability is measured in terms of percentage over the expected operation time.
For instance, if the operation time of a service is from eight am in the morning to six pm in the evening, it is active for ten hours of operation time and 600 minutes respectively. And if the business expects 99% availability for this service, by multiplying 600 minutes with the 99% availability service level target, we find the minimum operation time without interruption is 594. This means, only six minutes of outage or interruption can be accepted for this service by the business during the hours of operation in a day. And the main goal of the availability management is ensuring these kinds of availability service level targets for the delivered services to the customers in a cost-effective manner.

Availability Management – Basic Concepts[3]

Availability: In simplest terms, the ability of a service, component or CI to perform its agreed function when required. This term answer the question, is it available to use when needed?
Reliability: A measure of how long a service, component or CI can perform its agreed function without interruption. When we understood the availability, thequestions comes, how long the service will be available? This can be answered by reliability.
Maintainability: A measure of how quickly and effectively a service, component or CI can be restored to normal after a failure. The emphasis is on how soon or how quickly the services can be back to BAU.
Serviceability: The ability of a third party supplier to meet the terms of their contract. Often this contract will include agreed levels of availability, reliability and / or maintainability for a supporting service or component. Serviceability and Maintainability are often confusing terms however the key differentiating term here is involvement of third party suppliers to restore the service or component.

Principles of Availability Management[4]
There are two interconnected levels which complete availability management.
Component availability: It involved all the aspects of component availability.
Service availability: It involves all the aspects of service availability and the actual or potential service impact that component availability can create.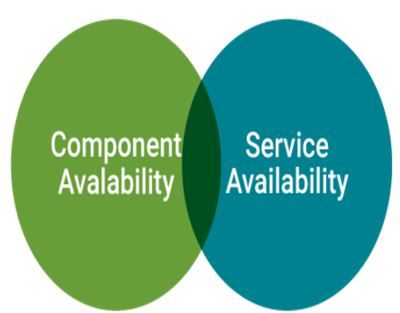 See Also
References