ITIL Service Transition
What is ITIL Service Transition?
The role of ITIL Service Transition is to move services and service changes into operational use. ITIL Service Transition also introduces the service knowledge management system (SKMS) which has the ability to support organizational learning and assist in increasing the effectiveness and efficiency of all stages of the service life-cycle. This provides benefits to people with the knowledge and experience of others, helps to support decision-making, and improves the management of services.[1]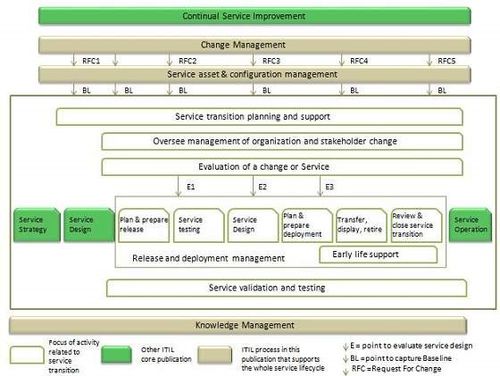 source: Tutorials Point
Objective and Scope of ITIL Service Transition[2]
The key objectives of service transition are to:
Plan and manage service changes efficiently and effectively
Manage risks relating to new, changed, or retired services
Successfully deploy service releases into supported environments
Set correct expectations on the performance and use of new or changed services
Ensure that service changes create the expected business value
Provide good-quality knowledge and information about services and service assets.
In order to achieve these objectives, there are many things that need to happen during the service transition lifecycle stage. These include:
Planning and managing the capacity and resources required to manage service transitions
Implementing a rigorous framework for evaluating service capabilities and risk profiles before new or changed services are deployed
Establishing and maintaining the integrity of service assets
Providing efficient repeatable mechanisms for building, testing, and deploying services and releases
Ensuring that services can be managed, operated, and supported in accordance with constraints specified during the service design stage of the service lifecycle.
Some activities of all service transition processes may be carried out during the service design stage of the service lifecycle – for example, the design of a release package or planning of a service transition.
The scope of Service Transition includes: Managing the complexity associated with changes to services and service management processes
Allowing for innovation while minimizing the unintended consequences of change
Introducing new services
Changes to existing services, e.g. expansion, reduction, change of supplier, acquisition or disposal of sections of user base or suppliers, change of requirements or skills availability
Decommissioning and discontinuation of services, applications or other service components
Transferring services to and from other service providers.
Guidance on transferring the control of services includes transfer in the following circumstances:
Out to a new supplier, e.g. outsourcing
From one supplier to another
Back in from a supplier, e.g. insourcing
Moving to a partnership or co-sourcing arrangement (e.g. partial outsourcing of some processes)
Multiple suppliers, e.g. co-sourcing or multi-sourcing
Joint venture
Down-sizing, up-sizing (right-sizing) and off-shoring
Merger and acquisition
In reality, circumstances generate a combination of several of the above options at any one time and in any one situation. And if that was not enough, the scope also includes:
The transition of changes in the service provider's service management capabilities that will impact the ways of working is:
The organization

People
Projects
Third parties involved in service management
ITIL Service Transition Processes[3]
Service Transition builds and deploys new or modified services. The ITIL service lifecycle stage of Service Transition (see figure below) includes the following main processes:
Change Management: Process Objective: To control the lifecycle of all Changes. The primary objective of Change Management is to enable beneficial Changes to be made, with minimum disruption to IT services.
Change Evaluation: Process Objective: To assess major Changes, like the introduction of a new service or a substantial change to an existing service, before those Changes are allowed to proceed to the next phase in their lifecycle.
Project Management (Transition Planning and Support): Process Objective: To plan and coordinate the resources to deploy a major Release within the predicted cost, time and quality estimates.
Application Development: Process Objective: To make available applications and systems which provide the required functionality for IT services. This process includes the development and maintenance of custom applications as well as the customization of products from software vendors.
Release and Deployment Management: Process Objective: To plan, schedule and control the movement of releases to test and live environments. The primary goal of Release Management is to ensure that the integrity of the live environment is protected and that the correct components are released.
Service Validation and Testing: Process Objective: To ensure that deployed Releases and the resulting services meet customer expectations, and to verify that IT operations are able to support the new service.
Service Asset and Configuration Management: Process Objective: To maintain information about Configuration Items required to deliver an IT service, including their relationships.
Knowledge Management: Process Objective: To gather, analyze, store and share knowledge and information within an organization. The primary purpose of Knowledge Management is to improve efficiency by reducing the need to rediscover knowledge.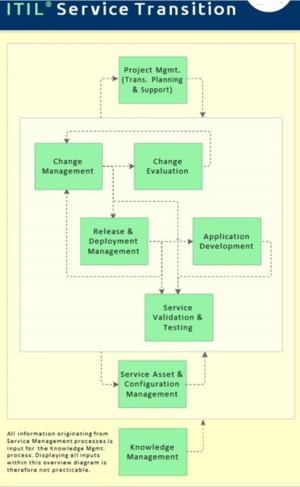 ITIL Service Transition Value to the Business[4]
ITIL Service Transition adjusts business requirements with the business operation: The ITIL Service Transition stage adjusts business requirements with business operations. The business vision, strategy, and requirements of an organization are planned, developed, tested, verified, and delivered into operations during the ITIL Service Transition stage.
It secures maximum value for customers and users: Maximized value for customers and users is secured. By testing, verifying, and risk planning, the impacts of services that might cause customer dissatisfaction are minimized. With the help of the necessary tools, software, and resources, new requirements and market tendencies are aimed to be adopted as fast as possible. In order to adopt new technologies or service improvements, a suitable framework should be designed by the organization.
It facilitates the management of mergers, spin-offs, and acquisitions: Companies might take strategic decisions such as mergers, spin-offs, or acquisitions. These might require existing services to be updated or new services to be developed and transferred to operations. During mergers, spin-offs, or acquisitions, transition management of services is done during the ITIL Service Transition stage.
It increases the success rate for changes and releases: Because the ITIL service transition stage works in accordance with a framework and this framework enables the consistent and successful delivery of interrelated services.
It helps to forecast service levels: Since tests and verifications of new or changed services are done during the ITIL Service Transition stage, this stage also helps to forecast service levels and warranties about new services or changed services.
It reduces variation: The ITIL Service Transition stage reduces the variation between planned and actual resources and budget plans. Let's say that your company is planning to implement a new service that will enable customer representatives to handle a customer operation in 10 seconds. During the service transition stage, with the help of testing and verification steps, you will be able to see whether you will be able to meet your targeted levels. If you cannot meet required and planned levels with existing resources or budgets, you should reevaluate how to meet targeted levels of service. Therefore, the Service Transition stage helps you to assess your status and reduce the variation between planned and actual values.
Policies for Service Transition[5]
The following are examples of policies for service transition. Every service provider should agree to and document policies that are appropriate for their circumstances. Endorsement and visible support from senior management contribute to the overall effectiveness. Each policy is explicitly stated and its suggested application and approach are illustrated by applicable principles and best practices that help an organization deliver that principle. Examples of these policies include:
Define and implement a formal policy for service transition: A formal policy for service transition should be defined, documented, and approved by the management team, who ensure that it is communicated throughout the organization and to all relevant suppliers and partners
Implement all changes to services through service transition:

All service changes must be managed by the service transition lifecycle stage, except for standard changes that follow a procedure defined during the service transition lifecycle stage.
The scope of service change must be documented. This scope should include all changes to the service portfolio or service catalog and should normally exclude business process changes and some minor operational changes.

Adopt a common framework and standards: Base service transition on a common framework of standard re-usable processes and systems to improve integration of the parties involved in service transition and reduce variations in the processes.
Maximize re-use of established processes and systems: Service transition processes are aligned with the organization's processes and related systems to improve efficiency and effectiveness, and where new processes are required they are developed with re-use in mind.
Align service transition plans with the business needs: Align service transition plans and new or changed services with the customer's and business organization's requirements in order to maximize the value delivered by a change.
Establish and maintain relationships with stakeholders: Establish and maintain relationships with customers, customer representatives, users, and suppliers throughout the service transition in order to set their expectations about the new or changed service.
Establish effective controls and disciplines: Establish suitable controls and disciplines throughout the service lifecycle to enable the smooth transition of service changes and releases.
Provide systems for knowledge transfer and decision support: Service transition develops systems and processes to transfer knowledge for the effective operation of the service and enable decisions to be made at the right time by competent decision-makers.
Plan release packages: Releases are planned and designed to be built, tested, delivered, distributed, and deployed into the live environment in a manner that provides the agreed levels of traceability, in a cost-effective and efficient way.
Anticipate and manage course corrections:

Use risk assessment and management to identify and document the range of course corrections that staff is allowed to implement.
Train staff to recognize the need for course corrections and empower them to apply necessary variations within prescribed and understood limits.

Proactively manage resources across service transitions: Provide and manage shared and specialist resources across service transition activities to eliminate delays and optimize the utilization of resources.
Ensure early involvement in the service lifecycle: Establish suitable controls and disciplines to check at the earliest possible stage in the service lifecycle that a new or changed service will be capable of delivering the value required.
Provide assurance of the quality of the new or changed service: Verify and validate that the proposed changes to the operational services defined in the service and release definitions, service model, and service design package can deliver the required service requirements and business benefits.
Proactively improve quality during service transition: Proactively plan and improve the quality of the new or changed service during the transition
ITIL Service Transition Benefits and Key Aspects[6]
According to ITIL V3, the Service Transition process has several aspects & benefits as discussed below:
Quick & efficient adaptability to new requirements.
Transition management of mergers, de-mergers, acquisitions, and transfer of services.
Increasing success rate of changes and releases for the business
More precise predictions of service levels and warranties for new and changed services.
Increasing compliance with business and governance requirements during a change.
Reducing deviation of actual plans & budgets against the original estimated values.
Increasing productivity of business customers & staff.
Leads to timely discontinuation or changes to maintenance contracts for software and hardware when components are decommissioned.
Understanding and assessing the risk levels during and after a change.
ITIL Service Transition Roles & Responsibilities:
Below are the Roles responsible defined under Service Transition (ITIL V3) module:
Project Manager
Change Manager
Change Advisory Board (CAB)
Emergency Change Advisory Board (ECAB)
Configuration Manager
Release Manager
Test Manager
Knowledge Manager
Application Developer
See Also
Service Knowledge Management System (SKMS)
References