IT Operations Management (ITOM)
What is IT Operations Management (ITOM)?
IT Operations Management (ITOM) involves technology infrastructure components and requirements of individual applications, services, storage, networking, and connectivity elements within an organization. In other words, IT Operation Management is responsible for the smooth functioning of infrastructure and operational environments that support application deployment to internal and external customers, including network infrastructure; server and device management; computer operations; IT infrastructure library (ITIL) management; and help desk services to an organization.[1]

IT operations management (ITOM) software is intended to represent all the tools needed to manage the provisioning, capacity, performance, and availability of the computing, networking, and application environment. Gartner divides the ITOM market into 10 major segments that include DBMS, application management, availability and performance, event, fault and log management, network management, configuration management, IT services desk and IT help desk, asset management, job scheduling and other ITOM (which refers to output management software) for tools used to manage hardware peripherals, such as printers.[2]
Defining Goals, and Objectives of IT Operations Management (ITOM)[3]
IT Operations Management (ITOM) is one of the main functions of the Service Operation module of the ITIL framework. This function is responsible for managing the capacity, performance, and availability of all the components used in an organization's IT Infrastructure. The ITIL IT Operations Management is also responsible for maintaining all the technology infrastructure components, as well as looking after all the aspects of applications, services, storage, networking, and connectivity elements that are used in the day-to-day operations of an organization. According to ITIL v3, the Operations Management function describes those approaches that need to be followed in order to ensure consistency, reliability, and quality of service.
ITIL IT Operations Management Objective:
According to ITIL v3, the primary objective of ITIL IT Operations Management is to monitor and control the IT infrastructure and services. ITIL Operations Management carries out the day-to-day tasks related to the management of the infrastructure components and services, according to the standards defined by Service Design Process.
The Goals of ITIL Operations Management:
Below lists some of the goals of this ITIL Operations Management function:
Increasing Stability: It tries to reduce the requirement of infrastructure changes, which helps to maintain the status quo and minimize service disruption.
Continual Improvement of Service: It tries to improve the IT infrastructure and service quality by placing necessary change requirements.
Issue Diagnosis and Resolution: Within its day-to-day activity, it helps to detect and provides quick resolution to service failures. To do this IT Operations Management (ITOM) has to maintain solid coordination with Service Desk, Technical *Management, Application Management, and Incident Management.
The illustration below describes the overlap it has with other functions & processes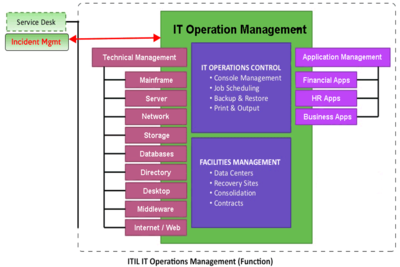 source: Cert Guidance

The IT Operations Management (ITIL V3) is divided into two sub-functions (shown in the above picture).
IT Operations Control:

This sub-function controls the monitoring and execution of the routine day-to-day operational activities and tasks that are needed to manage the IT Infrastructure.
IT Operations Control function is the main controller of the Event Management process.
Tasks like component monitoring, job scheduling, backup & restore, and routine maintenance are done within this sub-function.
IT Operations Control facilitates centralized monitoring and control activities, typically by the use of an Operations Bridge or Network Operations Center (NOC).

Facilities Management:

This sub-function carries out the management of the physical environment. For Example, data centers, computer rooms, cooling, power supply, etc.
In some larger organizations where much of this work is outsourced to third parties, there the facilities management also does the maintenance of those third-party contracts.
Responsibilities and Functions of IT Operations Management[4]
Network Infrastructure

All networking functions related to Internal and external communications.
Management of internal telephone system.
Providing remote access for authorized users to the organization network.
Telecommunication management, internal & external, for the organization
Port management in order to facilitate access to outside servers.
Resolving any issues and monitoring related to network resources.
Server and Device management

Management of the server
Storage and network management
File server and email setup and authorization.
Management of organization-approved devices like laptops, desktops, and mobile computing devices.
Operations related to Computer & Helpdesk

Data Center & facility management
Help desk management
Provisioning of users.
Providing inputs for configuration audits.
Backup management
High availability of IT services & Disaster recovery management and.
Manage and maintain the IT infrastructure library for the organization.
The Need for Next-Gen IT Operations Management (ITOM)[5]
Today's digital business requirements can overwhelm your IT staff as they try to keep pace with the rate of change and the volumes of data generated. You need next-gen IT operations management tools that offer machine learning, advanced analytics, and intelligent automation. IT operations enabled with artificial intelligence, AIOps, help you to streamline, simplify, and improve IT operations.
Ensure the performance and availability of digital services
Optimize cost and align risk decisions with business needs
Efficiently run and manage business-dependent technology
Respond to problems fast and recommend improvements
Requisites Of A Modern IT Operations Management Platform[6]
IT Operations Management forms the backbone of enterprises that rely heavily on IT for delivering products and services to their customers. IT Operations management software is a blanket term used to describe any software application which helps in managing IT Services rendered to customers, partners, or even employees. This could be as complex as running the Online Banking platform of a large bank to as simple as handling IT Asset requisitions from new employees. The spectrum is quite wide and diverse and one must deliberate before buying a modern ITSM Service Management platform. The infographic below illustrates 5 key requisites of a modern ITOM Platform
Capabilities, Features and Modules
This forms the core tangible for any modern ITOM Software platform. Here are six capabilities that any modern ITOM Software platform should have at the least.
Operations Management: Your IT Operations Management platform should have the capability to monitor every component of your Hybrid Infrastructure. Whether it's servers, networks, applications, or composite IT components.
Cloud Management: Cloud forms a major vehicle for today's enterprise. Given the nature of business, everything seems to be residing on the cloud whether it's core business applications, servers, or even files. Businesses need solid cloud management software to manage hybrid cloud which is engrained into the enterprise fold.
Service Management Automation: As the name suggests every modern ITOM software should be able to automate all IT Processes and Tasks which are repetitive in nature.
Network Management: Modern Networks are spread across offices, locations, and even continents. You will need capabilities to manage your networks in a seamless manner.
Data Center Automation: Enterprise applications get updated at a rapid pace. Data Center automation enables you to automate provisioning, patching, and compliance across multivendor physical and virtual servers, databases, and middleware for enterprise-scale deployments.
Scalability: An ITOM platform is meant for a large organization and must be able to scale its operations on whichever platform you select, making sure it can handle the load of your ever-growing IT Infrastructure and business needs.
Ease of Use: What good is an ITOM platform if it is too difficult for the users to manage? The real users of the platform are your IT personnel and customers. This is why it is important to ensure the platform is easy to use and offers complete control to the users. An expert ITOM consultant can help you in the process of integrating all of your existing technology solutions with your ITOM software platform.
Time to Market: Business and technology are changing rapidly. Gone are the days when ITOM implementations used to take a year. A modern ITOM platform should be implemented in a matter of weeks so that businesses can drive value from their IT investments.
Total Cost of Ownership: You should measure the overall total cost of ownership (TCO) of your ITOM software platform over a period of one year. A low entry point doesn't guarantee lower TCO. The amount of time, effort, and skills spent on implementing, maintaining, and running your ITOM platform determines the overall spend for the business.
IT Operations Management (ITOM) Challenges[7]
Effective IT Operations Management (ITOM) requires an integrated, service-centric approach, one that maximizes business service quality, drives efficient processes, enables innovation, and ensures robust governance. However, many IT teams still wrestle with multiple, unintegrated ITOM tools. As a result, they suffer from service outages and cloud complexity. Despite investing in new tools, companies continue to experience business service outages, which negatively impact customers, partners, and employees—resulting in financial losses and damage to the company's reputation. IT teams continue to manually stitch together disconnected data from multiple monitoring tools rather than have a clear, real-time view of business service and IT Infrastructure health. They struggle to detect, diagnose, and resolve service issues, and the result is yet more frequent and more severe service outages. Moreover, as the demand for cloud resources grows, so does the complexity to manage them. Cloud challenges include having different systems to manage each cloud environment, inconsistent service catalogs, limited cost and usage visibility of cloud resources, and high expectations from users and businesses that want immediate results.
IT Operations Management (ITOM) Best Practices[8]
Below are 5 IT operations management best practices that any organization can follow to beef up agility.
Shift IT from Fire-Fighting Mode to Active Monitoring: Oftentimes, despite the drawbacks of a break-fix model, companies can't outgrow their traditional mentality of calling upon IT only when necessary. Don't be one of them. By adopting an ITOM best practice approach to infrastructure, you move on from the ad-hoc model of IT that can only fix problems once they have occurred. With 24x7 real-time monitoring via ITOM tools like ServiceNow, you can detect problems before they occur and drastically reduce your downtime.
Create SMART Goals & Prioritize: The SMART acronym is a best practice framework for setting goals that stand for Specific, Measurable, Achievable, Realistic, and Timely. It's a good idea to clearly define roles within your IT teams to increase accountability. IT teams, especially for small businesses, often struggle to understand precisely what their workload or priorities are. Automated ITOM processes redirect issues to their respective problem solver and allow you to use your IT resources optimally.
Align ITOM with Service Delivery: Considering the vital role that IT plays in the evolving standards of your business, how you perceive your IT can be the difference between success and failure. If you continue to view IT operations as something you call upon when the network in your conference room flickers or when your printer is being fussy, you aren't exactly using what you have at your disposal to the fullest. Advanced ITOM processes mean you no longer manage applications and infrastructure in a vacuum. Instead, ITOM is developing a keen understanding of your infrastructure with respect to your service delivery. ITOM processes and workflows are often designed around customer experience, allowing you to derive more ROI from it while giving your customers the seamless service delivery they expect.
Use a Single Window for Application & Infrastructure: Using an automation tool can bring together enterprise-class monitoring, event management, and operational analytics in a centralized 360-degree view that allows you to evaluate the health and performance of your IT infrastructure. What's more, is that you can strengthen your ITSM experience with ITOM, to greatly increase the availability of resources and foster accountability while still complying with SLAs.
Partner with a Trusted MSP to Save Costs & Increase ROI: Unless you've already hit your peak as a business and are regularly churning out profits year-on-year, budgets are tight. Small businesses often have to make the hard choice between managing costs and expectations. However, there is an easy solution to solve the conundrum. Ably managed service providers (MSPs) harbor an impressive array of technology experts and tools that make devising your ITOM strategies easier. MSPs can align your IT with your business objectives.
See Also
References