IT Services (Information Technology Services)
What are IT Services?
Information Technology (IT) services refer to the application of technology to support and improve business operations. They can take a variety of forms, including consulting, software development, and infrastructure management. IT services can be provided by internal teams within a company or by external service providers.
Some examples of IT services include:
Network design and maintenance: This involves designing and building computer networks, as well as maintaining and troubleshooting them.
Cloud computing: This refers to the delivery of computing services, such as storage and processing power, over the internet.
Cybersecurity: This involves protecting a company's digital assets and data from threats such as hackers and viruses.
Data management: This involves organizing, storing, and backing up a company's data to ensure it is secure and accessible.
Software development: This involves designing and building custom software applications to meet the specific needs of a business.
IT services are critical for businesses of all sizes, as they help to improve efficiency, reduce costs, and support the overall operation of the organization.
IT Services apply business and technical expertise to enable organizations in the creation, management, and optimization of or access to information and business processes. The IT services market can be segmented by the type of skills that are employed to deliver the service (design, build, run). There are also different categories of services: business process services, application services, and infrastructure services. If these services are outsourced, they are referred to as business process outsourcing (BPO), applications outsourcing (AO), and infrastructure outsourcing.[1]The appropriate model for an IT service is typically determined by the type of service provided.
An IT service is a service that the support organization (or, more generally, a service provider) provides to its customers. Those customers may be internal (i.e., the business) or external (i.e., customers). In the latter case, there's often a business department between IT and the external customer. An IT service typically automates a business process and so should contain all of the necessary components for the successful execution of that business process.[2]
Customers who purchase and/or use IT services do so with the intention to accomplish a certain objective. According to ITIL4, a service is any means of enabling value co-creation by facilitating outcomes that customers want to achieve, without the customer having to manage specific costs and risks. This definition is a bit technical, so let's unpack it using the example of a hospital. A hospital may invest in a patient management system in order to more effectively manage their patients through the entire patient lifecycle: arriving at the reception, going to triage, seeing nurses and doctors, receiving medicine, treatment, or prescriptions, booking a follow-up appointment, and finally being discharged.
The hospital doesn't invest in the system just for the sake of using technology. Instead, the hospital deploys this IT solution in order to better serve their patients—these are the outcomes.
Hospital staff aren't necessarily keen to understand technical components, like coding or APIs. Instead, they want to understand the relevant data of particular patient situations— these are the costs and risks.
By serving their patients effectively through the use of the system, the efficiency and effectiveness gained provide benefits for the hospital: satisfied patients, more engaged hospital workers, and better financials—this is the value that's being created.
This value can only be realized by working hand in hand with IT or the system provider through a common understanding of requirements and by escalating any issues faced—this is the co-creation.
This definition, with these four service components, becomes the blueprint by which both the service provider and the service consumer should view all services offered.[3]
There are two main types of IT services:[4]
Customer-Based Services: IT services mostly tend to be customer-centric. Customers usually take benefits of IT services without realizing what is happening beneath the surface. But, with changes in technology in the workplace, what IT services mean has drastically changed. IT has fundamentally changed how business operations like marketing, sales, and customer care are carried out. Since IT has so much influence in so many fields of business operations, each business will require different types of services. So, IT firms have various types of IT experts whose abilities will allow the IT firm to adjust the type of IT services they are going to provide. Every business will need a custom IT infrastructure that suits its needs. So, services provided by the IT firm will also look different for each business. Such services are called customer-based services.
Service Packages: For this type of service an IT firm has to define its target audience and create a service package based according to their needs. These service packages provide the same type of services to every business at a fixed price. These types of services may not be as effective as customer-based services. This type of service is only used to finish minor tasks rather than to manage the IT infrastructure of the whole organization. Some services that are usually offered in package form are cloud services, website design. e.t.c. Service Packages will meet your expectations but will not provide extra advantages than what you expected.
The Following are common examples of IT services[5]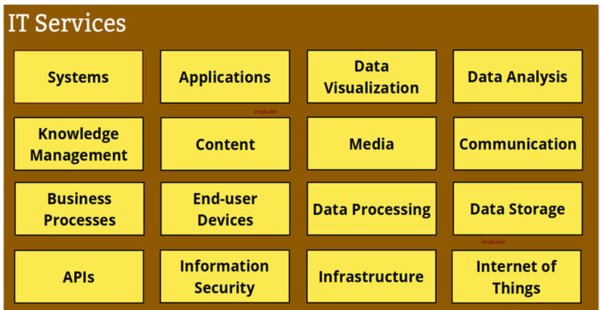 source: Simplicable
Systems: Systems that automate work such as Banking System that performs account reconciliation
Applications: Software that is primarily intended to be used by people such as customer relationship management platform
Data Visualization: Applications that visualize data for users
Data Analysis: Software such as a data mining tool or statistics platform that is used to find meaning in data
Knowledge Management: Software for controlling and sharing knowledge such as a document management platform
Content: Platforms for publishing information such as blogging platforms or content management tool
Media: Software for creating and publishing media such as a video publishing platform
Communication: Communication tools such as chat, email, voice, messaging, and telepresence
Business Processes: Technologies for orchestrating and choreographing business processes such as workflow engine
End-User Devices: management and support for a fleet of technology devices. For example, an IT service that manages all the computers and mobile devices assigned to employees at an organization
Data Processing: Data processing including cloud computing platforms
Data Storage: Data storage includes, files, application data, and databases
APIs: APIs are offered as a managed service. For example, an API that provides market data to banks.
Information Security: Technologies to secure information technology environments. For example, a secure platform that monitors for threats and automatically patches vulnerabilities
Infrastructure: Digital Infrastructures such as mobile and wired networking
Internet of Things: The concept of IT Services may be extended to the management of physical things. For example, an aircraft engine manufacturer monitors operating jet engines in real-time as a service to airlines.

See Also

References