Policy Governance
Also known as the Carver Model, Policy Governance® is a set of ten interlocking principles, that when used together, operate like a system, giving boards of directors, or any governing body, the ability to translate the wishes of legal or moral owners into organizational performance.[1]


What Policy Governance is NOT![2]
Policy Governance is not a specific board structure. It does not dictate board size, specific officers, or require a CEO. While it gives rise to principles for committees, it does not prohibit committees nor require specific committees.
Policy Governance is not a set of individual "best practices" or tips for piecemeal improvement.
Policy Governance does not dictate what a board should do or say about group dynamics, methods of needs assessment, basic problem solving, fund raising, managing change.
Policy Governance does not limit human interaction or stifle collective or individual thinking.

Basic Tenets of Policy Governance[3]
The model is a thorough working theory of board leadership that cannot be fully presented in a brief exposure. Nevertheless, here are a few of its basic tenets. Let's begin with the purpose of any governing board's job: The purpose of
(1) the board job is,
(2) on behalf of some ownership,
(3) to see to it that the organization
(4) achieves what it should and
(5) avoids what is unacceptable.

Board Decisions Are Predominantly Policy Decisions[4]
Policy is here defined as the value or perspective that underlies action. Board policies express the board's soul, embody the board's beliefs, commitments, values, and visions, and express its wisdom. Board policies should be generated by the board itself, not brought to it from other sources. Policies develop out of the board's struggle with values, from the stage of initial musing to crafting a written document. The board decides what to have policies about, and to what level of detail it will develop them. Its policies fit into four categories:
Ends — The board defines which human needs are to be met, for whom, and at what cost. Written with a long-term perspective, these mission-related policies embody the board's vision, and the organization's reason for being.
Executive Limitations — The board establishes the boundaries of acceptability within which staff methods and activities can responsibly be left to staff. These policies limit the means by which Ends shall be achieved.
Board/Staff Linkage — The board clarifies the manner in which it delegates authority and how it evaluates performance relative to ends and limitations.
Governance Process — The board determines its philosophy, its accountability, and the specifics of its own job.
Except for what belongs in bylaws, these categories of board policy contain everything the board has to say about values and perspectives that underlie all organizational decisions, activities, practices, budgets, and goals.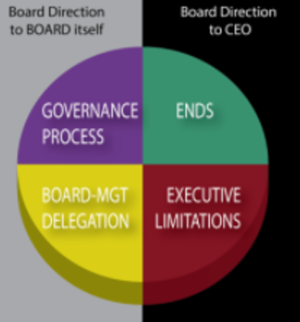 source: Governance Coach

Principles of Policy Governance[5]
Policy Governance is a precision system that promises excellence in governance only if used with precision. These governance principles form a seamless paradigm or model. As with a clock, removing one wheel may not spoil its looks but will seriously damage its ability to tell time. So in Policy Governance, all the above pieces must be in place for Policy Governance to be effective. When all brought into play, they allow for a governing board to realize owner accountability. When they are not used completely, true owner accountability is not available. All other practices, documents, and disciplines must be consistent with these principles. For example, if an outside authority demands board actions inconsistent with Policy Governance, the board should use a 'required approvals agenda' or other device to be lawful without compromising governance.
1. Ownership: The board connects its authority and accountability to those who morally if not legally own the organization—if such a class exists beyond the board itself—seeing its task as servant-leader to and for that group. "Owners," as used in the Policy Governance model, are not all stakeholders, but only those who stand in a position corresponding to shareholders in an equity corporation. Therefore, staff and clients are not owners unless they independently qualify as such.
2. Governance Position: With the ownership above it and operational matters below it, a governing board forms a distinct link in the chain of command or moral authority. Its role is commander, not advisor. It exists to exercise that authority and properly empower others rather than to be management's consultant, ornament, or adversary. The board—not the staff—bears full and direct responsibility for the process and products of governance, just as it bears accountability for any authority and performance expectations delegated to others.
3. Board Holism: The board makes authoritative decisions directed toward management and toward itself, its individual members, and committees only as a total group. That is, the board's authority is a group authority rather than a summation of individual authorities.
4. Ends Policies: The board defines in writing the (a) the results, changes, or benefits that should come about for (b) specified recipients, beneficiaries, or other targeted groups, and (c) at what cost or relative priority for the various benefits or various beneficiaries. These are not all the possible benefits that may occur, but are those that form the purpose of the organization, the achievement of which constitutes organizational success. Policy documents containing solely these decisions are categorized as Ends in the terminology of the Policy Governance model but can be called by whatever name a board chooses, as long as the concept is strictly preserved.
5. Board Means Policies: The board defines in writing those behaviors, values, practices, disciplines, and conduct of the board itself and of the board's delegation and accountability relationship with its own subcomponents and with the executive part of the organization. Because these are non-ends decisions, they are called board means to distinguish them from ends and staff means. All board behaviours, decisions and documents must be consistent with these pronouncements. In the terminology of the Policy Governance model, documents containing solely these decisions are categorized as Governance Process and Board-Management Delegation but can be called by whatever name a board chooses, as long as the concept is strictly preserved.
6. Executive Limitations Policies: The board makes decisions with respect to its staff's means decisions and actions only in a proscriptive way in order simultaneously

(a) to avoid prescribing means and
(b) to put off limits those means that would be unacceptable even if theywork.
Policy documents containing solely these decisions are categorized as Executive Limitations in the Policy Governance terminology, but can be called by whatever name a board chooses, as long as the concept is strictly preserved.
7. Policy "Sizes": The board's decisions in Ends, Governance Process, Board-Management Delegation, and Executive Limitations are made beginning at the broadest, most inclusive level and, if necessary, continuing into more detailed levels that narrow the interpretative range of higher levels, proceeding one articulated level at a time. These documents are exhaustive, replacing or obviating board expressions of mission, vision, philosophy, values, strategy, and budget. They are called policies in the terminology of the Policy Governance model but can be called by whatever name a board chooses, as long as the concept is strictly preserved.
8. Delegation to Management: If the board chooses to delegate to management through a chief executive officer, it honors the exclusive authority and accountability of that role as the sole connector between governance and management. In any event, the board never delegates the same authority or responsibility to more than one point.
9. Any Reasonable Interpretation: In delegating decisions beyond the ones recorded in board policies, the board grants the delegatee the right to use any reasonable interpretation of those policies. In the case of Ends and Executive Limitations when a CEO exists, that delegate is the CEO. In the case of Governance Process and Board-Management Delegation, that delegatee is the CGO (chief governance officer) except when the board has explicitly designated another board member or board committee.
10. Monitoring: The board monitors organizational performance solely through fair but systematic assessment of whether a reasonable interpretation of its Ends policies is being achieved within the boundaries set by a reasonable interpretation of its Executive Limitations policies. If there is a CEO, this constitutes the CEO's evaluation.

Criticism of the Policy Governance Model[6]
Industry Canada in the Primer For Directors of Not-For–Profit Corporations expressed concern about Policy Governance. They argue that "Some models of board governance — notably originating in the United States — advocate that directors limit themselves to policy matters only and leave responsibility for administration and day-to-day matters with the executive staff of the corporation. This limited role for directors does not reflect the obligations that are legally imposed upon directors." Hugh Kelly QC of the Canadian legal firm Miller Thomson LLP responded directly to this criticism concluding that: "The board of a Canadian charitable corporation that adopts Policy Governance has performed 'due diligence', and fulfilled all legal obligations imposed upon its directors. On a comparative basis, such boards and directors are far ahead of most corporations, even those in the world of commerce, in observing their legal and moral obligations." Others have expressed concern that the Policy Governance model may not be as universally applicable as suggested by Carver and that the model has a tendency to break down during times of crisis. Addressing the universality concern, proponents of Policy Governance argue that, because the model is rooted in the generic purpose and nature of board authority rather than current practice of the specifics of any industry, at the level of its fundamental principles Policy Governance is indeed applicable to all governing boards. Proponents also argue that at times of crisis, holding onto the precepts of Policy Governance is in fact key to organizational survival and that rehearsing the use of the system in light of various scenarios can help build an organization's resilience to risk. Two more widely accepted criticisms are that the model demands a level of precision that boards can find hard to achieve — even though it is usually no more than they demand of their staff — and without care, that the model's use can deteriorate over time and its protections fail to function. Many proponents point to the challenges presented by board member turnover and the need, as with any other professional discipline, for boards to continuously invest in their own training and support. Some authors and users of the model may misinterpret the distinction between 'ends' and 'means' to require a strict separation of responsibility between the board, which should focus exclusively on 'ends', and management, which should focus on the 'means' by which to achieve those ends. This interpretation is not supported by a close reading of the Policy Governance model. Carver states: "because the board is accountable for everything, it is accountable for means as well. Accordingly, it must exercise control over both ends and means, so having the ends/means distinction does not in itself relieve boards from any responsibility". Another, related, misinterpretation is a belief that boards following Carver's model should not involve themselves with detailed understanding and/or monitoring of the organization's activities. This belief is based on Carver's caution against excessive intrusion into the operational details. However, Carver is clear that boards remain accountable to their owners for all operational details and must therefore control them—the question is how to make this practical. As a way to avoid excessive intrusion, he advises the use of 'nested sets' of expectations, in progressively more narrow policy language, in order to define its meaning with greater precision until: "At some point, the board will have narrowed its words to the point that it can accept any reasonable interpretation of those words. Now the board has reached the point of delegation". Because a board has ultimate power over the organization, to include all its operations, some critics point out that a board should not delegate any of its authority, because it ignores major areas of its responsibility if it "hands over" part of its power to the CEO. This criticism points out that delegation, the granting of authority to the CEO, can become an "abdication" of the board's responsibility to control all organizational actions. Delegation can become an abdication if it occurs without adequate supervision. Delegation accompanied by careful monitoring to ensure it achieves the results intended is an exercise of the "due diligence" expected of the board. Further criticism relates to the failure of some boards to follow their own policies. Following policies that guide the board in its own governance process, and its relationship with the CEO, is an act of self-discipline by which the board imposes checks and balances on its own power. These self-limiting policies protect staff from board actions that might get in the way of successful organizational performance. They also protect the CEO, and the board itself, from possible actions of individual board members. A board may give a false sense that it is acting in the best interests of the organization while ignoring its own policies, and therefore promotes a "veil" of legitimacy behind which it acts in capricious ways. Such a board distracts itself from the real job boards should be doing. Ultimately, whether a board remains true to its own policies is a matter for the board itself to determine. Carver notes this concern when he acknowledges that Policy Governance will not make "a bad board good."
See Also
IT Governance
Corporate Governance
Information Governance (IG)
Information Security Governance
Social Media Governance
Data Governance
eGovernance
Compliance
Risk Management
Risk IT Framework
Enterprise Risk Management (ERM)
Information Management (IM)
Resource Management
Records Management (RM)
Content Management (CM)
Enterprise Content Management (ECM)
Enterprise Data Integration (EDI)
Enterprise Information Integration (EII)
Enterprise Information Management (EIM)
Board of Directors
Staggered Board of Directors
References
Further Reading