GE/McKinsey Matrix
The GE/McKinsey Matrix or GE-McKinsey nine-box matrix is a business portfolio analysis that provides a structured way to evaluate business units on two key dimensions: the attractiveness of the market involved and the strength of the firm's position in that market. The result is graphical portrayal of the various business units on these key dimensions and gives insight to a resource allocation decision.[1] Business Assessment Array is another name for McKinsey's GE matrix used to assess business portfolio analysis for Strategic Business Units (SBU's) of a corporation. It is a 3*3 matrix having "Market attractiveness" and "Competitive strength" as its axis.[2]
Industry Attractiveness The vertical axis of the GE / McKinsey matrix is industry attractiveness, which is determined by factors such as the following:
Each factor is assigned a weighting that is appropriate for the industry. The industry attractiveness then is calculated as follows:
                      Industry attractiveness    =  	factor value1   x   factor weighting1
	                                              + factor value2   x   factor weighting2
                                                      .
                                                      .
                                                      .
	                                              + factor valueN   x   factor weightingN

Business Unit Strength
The horizontal axis of the GE / McKinsey matrix is the strength of the business unit. Some factors that can be used to determine business unit strength include:
The business unit strength index can be calculated by multiplying the estimated value of each factor by the factor's weighting, as done for industry attractiveness.[3]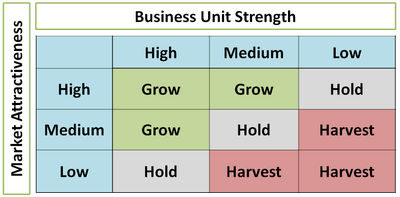 source: Marketing91

GE McKinsey Matrix Strategies.[4]
There are 3 main strategies in the GE McKinsey matrix which are grow, hold and harvest.

Advantages and Disadvantages of The GE McKinsey Matrix[5]

GE McKinsey Matrix Advantages
GE McKinsey Matrix Disadvantages

GE McKinsey Matrix vs. BCG Matrix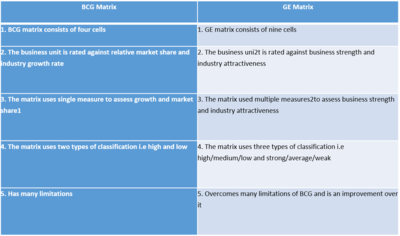 source: BMS
See Also
References
Further Reading