Abandonment
Abandonment is an E-Commerce term that refers to a situation when a visitor accesses a website but terminates any actions by leaving the page. The abandoned activities the Web host desires may include purchasing a product or service, or completing an online survey. Online retailers lose profit when potential customers fail to follow through on a transaction. Abandonment may also be referred to as shopping cart abandonment.[1]
Reasons for Shopping Cart Abandonment Cart abandonment is a problem. The average eCommerce store loses over 75% of its sales to cart abandonment. Some industries experience average cart abandonment as high as 83.6%. Given that cart abandonment is such a problem, it is no surprise that there have been countless studies as to why visitors add items to their cart just to leave your site without making a purchase. Two of the most cited resources are below.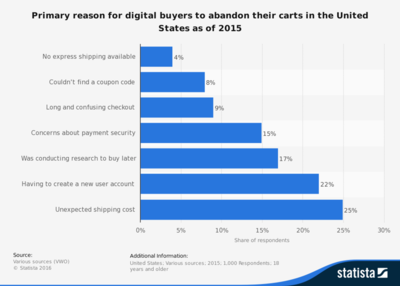 Source: Barilliance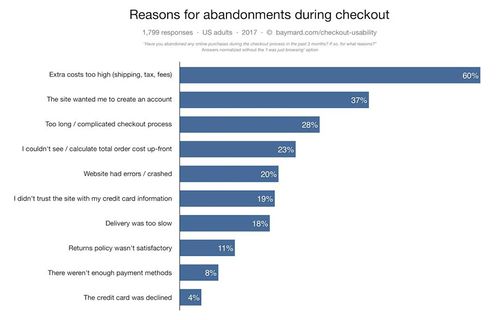 Source: Barilliance

Implications
As a result, there are some implications that can be applied to online retails.
Organizational use of cart

Users often abandonment not because of dissatisfaction but as an organizational method. Even abandoned carts serve as a source of useful information for both consumers and retailers. Retailers can collect interest info of shopper's and use that information to better present purchases and improve throughput in the future.

Entertainment Value

Consumers who use carts for fun or to alleviate boredom may still spread positive words about the online retailer and their experience, despite not completing the purchase.

Concerns about price and overall cost

Concerns about cost may not necessarily equate a lost sale, but rather an opportunity to make the sale in the future by offering a discount reminder whenever possible. A flat shipping rate may also positively influence the throughput versus a variable rate. Users will be more inclined to purchase more in one sitting as they no longer fear the need to pay excessive shipping.[2]
See Also
References
Further Reading