Business Incubator
A Business Incubator is an organization designed to accelerate the growth and success of entrepreneurial companies through an array of business support resources and services that could include physical space, capital, coaching, common services, and networking connections. Incubators provide numerous benefits to owners of startup businesses. Their office and manufacturing space is offered at below-market rates, and their staff supplies advice and much-needed expertise in developing business and marketing plans as well as helping to fund fledgling businesses. Companies typically spend an average of two years in a business incubator, during which time they often share telephone, secretarial office, and production equipment expenses with other startup companies, in an effort to reduce everyone's overhead and operational costs.[1]

History of Business Incubators[2]
The formal concept of business incubation began in the US in 1959 when Joseph L. Mancuso opened the Batavia Industrial Center in a Batavia, New York, warehouse.[15] Incubation expanded in the U.S. in the 1980s and spread to the UK and Europe through various related forms (e.g. innovation centres, pépinières d'entreprises, technopoles/science parks).
The U.S.-based International Business Innovation Association estimates that there are about 7,000 incubators worldwide. A study funded by the European Commission in 2002 identified around 900 incubation environments in Western Europe. As of October 2006, there were more than 1,400 incubators in North America, up from only 12 in 1980. Her Majesty's Treasury identified around 25 incubation environments in the UK in 1997; by 2005, UKBI identified around 270 incubation environments across the country. In 2005 alone, North American incubation programs assisted more than 27,000 companies that provided employment for more than 100,000 workers and generated annual revenues of $17 billion.
Incubation activity has not been limited to developed countries; incubation environments are now being implemented in developing countries and raising interest for financial support from organizations such as UNIDO and the World Bank.
The first high-tech incubator located in Silicon Valley was Catalyst Technologies started by Nolan Bushnell after he left Atari. "My idea was that I would fund [the businesses] with a key," says Bushnell. "And the key would fit a lock in a building. In the building would be a desk and chair, and down the hall would be a Xerox machine. They would sign their name 35 times and the company would be incorporated." All the details would be handled: "They'd have a health care plan, their payroll system would be in place, and the books would be set up. So in 15 minutes, they would be in business working on the project."

The Process of Business Incubation[3]
In simple terms the business incubator is a small facility with a group of well-trained management staff, providing shared place/space for business, business facilities, and access to technical services and business in one affordable package. This support is needed for business start-ups because it can reduce the burden of the initial costs with the use of cost-sharing system among the tenants. Further, if the Business Incubator is seen as a system- process, then in a business incubator will be found a variety of indicators as follows:
(1) The prospective entrepreneurs, as a result of selection, then called tenants.
(2) The facilities required for the operation of the incubator and for tenant;
(3) Management staffs that acts as a facilitator or trainer /consultant for tenants;
(4) Managerial, technical or entrepreneurship curriculum in accordance with the needs of tenants;
(5) Methods of training or mentoring
(6) The local environment in which the business incubator is implementing activities, such as the environment of farming communities, communities of craftsmen, traders and so on;
(7) Output i.e. tenants who have graduated from a business incubator program and have been ready to become independent entrepreneurs.
This description could be presented as in the figure below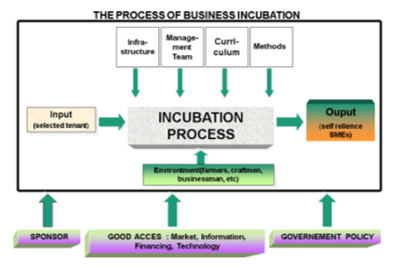 source: Wawan Lulus Setiawan, Indra Fahmi

Types of Business Incubators[4]
Below are some types of business incubators that have focused on particular industries or on a particular business model, earning them their own name.
Virtual business incubator - online business incubator
Kitchen incubator - a business incubator focused on the food industry
Public incubator - a business incubator focused on the public good
Seed accelerator - a business incubator focused on early startups
Corporate accelerator - a program of a larger company that acts akin to a seed accerator
Startup studio - a business incubator with interacting portfolio companies
Venture builder - similar to a startup studio, but builds companies internally

How Business Incubator Works[5]

Comprehensive admission process: The programs of business incubators are not open to all companies. Potential candidates must go through a competitive and comprehensive admission process. Although each incubator formulates its own admission requirements and process, the admission process usually includes the completion of the application form, as well as in-person interviews. The ultimate goal of the process is to determine the viability of a startup's idea and the ability of the company's management team to realize the idea.
Creation of a new cohort: Companies that are selected form a new cohort in the incubator and receive access to all services and resources offered by the incubator. They usually spend several months to a couple of years in the incubator. However, startups that stay longer than usual within the incubator are more common.
Mentorship and advisory services: During the program, the company's management extensively works with mentors and advisors to gain the required experience to convey the company's ideas to potential customers and investors. At the same time, the incubator's staff work with the companies to set up the operating processes. The incubator's program usually ends with the Demo Day. During the Demo Day, companies from a cohort present the results of their work to an audience selected by the incubator.

How to Choose a Business Incubator[6]
Choosing an incubator for your startup business is a big decision, especially if you'll be giving up a hefty chunk of time and equity for its resources and expertise. Here is what you should look for in a business incubator before you choose a program:
Incubator Perks: Research the incubator's offerings to see if they match your needs. Learn what resources and services the company provides. Study the incubator's mentors and advisers to determine if their expertise, skills, and networks match your business's needs.
Incubator Curriculum: Many incubators require rigorous training and have strict schedules. Assess the curriculum to make sure it teaches what you need to learn in order for your business to succeed. Make sure you can take it all on while still running daily operations.
Incubator Track Record: How have similar businesses performed with the support of the incubator? If possible, contact alumni for their take on the experience. Most incubators list graduate companies on their websites.
Incubator Cost: How much does it cost to use the workspace and the equipment? If applicable, what are the loan terms offered, or what percentage of equity will the incubator take? Make sure the cost fits with the sacrifice you're willing to make.
Incubator Locator: Joining an incubator is not unlike joining a college program. Because you'll be going to class several times per week if not every day, you'll need to be on campus–that is, in close proximity to the incubator. This may mean relocating to be closer to an incubator if you can't find the right fit close enough to home.

Benefits of Business Incubators[7]
One of the most immediate impacts that business incubators can have on startup companies has to do with the physical space that they provide, and all of the services that are contained within. Most business incubators offer office supplies and other resources to companies— essentially everything they need to get their organization up and running in an efficient way. These resources are often shared—but they are also available in a far more cost-effective way than if the startup in question was operating entirely on their own. Because of this factor alone, it is estimated that a business incubator can help reduce the overall costs of both launching and operating a startup by between 40 and 50% in some situations.
Another one of the major ways that business incubators can benefit startups has to do with the wider range of funding and investment opportunities that they bring with them. The staff at a business incubator often has access to more opportunities—and from a wider range of outlets—than an entrepreneur will have on his or her own.
This gives those entrepreneurs a chance to meet a larger volume of potential private investors within a community that has already been built to foster innovation in the way that they need. By giving those startup founders immediate access to a strong network of potential business partners and investors, it allows them to take the most productive and proactive approach to networking that they can. This alone can mean the difference between success and failure in a lot of cases.
But perhaps the most important benefit that business incubators bring to startup organizations can be summed up in a single word: focus. By giving entrepreneurs access to an infrastructure that is A) already in place, B) readily available, and C) proven to work, it allows them to focus less on the administration and infrastructure side of getting a startup off the ground and can allow them to devote more of their attention to actually running that business and developing a product or service.
Essentially, a business incubator can help those companies cut through all the noise, giving them a unique opportunity to focus as much of their energy as possible on creating products and services, evolving those products and services in the right ways and testing them before taking them to market. Rest assured, this is an excellent position to be in.
See Also
References
Further Reading