Business Objects
Business Objects is a broad category of business processes that are modeled as objects. A business object can be as large as an entire order processing system or a small process within an information system.[1]

Business Objects Example
Below is the diagrammatic representation of corporate reporting system of a University using business objects.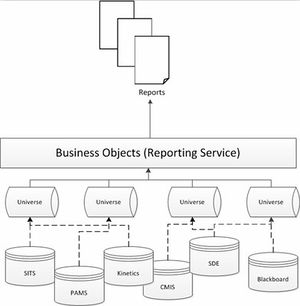 source: University of Leicester
SITS - student records system
CMIS - timetabling and room booking system
SDE - IT Services support system
Blackboard VLE
Kinetics - conference booking system
Rooms Service - accommodation management system
See Also
References
Further Reading