Consolidated Reference Model (CRM)
The Consolidated Reference Model of the FEAF equips OMB and Federal agencies with a common language and framework to describe and analyze investments. It consists of a set of interrelated "reference models" designed to facilitate cross-agency analysis and the identification of duplicative investments, gaps and opportunities for collaboration within and across agencies. Collectively, the reference models comprise a framework for describing important elements of federal agency operations in a common and consistent way. Through the use of the FEAF and its vocabulary, IT portfolios can be better managed and leveraged across the federal government, enhancing collaboration and ultimately transforming the Federal government.[1]

The FEAF is built using an assortment of reference models that develop a common taxonomy and ontology for describing IT resources. FEA Version 1 included five reference models in version 1 (see below) have been regrouped and expanded into six in the FEAF-II.
Performance Reference Model (PRM): This reference model supports architectural analysis and reporting in the strategy sub-architecture view of the overall EA. The PRM links agency strategy, internal business components, and investments, providing a means to measure the impact of those investments on strategic outcomes.
Business Reference Model (BRM): This reference model, which combines the Business and Service Component Reference Models from FEAF v1, supports architectural analysis and reporting in the business services sub-architecture view of the overall EA. The BRM describes an organization through a taxonomy of common mission and support service areas instead of through a stove-piped organizational view, thereby promoting intra- and inter-agency collaboration.
Data Reference Model (DRM): The DRM facilitates discovery of existing data holdings residing in "silos" and enables understanding the meaning of the data, how to access it, and how to leverage it to support performance results.
Application Reference Model (ARM):The ARM categorizes the system- and application-related standards and technologies that support the delivery of service capabilities, allowing agencies to share and reuse common solutions and benefit from economies of scale.
Infrastructure Reference Model (IRM): The IRM categorizes the network/cloud related standards and technologies to support and enable the delivery of voice, data, video, and mobile service components and capabilities.
Security Reference Model (SRM): The SRM provides a common language and methodology for discussing security and privacy in the context of federal agencies' business and performance goals.[2]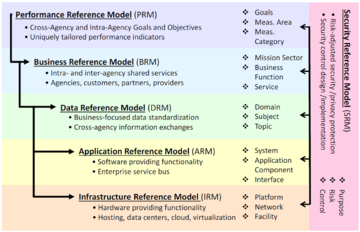 source: Wikipedia
References
Further Reading