Customer Data Platform (CDP)
Definition - What is Customer Data Platform (CDP)?[1]
A Customer Data Platform (CDP) is a software that aggregates and organizes customer data across a variety of touchpoints and is used by other software, systems, and marketing efforts. CDPs collect and structure real-time data into individual, centralized customer profiles. According to the CDP Institute, a vendor-neutral organization dedicated to helping marketers manage customer data, a CDP is defined as "a packaged software that creates a persistent, unified customer database that is accessible to other systems." This definition has three critical elements:
– "packaged software": the CDP is a prebuilt system that is configured to meet the needs of each client. Some technical resources will be required to set up and maintain the CDP, but it does not require the level of technical skill of a typical data warehouse project. This reduces the time, cost, and risk and gives business users more control over the system, even though they may still need some technical assistance.
– "creates a persistent, unified customer database": the CDP creates a comprehensive view of each customer by capturing data from multiple systems, linking information related to the same customer, and storing the information to track behavior over time. The CDP contains personal identifiers used to target marketing messages and track individual-level marketing results.
– "accessible to other systems": data stored in the CDP can be used by other systems for analysis and to manage customer interactions.
Customer Data Platforms build customer profiles by integrating data from a variety of first-, second-, and third-party sources. This includes your CRM and DMP, transactional systems, web forms, email and social media activity,website and e-commerce behavioral data, and more. CDPs inform people-based marketing — putting the customer at the center of the flywheel of your organization.
What a CDP is Not[2]
While some CDPs may include overlapping functionality, a CDP…
Is Not a CRM system: CRMs mostly store customer transaction data. They do not have insight into anonymous user behavior (often requiring a form fill or purchase), typically are focused on sales data and only have limited integrations to other systems.
Is Not a DMP: DMPs are cookie-based, do not create a persistent customer profile and integrations tend to be limited to advertising (not the full customer journey). DMPs are focused on 3rd-party data, with some limited ability to integrate 1st-party data, whereas CDPs have a much heavier focus on 1st-party data.
Is Not a Personalization tool: While some CDPs have built native execution tools such as website personalization, this is not a core functionality for the category. This takes focus away from solving the underlying data fragmentation problem that companies in the market are experiencing today.
The Purpose of Customer Data Platform (CDP)[3]
A customer data platform serves three purposes.
Collect and unify all first-party data: Many of the systems — such as email, analytics, CRM, ecommerce, and social sites — that marketers use operate in silos and don't pass data back and forth. It is hard to get a complete picture, and even harder to analyze what you are looking at. The purpose of a customer data platform is to eliminate those issues by connecting all the tools that marketers use and acting as a single source of truth for first-party customer data.
Customer data management: CDPs manage first-party data and consumer privacy and data rights by controlling the data flows between different marketing systems and managing consent. This is the world of GDPR and data privacy; your business needs to actively manage, and document that management of, consent and data flows.
Customer data activation: Once you have received permission to collect first-party user data and have unified and structured it into profiles, you can then take action on it. CDPs can create audience segments that can be used across the rest of your marketing platforms and channels.
The Need for Customer Data Platform[4]
As customers interact with a company offline and online and via multiple devices. As a result, it can be challenging to get a complete picture of your customers and prospects. A Customer Data Platform gives you a 360-degree view of your customers that is necessary for knowing your customer and delivering personalized services customers expect and demand.
The role of a CDP is to be at the center of your existing marketing tools. It is there to facilitate the synchronization of customer data such that other tools, at any given customer touch point or interaction, can leverage the same customer profile (in real-time and fully up-to-date). A marketeer can thus reach and engage with the fullest extent of insight possible about each individual.
CDP Types[5]
It might be good to first illustrate the three categories of CDPs we differenciate in the report. The image below shows the incremental scope of Data Access, Analytics and Campaign CDPs. Note that there are even great variations among vendors within each category.
Data Access type CDP: These systems gather customer data from source systems, link data to customer identities, and store the results in a persistent database available to external systems. This is the minimum set of functions required to meet the definition of a CDP. Systems in this category often employ specialized technologies for data management and access. Many began as tag management or Web analytics vendors and have considerable legacy business in those areas.
Analytics type CDP: These systems provide data assembly plus analytical applications. The applications usually include customer segmentation and sometimes extend to machine learning, predictive modeling, revenue attribution, and journey mapping. These systems often automate the distribution of segment lists to marketing automation or advanced analytics products.
Campaign type CDP: These systems provide data assembly, analytics, and customer treatments. These treatments may be personalized messages, real-time interactions, product or content recommendations, outbound marketing campaigns, customer journey orchestration, or other contacts. What distinguishes them from segmentation is they also specify the message to be delivered.
6 Steps to Choose the Best Customer Data Platform (CDP)[6]
Finding the right CDP for your company isn't an easy process. There are a lot to choose from, but it's not something that should be taken lightly. Your CDP will be handling customer data and when dealing with customer data, extra steps must be taken to ensure that data is safely and ethically handled. Below are 6 important steps that should be taken when choosing a CDP. Following these steps will ensure that you choose a CDP fitted to your goals and resources.
Step 1: Bring stakeholders into the process: Before you even decide which CDPs are going to be evaluated, you need to bring internal stakeholders into the process. The CDP you choose will be working with data from different departments within your company, so it is imperative to have everyone's buy-in.
The question you need to ask yourself at this point is: Who else collects data that your CDP will handle?
There's a good chance your sales team's customer relationship management (CRM) platform stores data that your CDP will need access to. A stakeholder from sales should be part of the buying process. What about your customer success team?
There's a good chance that your customer success team uses tools that handle customer data. A stakeholder from the customer success team will likely be part of this process too.
You don't need each stakeholder individually evaluating each CDP, but you will need their input on various parts of the buying process. At the very least, talk to each stakeholder and let them know why you are looking to purchase a CDP and what you hope to get out of it.

Step 2: Define use cases: Another big question you need to answer before deciding which CDP is best for your company: What is the reason for you to use a CDP? It is easy to get caught up in the fact that you need a CDP because it will consolidate your data into a single customer database, but what are you actually hoping to get out of that? Consolidating your data isn't going to make you more data-driven. It is just a step along the way. To choose the right CDP, you need to define your use cases ahead of time. Take some time to think about what you want your CDP to help with. Then, talk to the other stakeholders about their ideal use cases. From there, try to identify three or fewer ideal use cases. Limiting your use cases to just the top three will make it easier to evaluate all of the CDP vendors. Here are a few of the most common use cases:
Fully understanding our customer journey
Creating a more personalized customer experience on our website
Creating more targeted multichannel advertising campaigns
Combining online and offline data
Once use cases have been defined, spend some time studying your potential CDPs. Look at their website; read reviews of their products; talk to colleagues at other companies who use these tools. Does your ideal use case fit with what any of these companies are doing? If yes, make a list of those companies. At this point, it is probably going to be a pretty big list.

Step 3: Determine the tools needed: You need to get a handle on the tools your company uses that will be connected to your CDP. To get an idea of the tools and functionality that will be needed, start by focusing on your use cases. Which tools do you need to accomplish the specific use cases that you laid out in Step 2? Make a list of those tools. Next, make a list of all the tools that interact with your customer in one way or another. You may want to include website tools, CRM systems, real-time live chat, payment processors, email platforms, and help desk systems, just to name a few. At this point, check and confirm with the stakeholders that you haven't missed any important tools that will need to be connected. Most often the starting points are:
Once you have determined the tools you need, make sure the CDPs being evaluated already have those integrations. Those which do not have the majority of the tools you use, knock them out of contention. This step might narrow your list by a large number.

Step 4: Gather requirements: There is more to a CDP than a way to consolidate data and solve your use cases. You also need to think of the other requirements for your CDP. Requirements are different than your use cases because a requirement is more like a feature, rather than an outcome. For example, if one of your requirements is that the CDP you choose should help you get a solid understanding of each piece of data being collected, you will need a CDP that can help you build a data-tracking plan. If you're not sure what other requirements you need to consider, here's a list of common requirements:
CDP should help with GDPR and CCPA compliance. If that's something you're interested in, then you'll need a CDP that will that will enable you to suppress data collection or delete customer data when requested, which is a requirement for both the GDPR and CCPA.
CDP should help get a full view of our customer journey. If this is a requirement for your company, make sure that the CDP you're evaluating has some form of identity resolution, which helps identify users across different channels.
CDP needs to have top-notch security. This is becoming a more frequent requirement. Make sure the CDP being evaluated has a credible, independent security certification like ISO 27001 or SOC 2. Those certifications ensure that the CDP is continuously monitoring and upgrading their security practices.
Another good place to gather requirements from are the pricing pages of each CDP. Read through the features that are listed on those pages, and make a note of anything that's going to be important to your company. For example, you might see that one CDP has an uptime guarantee, while another may not. If an uptime guarantee is important, you might want to make it a requirement.

Step 5: Compare vendors: At this point, you should have a list of just a few CDPs that fit your use cases, have the necessary integrations, and meet all of your requirements. Now, it's time to compare each CDP. Don't take pricing into consideration yet. Start by considering your industry. Find CDPs that have customers most similar to your company. If you work at an enterprise-level company, find a CDP that has a track record of working with companies at that level. If you work at a startup, make sure the CDPs you're evaluating have experience in that space. Chances are there will be an overlap with CDPs that have a track record in all industries. If you have determined that all of the CDPs being considered have the right experience, it is time to go a step deeper. Make sure each CDP has:
A track record of accomplishing the use cases that you defined in Step 2.
A solution for data compliance. CDPs handle data, so they should enable your compliance with the GDPR or the CCPA.
The right integrations for your current and future use cases. Is each CDP continually adding new integrations to their integration catalog?
Excellent customer service to help you set up, use, and maintain your CDP.
Don't forget to look at review websites for user reviews of each CDP too.

Step 6: Consider ROI: The ROI of the CDPs being evaluated is the final piece you need to consider. ROI does not mean that you should choose the cheapest option. It is more about which option will give you the best value. How do you determine that value upfront, before you choose your CDP?
Start by using an ROI worksheet. This will help you determine the cost of your engineers' time. Without a CDP, your engineers have to spend hours building and maintaining integrations for each tool. Those hours add up quickly, which can result in significant costs just to build and maintain one integration. If you have ten integrations that need to be handled by your engineering team, you can see that the hours will quickly become unmanageable. That cost is one of the biggest reasons to use a CDP. Good CDPs should reduce the amount of time your engineers spend building integrations between tools, which can result in a huge cost savings. That is why you need to calculate the costs and consider ROI ahead of time. If you choose a CDP that does not give your engineering team the maximum amount of time-savings, it may not be worth the cost at all.
Customer Data Platform (CDP) Architecture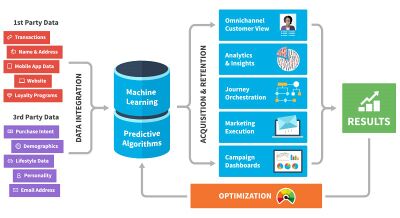 source: V12
Many organizations are challenged in creating this consistent customer view. With the explosion of more data, an organization must decide which data is relevant, capture it, and integrate it in a timely manner before new real-time data sources are introduced and alters the customer view.
The Customer Data Platform allows you to pull in your 1st Party Data, which is all of the data your organization owns such as POS data, ERP data, web logs, and social data, into one place. The CDP can also connect with your organization's channels such as your website, CRM, and social media which are additional sources of data, but also opportunities for activation of campaigns.
In addition, you can ingest 3rd party data which affects your customers such as demographic info, weather, occupation and income.
Being able to ingest your company data and your channel data into a unified place as well as then activating campaigns back out through your channels allows you to understand the customer as they move through the customer lifecycle and personalize that journey. This will help you orchestrate an enhanced customer journey all the way from awareness to advocacy.
CDP Vs. DMP Vs. CRM[7]
There is often confusion between a customer data platform (CDP) and other marketing and sales technology, specifically other customer databases like CRMs (customer relationship management systems) and DMPs (data management platforms). So let us clear up any confusion.
A Customer Data Platforms (CDP) is a unified customer database that builds rich customer profiles using data collected from systems across the company. It provides these profiles back to these systems to improve customer experiences.
A Data Management Platform (DMP) is a solution used by marketers to improve advertising, retargeting, and media buying. Data collected is primarily anonymous data from cookies, devices, and IP addresses, and it's only stored for a limited time (typically 90 days). DMP data is often fed into a CDP to improve customer profiles. There are other differences between CDPs and DMPs, summarized in the table that follows.
A Customer Relationship Management (CRM) is a solution for tracking and managing interactions with prospects and customers. It is primarily a sales tool used for contact management and sales management. Marketing activity can be fed into the CRM through predefined connectors. Most data is user generated through sales people entering contact engagement and sales activity manually.
These solutions sound similar but have very different capabilities and are used for different purposes. The following table explains the CDP vs. DMP question, as well as the CDP vs. CRM issue.

When you look closely, what you see is that these technologies are complementary:
A CDP can enrich its customer profiles by ingesting second- and third-party data from a DMP.
A DMP can ingest CDP customer data to improve ad targeting.
CDP software can ingest customer data from a CRM.
CDP Limitations[8]
Established data infrastructures. Importing all customer data into a CDP for marketing activity can have significant implementation and data synchronization costs for organizations with established data infrastructure and architecture. We call this the "lift and shift" problem. To work around this issue, companies may want to explore solutions that provide basic CDP capabilities (identity management, segmentation and data provision) without requiring a physical data move into a single database. While these solutions do exist, exploring them may require investigation beyond pure-play CDPs.
Analytically driven data activation. While CDPs allow for audience segmentation, the core capabilities typically support rule-based approaches. When algorithmic applications of segmentation enter a brand's required use cases, real- time decisioning, triggering and next-best -offer execution frequently fall apart. While some CDP vendors are developing analytical capabilities to supplement their core CDP functions, the sophistication of these varies widely. If requirements extend past core CDP capabilities, it may be better to look at purpose-built tools like enterprise marketing suites. These suites offer basic CDP functions but are designed for more broad-based journey orchestration and analytics activity. ​
Real-time identity management. Keeping track of customer behavior across all devices and digital channels and integrating that behavior with offline data in real time is outside the scope of many CDP solutions. If the need includes capturing online events in real time and dynamically updating profiles and offline customer segments, you should look very closely at the CDP to ensure that it can do this.
Beyond marketing. A core characteristic of the CDP is providing unified customer data to other marketing applications. But a common complaint is that the integrations to other systems are more complex and time-consuming than advertised. This problem is magnified when customer experience programs extend beyond marketing and into other areas that affect customers (sales, service, fraud and risk). All these areas need to apply analytically driven contextual personalization to their customer activities, and the CDP is the logical place to get the needed customer data. In this situation, the need for real-time event detection, analytically driven decisions and cross-device identity matching will carry over into areas outside marketing.
Benefits of Using a Customer Data Platform (CDP)[9]
Automating customer data accuracy and integration through a CDP can provide numerous benefits to marketers and to other functions across the enterprise, though we're focused on the marketing implications in this report. These include the following:
Expanded enterprise collaboration. A CDP fosters cooperation among siloed groups because it gathers data from throughout the enterprise and supports customer interactions across many touchpoints. The unification of data allows enterprises to see how strategies for audience, customer experience and execution all fit together – and enables audience portability to ensure a more consistent, informed customer experience.
Improved data accessibility. A CDP is a centralized hub that collects and houses customer data from every corner of the enterprise. Pieces of data are normalized and stitched together to build unique, unified profiles of each individual customer. The result is a persistent customer database whose main purpose is to gather and share data more easily and efficiently across the organization
Streamlined systems integration. A CDP unifies data systems across the enterprise, from marketing and customer service, to call centers and payment systems. By creating a single "system of record" for first-party customer data, data redundancies and errors can be minimized, and data can flow more quickly into — and out of — marketing automation platforms, email service providers (ESPs), CRMs and other systems.
Increased marketing efficiency. A CDP unifies individual data with unique IDs that create more robust customer records. Many manual tasks are also automated by the CDP, allowing marketers to focus on the creative and analytical tasks they are trained for. The result is more accurate modeling, targeting and personalization in marketing campaigns, and more relevant customer experiences with the brand across channels.
Faster marketing velocity. In many cases, CDPs are "owned" by marketing, minimizing the need for IT or developer intervention to collect, analyze and act upon data. With control in marketers' hands, the time to segment and build audiences, execute campaigns and analyze results significantly decreases. That said, engineers may still be needed to perform deep data analysis and facilitate integrations. This is especially true as CDPs extend beyond marketing and into sales and service functions.
Stronger regulatory compliance. A CDP creates greater internal control over customer data, streamlining data governance to comply with the many regulations now impacting brands worldwide. Marketers in the healthcare industry must comply with both HIPAA and HITECH regulations. Businesses that handle European data or serve customers in the EU must also comply with GDPR and those dealing with Californians must deal with CCPA (California Consumer Privacy Act). The majority of CDP vendors are both ISO and SOC certified for best practices in handling personally identifiable information (PII).
See Also
Customer Acquisition Cost (CAC)
Customer Centricity
Customer Churn
Customer Data Integration (CDI)
Customer Data Management (CDM)
Customer Demographics
Customer Due Diligence (CDD)
Customer Dynamics
Customer Effort Score (CES)
Customer Engagement
Customer Engagement Hub (CEH)
Customer Experience Management (CEM)
Customer Lifecycle
Customer Lifetime Value
Customer Loyalty
Customer Needs
Customer Retention
Customer Satisfaction
Customer Satisfaction Model
Customer Service
Customer Service Management
Customer Relationship Management (CRM)
Stakeholder

References