Enterprise Integration
Enterprise Integration is a broad implementation of information technology to link various functional units within a business enterprise. On a wider scale, it may also integrate strategic partners in an enterprise configuration. In a manufacturing enterprise, enterprise integration (EI) may be regarded as an extension of computer integrated manufacturing (CIM) that integrates financial or executive decision-support systems with manufacturing, tracking and inventory systems, product-data management, and other information systems.[1]

Historical Background[2]
Enterprise integration has been discussed since the early days of computers in industry and especially in the manufacturing industry with computer-integrated manufacturing (CIM) as the acronym for operations integration. In spite of the different understandings of the scope of integration in CIM it has always stood for information integration across at least parts of the enterprise. Information integration essentially consists of providing the right information, at the right place, at the right time. In the 1990s enterprise integration and enterprise engineering became a focal point of discussions with active contribution of many disciplines. The state of the art in enterprise engineering and integration by the end of the 1990s has been rather confusing, according to Jim Nell and Kurt Kosanke (1997): On one hand, it claims to provide solutions for many of the issues identified in enterprise integration. On the other hand, the solutions seem to compete with each other, use conflicting terminology and do not provide any clues on their relations to solutions on other issues. Workflow modelling, business process modelling, business process reengineering (BPR), and concurrent engineering all aim toward identifying and providing the information needed in the enterprise operation. In addition, numerous integrating-platforms concepts are promoted with only marginal or no recognition or support of information identification. Tools claiming to support enterprise modelling exist in very large numbers, but the support is rather marginal, especially if models are to be used by the end user, for instance, in decision support.

Evolution of Enterprise Integration - The Consumerization of Integration[3]
For integration platforms, the way businesses work has drastically changed from the days when the traditional integration tools were created. Business apps have become consumerized, mobile-centric, self-service, and low cost, but the Integration tools to connect these apps, often remain complex, technical and, at times, more expensive than the apps they are integrating.

Components of an Integrated Enterprise[4]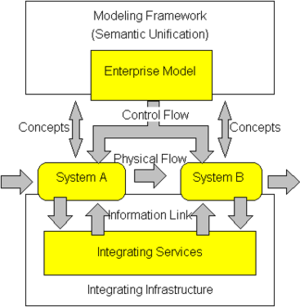 source: NIST

Enterprise Integration Needs[5]


Benefits of Enterprise Integration[6]
Eliminating complicated point-to-point integration allows businesses to stay connected, innovative, and competitive. Moreover, enterprise integration provides businesses the insight to make better decisions. In order to make well-informed and incisive decisions about your company, it is vital to have real-time, up-to-date information. To do this, data from all your systems, services, and applications must be available at all times, seamlessly. Enterprise integration provides a number of benefits for business:
See Also
Enterprise Information Integration (EII)
Enterprise Application Integration (EAI)
Business Process Integration
Customer Data Integration (CDI)
Data Integration
Application Integration
Enterprise Asset Management (EAM)
Information System (IS)
Information Management (IM)
Enterprise Architecture
Enterprise Information Management (EIM)
References
Further Reading