Human Resource Management (HRM)
Human Resource Management (HRM) is the function within an organization that focuses on the recruitment of, management of, and providing direction for the people who work in an organization. Many HR departments are responsible for organization development that generates the culture of the organization. They are charged with oversight responsibilities to ensure that their organization appropriately builds teams and inspires employee empowerment.[1]

History of Human Resource Management (HRM) (Figure 1.)[2]
The Human Resources field evolved first in 18th century Europe from a simple idea by Robert Owen and Charles Babbage during the industrial revolution. These men knew that people were crucial to the success of an organization. They expressed that the well being of employees led to perfect work. Without healthy workers, the organization would not survive. HR later emerged as a specific field in the early 20th century, influenced by Frederick Winslow Taylor (1856–1915). Taylor explored what he termed "scientific management" others later referred to "Taylorism", striving to improve economic efficiency in manufacturing jobs. He eventually keyed in on one of the principal inputs into the manufacturing process—labor—sparking inquiry into workforce productivity. Meanwhile, in England C S Myers, inspired by unexpected problems among soldiers which had alarmed generals and politicians in the First World War, set up a National Institute of Industrial Psychology, setting seeds for the human relations movement, which on both sides of the Atlantic built on the research of Elton Mayo and others to document through the Hawthorne studies (1924–1932) and others how stimuli, unrelated to financial compensation and working conditions, could yield more productive workers.[9] Work by Abraham Maslow (1908–1970), Kurt Lewin (1890–1947), Max Weber (1864–1920), Frederick Herzberg (1923–2000), and David McClelland (1917–1998), forming the basis for studies in industrial and organizational psychology, organizational behavior and organizational theory, was interpreted in such a way as to further claims of legitimacy for an applied discipline. By the time enough theoretical evidence existed to make a business case for strategic workforce management, changes in the business landscape (à la Andrew Carnegie, John Rockefeller) and in public policy (à la Sidney and Beatrice Webb, Franklin D. Roosevelt and the New Deal) had transformed the employer-employee relationship, and the discipline became formalized as "industrial and labor relations". In 1913 one of the oldest known professional HR associations—the Chartered Institute of Personnel and Development (CIPD)—started in England as the Welfare Workers' Association; it changed its name a decade later to the Institute of Industrial Welfare Workers, and again the next decade to Institute of Labour Management before settling upon its current name in 2000. Likewise in the United States, the world's first institution of higher education dedicated to workplace studies—the School of Industrial and Labor Relations—formed at Cornell University in 1945. In 1948 what would later become the largest professional HR association—the Society for Human Resource Management (SHRM)—formed as the American Society for Personnel Administration (ASPA). In the Soviet Union, meanwhile, Stalin's use of patronage exercised through the "HR Department" equivalent in the Bolshevik Party, its Orgburo, demonstrated the effectiveness and influence of human-resource policies and practices, and Stalin himself acknowledged the importance of the human resource, such as in his mass deployment of it in the Gulag system. During the latter half of the 20th century, union membership declined significantly, while workforce management continued to expand its influence within organizations. In the USA, the phrase "industrial and labor relations" came into use to refer specifically to issues concerning collective representation, and many companies began referring to the proto-HR profession as "personnel administration". Many current HR practices originated with the needs of companies in the 1950s to develop and retain talent. In the late 20th century, advances in transportation and communications greatly facilitated workforce mobility and collaboration. Corporations began viewing employees as assets rather than as cogs in a machine. "Human resources management" consequently, became the dominant term for the function—the ASPA even changing its name to the Society for Human Resource Management (SHRM) in 1998.

Stages in the evolution and development of human resource management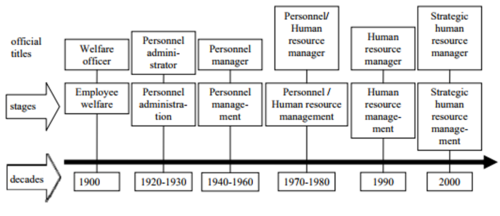 Figure 1. source: University of Groningen

Objectives of HRM[3]

Societal objective.To be socially responsible to the needs and challenges of society while minimizing the negative impact of such demands upon the organization. The failure of organizations to use their resources for society's benefit may result in restrictions. For example, societies may pass laws that limit human resource decisions.
Organizational objective. To recognize that HRM exists to contribute to organizational effectiveness. HRM is not an end in itself; it is only a means to assist the organization with its primary objectives. Simply stated, the department exists to serve the rest of the organization.
Functional objective.To maintain the department's contribution at a level appropriate to the organisation's needs. Resources are wasted when HRM is more or less sophisticated than the organisation demands. A department's level of service must be appropriate for the organisation it serves.
Personal objective. To assist employees in achieving their personal goals, at least insofar as these goals enhance the individual's contribution to the organisation. Personal objectives of employees must be met if workers are to be maintained, retained and motivated. Otherwise, employee performance and satisfaction may decline, and employees may leave the organisation.

Fundamental Roles and Principles of Human Resource Management (HRM)[4]
the principle of personnel assessment, physical energy and mental stress resulting from the assessment of workstations and work performance
the principle of motivation of employees, establishment and differentiation of remuneration in relation to the weight and the intensity of the work and the quantitative and qualitative performances, promoting and building professional careers
the principle of labor protection facing the risks of illness and accidents work and the social protection facing social risks that cannot be previewed
the principle of maximum economic efficiency of utilization of all resources in conditions of security and health protection, highlighting the productivity gains on workstation, individuals or work teams
the principle of information, communication, personal negotiation and by representatives (unions, associations, councils, etc.)
the principle of integration, cooperation and the participation of employees in decision-making and to the achievement of the organization's objectives.

Human Resource Management Models[5]
Four major models have been identified on human resource management and all these serve as many purposes. They provide an analytical framework for studying Human resource management (for example, situational factors, stakeholders, strategic choice levels, competence) They legitimize certain HRM practices; a key issue here being the distinctiveness of HRM practices: "It is not the presence of selection or training but a distinctive approach to selection or training that matters". They provide a characterization of human resource management that establishes variables and relationship to be2 researched. They serve as a heuristic device-something to help us discover and understand the world for explaining the nature and significance of key HR practices.
1. The Fombrun, Tichy and Devanna Model: Being the first model (dates back to 1984), this emphasizes just four functions and their interrelated­ness. The four functions are: selection, appraisal, development and rewards. These four constituent components of human resource management and are expected to contribute to organizational effectiveness. The Fombrun model is incomplete as it focuses on only four functions of HRM and ignores all environmental and contingency factors that impact HR functions.
2. The Harvard Model: The Harvard model claims to be comprehensive in as much as it seeks to comprise six critical components of HRM. The dimensions included in the model are: stakeholders, interests, situational factors, HRM policy choices, HR outcomes, long-term consequences and a feedback loop through. The outputs flow directly into the organization and the stakeholders
3. The Guest Model: Developed by David Guest in 1997, it claims to be much superior to other models. The details will justify the claim. This model claims that the HR manager has specific strategies to begin with, which demand certain practices and when executed, will result in outcomes. These outcomes include behavioral, performance related and financial rewards. The model emphasizes the logical sequence of six components: HR strategy, HR practices, HR outcomes, behavioral outcomes, performance results and financial consequences. Looking inversely, financial results depend on employee performance, which in turn is the result of action oriented employee behaviors. Behavioral outcomes are the result of employee commitment, quality and flexibility, which, in turn are impacted by HR practices. HR practices need to be in tune with HR strategies which are invariably aligned with organizational strategies.
4. The Warwick Model: This model was developed by two researchers, Hendry and Pettigrew of University of Warwick (hence the name Warwick model). Like other human resource management models, the Warwick proposition centers around five elements - Outer context (macro environmental forces), Inner context (firm specific or micro environmental forces), Business strategy content, HRM context, HRM content. The Warwick model takes cognizance of business strategy and HR practices (as in the Guest model), the external and internal context (unlike the Guest model) in which these activities take place, and the process by which such changes take place, including interactions between changes in both context and content. The strength of the model is that it identifies and classifies important environmental influences on HRM. It maps the connection between the external and environmental factors and explores how human resource management adapts to changes in the context. Obviously, those organizations achieving an alignment between the external and internal contexts will achieve performance and growth.

HRM in a Business Context - The 10 "C" Model (Figure 2.)[6]
By definition human resource management purpose is "to ensure that the employees of the company are used in such a way that the employer obtains the greatest possible benefit from their abilities and the employees obtain both material and psychological rewards from their work". (Human Resource Management - H.T. Graham and Roger Benett). The Harvard Map or model clearly outlines four HR policy areas:
Human resource flows - recruitment, selection, placement, promotion, appraisal and assessment, termination, etc.;
Reward systems - pay systems, motivation, etc.;
Employee influence - delegated levels of authority, responsibility, power;
Work systems - definition/design of work and alignment of people.
This, in turn, leads to the "10 Cs" or HR policies that have to be achieved. (Taken from the Principles of HRM: the 10 "C" model from HRM in a Business Context). They are:
Outer ring:

Comprehensiveness - this includes all aspects of people management;
Cost effectiveness - competitive fair rewards and promotion on systems;
Coherence - HR management activities and initiatives form a meaningful whole;
Control - ensure performance is consistent with business objectives.

Inner Ring:

Credibility - staff trust top management and believe in their strategies;
Communication - objectives understood and accepted by all employees; open culture with no barriers;
Creativity - competitive advantage comes from unique strategies;
Competence - organisation competent to achieve its objectives, depending on individual competences.

All leading to the central ring:

Change - continuous improvement and development essential for survival;
Commitment - employees motivated to achieve organisational goals.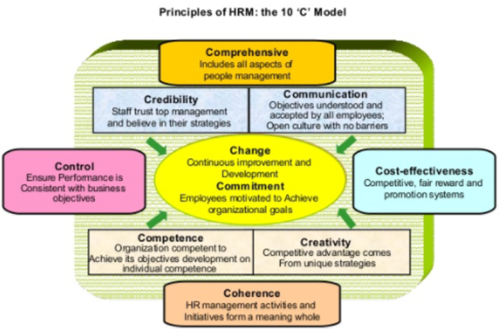 Figure 2. source: Rai University

Functions of Human Resource Management[7]
Human Resource Management functions can be classified in following three categories.
1. Managerial Functions

Human Resource Planning - In this function of HRM, the number and type of employees needed to accomplish organisational goals is determined. Research is an important part of this function, information is collected and analysed to identify current and future human resource needs and to forecast changing values, attitude, and behaviour of employees and their impact on organisation.
Organizing - In an organisation tasks are allocated among its members, relationships are identified, and activities are integrated towards a common objective. Relationships are established among the employees so that they can collectively contribute to the attainment of organisation goal.
Directing - Activating employees at different level and making them contribute maximum to the organisation is possible through proper direction and motivation. Taping the maximum potentialities of the employees is possible through motivation and command.
Controlling - After planning, organizing, and directing, the actual performance of employees is checked, verified, and compared with the plans. If the actual performance is found deviated from the plan, control measures are required to be taken.

2. Operative Functions

Recruitment and Selection - Recruitment of candidates is the function preceding the selection, which brings the pool of prospective candidates for the organisation so that the management can select the right candidate from this pool.
Job Analysis and Design - Job analysis is the process of describing the nature of a job and specifying the human requirements like qualification, skills, and work experience to perform that job. Job design aims at outlining and organizing tasks, duties, and responsibilities into a single unit of work for the achievement of certain objectives.
Performance Appraisal - Human resource professionals are required to perform this function to ensure that the performance of employee is at acceptable level.
Training and Development - This function of human resource management helps the employees to acquire skills and knowledge to perform their jobs effectively. Training an development programs are organised for both new and existing employees. Employees are prepared for higher level responsibilities through training and development.
Wage and Salary Administration - Human resource management determines what is to be paid for different type of jobs. Human resource management decides employees compensation which includes - wage administration, salary administration, incentives, bonuses, fringe benefits, and etc,.
Employee Welfare - This function refers to various services, benefits, and facilities that are provided to employees for their well being.
Maintenance - Human resource is considered as asset for the organisation. Employee turnover is not considered good for the organisation. Human resource management always try to keep their best performing employees with the organisation.
Labor Relations - This function refers to the interaction of human resource management with employees who are represented by a trade union. Employees comes together and forms an union to obtain more voice in decisions affecting wage, benefits, working condition, etc,.
Personnel Research - Personnel researches are done by human resource management to gather employees' opinions on wages and salaries, promotions, working conditions, welfare activities, leadership, etc,. Such researches helps in understanding employees satisfaction, employees turnover, employee termination, etc,.
Personnel Record - This function involves recording, maintaining, and retrieving employee related information like - application forms, employment history, working hours, earnings, employee absents and presents, employee turnover and other other data related to employees.

3.Advisory Functions

Advise to Top Management: Personnel manager advises the top management in formulation and evaluation of personnel programs, policies, and procedures
Advise to Departmental Heads: Personnel manager advises the the heads of various departments on matters such as manpower planning, job analysis, job design, recruitment, selection, placement, training, performance appraisal, etc.

The Changing Field Of Human Resource Management (HRM)[8]

In recent years, several business trends have had a significant impact on the broad field of HRM. Chief among them was new technologies. These new technologies, particularly in the areas of electronic communication and information dissemination and retrieval, have dramatically altered the business landscape. Satellite communications, computers and networking systems, fax machines, and other devices have all facilitated change in the ways in which businesses interact with each other and their workers. Telecommuting, for instance, has become a very popular option for many workers, and HRM professionals have had to develop new guidelines for this emerging subset of employees.
Changes in organizational structure have also influenced the changing face of human resource management. Continued erosion in manufacturing industries in the United States and other nations, coupled with the rise in service industries in those countries, have changed the workplace, as has the decline in union representation in many industries (these two trends, in fact, are commonly viewed as interrelated). In addition, organizational philosophies have undergone change. Many companies have scrapped or adjusted their traditional, hierarchical organizational structures in favor of flatter management structures. HRM experts note that this shift in responsibility brought with it a need to reassess job descriptions, appraisal systems, and other elements of personnel management.
A third change factor has been accelerating market globalization. This phenomenon has served to increase competition for both customers and jobs. The latter development enabled some businesses to demand higher performances from their employees while holding the line on compensation. Other factors that have changed the nature of HRM in recent years include new management and operational theories like Total Quality Management (TQM), rapidly changing demographics, and changes in health insurance and federal and state employment legislation.

Importance of HRM for Organizational Success[9]
The practice of HRM must be viewed through the prism of overall strategic goals for the organization instead of a standalone tint that takes a unit based or a micro approach. The idea here is to adopt a holistic perspective towards HRM that ensures that there are no piecemeal strategies and the HRM policy enmeshes itself fully with those of the organizational goals. For instance, if the training needs of the employees are simply met with perfunctory training on omnibus topics, the firm stands to lose not only from the time that the employees spend in training but also a loss of direction. Hence, the organization that takes its HRM policies seriously will ensure that training is based on focused and topical methods. In conclusion, the practice of HRM needs to be integrated with the overall strategy to ensure effective use of people and provide better returns to the organizations in terms of Return on Investment (ROI) for every rupee or dollar spent on them. Unless the HRM practice is designed in this way, the firms stand to lose from not utilizing people fully. And this does not bode well for the success of the organization.
See Also
References
External References