Applicant Tracking System (ATS)
An Applicant Tracking System (ATS) manages the recruiting and hiring process, including job postings and job applications. It organizes and makes searchable information about job seekers. As its name implies, an ATS tracks candidates through the hiring process. It helps scheduling, issues notification alerts and sends automated emails to candidates. But these systems are far more than organizers. An ATS is also used to cull candidates. It conducts a preliminary analysis of the applicants to find the best fits for a job. The goal is to speed HR's review of job applications and resumes. It may look for keywords or use AI-type algorithms that run a deeper analysis of the job applicant.[1]
During the Great Recession, employers were flooded with applications and wanted features that discouraged and filtered out unqualified candidates. This resulted in many of the bloated application processes and indiscriminate filters found in ATS today. Unfortunately, improving unemployment rates won't mark the end of ATS. While outdated systems are still in use at some large companies, we are seeing new ATS being developed for the modern age. As employers fight for the best talent, candidate experience is becoming more of a priority. Automation and ranking systems aren't going away; they're just becoming more technical as recruiting software begins leveraging AI. An ATS-optimized resume is the first step to getting past the bots and face to face with an actual person. Jobscan tests and researches common ATS to help job seekers avoid the traps of these systems, from the outdated to the cutting edge.[2]

Functions of Applicant Tracking System (ATS)[3]
A dedicated ATS is not uncommon for recruitment specific needs. On the enterprise level it may be offered as a module or functional addition to a human resources suite or Human Resources Information System (HRIS). The ATS is expanding into small and medium enterprises through open source or software as a service offerings (SaaS). The principal function of an ATS is to provide a central location and database for a company's recruitment efforts. ATSs are built to better assist management of resumes and applicant information. Data is either collected from internal applications via the ATS front-end, located on the company website or is extracted from applicants on job boards. The majority of job and resume boards (LinkedIn.com, Monster.com, Hotjobs, CareerBuilder, Indeed.com) have partnerships with ATS software providers to provide parsing support and ease of data migration from one system to another. Newer applicant tracking systems (often referred to as next generation) are platforms as a service whereby the main piece of software has integration points that allow providers of other recruiting technology to plug in seamlessly. The ability of these next generation ATS solutions allows jobs to be posted where the candidate is and not just on job boards. This ability is being referred to as Omnichannel Talent Acquisition. Recent enhancements include use of artificial intelligence (AI) tools and natural language processing (NLP) to facilitate intelligent guided semantic search capabilities offered through cloud based platforms that allow companies to score and sort resumes with better alignment to the job requirements and descriptions. With the advent of ATS, resume optimization techniques and online tools are now used by applicants to increase their chances of landing an interview call.

How Applicant Tracking Systems Work[4]
When applicants apply for a job online, their contact information, experience, educational background, resume, and cover letter are uploaded into the database. The information then can be transferred from one component of the system to another as candidates move through the hiring process. Company recruiters can review the applications, applicants can be sent automated messages letting them know their applications have been received, online tests can be given, hiring managers can schedule interviews, rejection letters can be mailed, and human resources personnel can use the same information to put individuals on the payroll once they are hired. These integrated systems streamline the recruiting and application process for employers.

Choosing an Applicant Tracking System (ATS)[5]
Below is our infographic highlighting these essential steps, followed by an overview of what you should cover throughout each of these stages.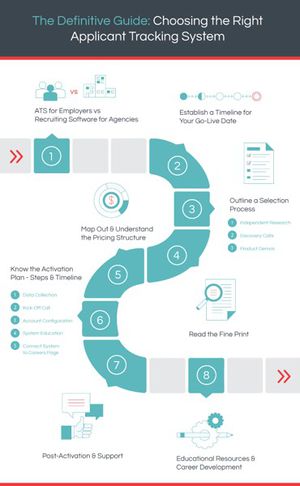 source: Newton

Benefits of Applicant Tracking System (ATS)[6]
Many employers have already implemented or are thinking to implement new recruiting solutions and tools such as applicant tracking systems to help them cope with the changes, but what are the actual key benefits of using an ATS? These undeniable benefits of using an ATS might prove crucial to your business, be it either on short or long term, so they must definitely be taken into account when re-thinking your recruiting strategies.

Challenges to ATS Implementation[7]
Most companies get an ATS to solve existing problems, so it can be unpleasant when there are challenges that inhibit implementation of the system. Fortunately, anticipating these challenges can help your company to be prepared, so that implementation and subsequent use goes as smooth as possible.
See Also
Human Resource Management (HRM)
Human Resources Information System (HRIS)
Human Resources Analytics (HR Analytics)
People Capability Maturity Model (P-CMM)
Performance Management
Personnel Management
References
Further Reading