ITIL Service Operation
ITIL Service Operation involves managing the smooth delivery of IT services with the ultimate goal of delivering value to the business. ITIL Service Operation must be aware of the changing needs within business based on advancing technology, such as cloud computing and cloud security needs.[1]
Service operation encompasses the day-to-day activities, processes, and infrastructure that are responsible for delivering value to the business through technology. Just as most people expect the lights to turn on at every flick of a switch, business users have become completely dependent on the capabilities that IT services enable. Think of service operation as a managed service provider or a utility company responsible for providing the power that customers need to do their jobs. Without electricity, many activities would come to a halt. Further, without the processes to ensure the delivery of that electricity, the service would be unreliable. Utility companies must also be proactive, for example, trimming trees to prevent outages from falling branches that may sever electric lines. Customers don't care about all the required resources (e.g., people, process, and technology) involved in delivering electricity to their homes. They just want reliable service when they need it and at a fair cost.[2]
Service Operation (SO) is the Forth Process group of ITIL Service Lifecycle under ITIL Framework. It provides best-practice guidance on how to maintain stability in IT Services (Information Technology Services)|IT Services]], and for achieving the agreed level targets of service delivery.
Purpose and Objectives of Service Operation[3]
The purpose of the Operation stage is to do all that is necessary to deliver service to a business at agreed levels. To be able to do that, Service Management has to manage the technology used for service delivery and support.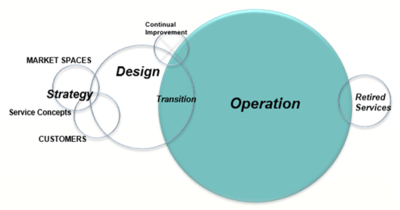 Operation is the stage where the service is delivered

The main objectives of Service Operation are to:
Minimize the impact of service outages on business activities. Key processes here are Incident and Problem Management.
Deliver and support the agreed services effectively and efficiently. All the Operation processes contribute to this objective.
Maintain access to services for authorized customers. Access Management process is responsible for this.
Scope, Business Value and Optimization of ITIL Service Operation[4]
Scope of ITIL Service Operation
The following come under the scope of Service Operation
The service provided by the service provider, external supplier or even the end user comes under the scope of Service Operation.
Service management also comes under the purview of Service Operation as it provides input and influences service design, strategy and transition.
Management of technology is an important part of service operations as all IT services need some form of technology to function.
Human resource is vital as it is the people who manage the services, technology and take the organization forward. Failure to recognize the importance of a skilled workforce will result in failure of projects.
Business Value of ITIL Service Operation
In the ITIL service lifecycle, each stage adds some value to the business involved. Service Strategy, Service Design, and Service Transition play a major role in providing value to a service, but it is only in the Service Operations stage that the actual value imparted is visible. The values are visible through processes of Service Operation such as Incident management, Event management, Problem management, Access management and Request Fulfillment.
Optimization of ITIL Service Operation
There are 2 ways to optimize service operation.
Long-Term Incremental Improvement: It involves evaluation of the performance and output of all the processes and functions of service operations over time. All the reports are analyzed, and decisions are made regarding the necessity and type of improvement needed. For example, changes or reconfiguration of process designs and infrastructure are considered as a long-term incremental improvement.
Short-Term Ongoing Improvement: It is concerned with smaller improvements in working practices in the Service Operation processes without any major change to a process or technology. For example, reassigning or personnel, balancing of workload and refining a process.
Service Operation Functions[5]
Service Operation comprises of four functions as shown in the following diagram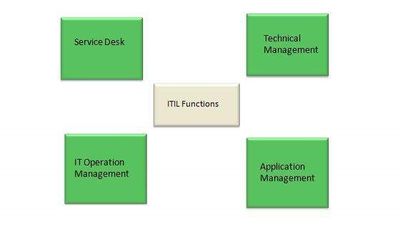 Service Desk: Service Desk is the first and single point of contact. It plays vital role in customer satisfaction. It coordinates activities between end user and IT service provider team. It also own the logged requests and ensures closure of these requests. There are four types of Service Desk −

Central Service Desk: In this, there is only one central Service Desk.
Local or distributed Service Desk: It is costly but closer to the user. It's difficult to manage and maintain.
Virtual Service Desk: It is very costly but results in fast processing.

Specialized Service Desk: It includes dedicated skilled staff for specific queries.
IT Operation Management: This function is responsible for managing organization's day-to-day operational activities
Technical Management: Technical Management staff includes technical expertises that are responsible for management of overall IT infrastructure.
Application Management: Application Management is responsible for managing applications and software throughout the lifecycle of the service.
ITIL Service Operation Processes[6]
The Five Processes of Service Operations are:
Event Management: Ensure that CIs and services are constantly monitored. It also filters and categorizes events to decide the appropriate actions needs to be taken.
Incident Management: Responsible for restoring the IT service to working state quickly as possible, in case any unexpected event.
Request Fulfillment: Responsible for acknowledging & processing Service Requests received from users. It generally deals with Standard Changes (e.g. requests to change a password) or requests for information.
Problem Management: This process deals with finding the root cause of a problem. This process is used to prevent Incidents from happening or to minimize the impact of incidents that cannot be prevented.
Access Management: Used to grant authorized users the right to use a service. Also blocks any access request of non-authorized users to the service. It follows the policies defined in Information Security Management.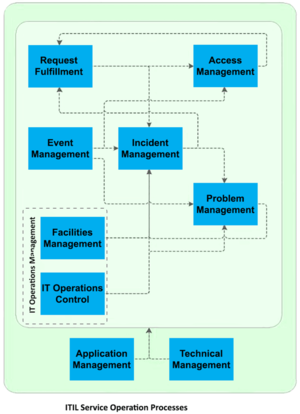 Key Aspects and Benefits of ITIL Service Operation
Below are some of the key benefits of ITIL Service Operations process group:

Reduce unplanned expenditure for both the business and IT through optimized handling of service outages and identification of their root causes.
Allow an organization to take full advantage of a service by reducing the duration and frequency of service outages.
Provide operational results and data that can be used by other ITIL processes to improve service quality.
Support the organization's security policy by ensuring that IT services will be accessed by authorized personnel only.
Provide quick and effective access to standard IT services, required to improve the productivity & quality of staffs and products.
Provide a framework for automating the iterative operations, which helps to increase the efficiencies and allows expensive human resources to be engaged in more innovative work, such as designing new or improved services, or making strategic changes in business etc.
See Also
References