ITIL Service Strategy
Definition of ITIL Service Strategy
Service Strategy is a series of concepts and techniques for managing infrastructure, develop and operationalize information Technology. The concept starts from an assessment of the needs of customers and the market reached the stage of the life cycle Service Strategy as a determinant in the organization's services based on Information Technology (IT). The main objective is to see what services need to be developed later in the IT organization. The main purpose of this concept is to help IT organizations think and act strategically.[1]

ITIL Service Strategy is the center and origin point of the ITIL Service Lifecycle. It provides guidance on clarification and prioritization of service-provider investments in services. More generally, Service Strategy focuses on helping IT organizations improve and develop over the long term. In both cases, Service Strategy relies largely upon a market-driven approach. This is a view of ITIL where IT and business align their visions.[2]
The objective of ITIL Service Strategy is to decide on a strategy to serve customers. Starting from an assessment of customer needs and the market place, the Service Strategy lifecycle stage determines which services the IT organization is to offer and what capabilities need to be developed. Its ultimate goal is to make the IT organization think and act in a strategic manner.[3]
Stages of ITIL Service Strategy[4]
Strategy can be broken down into various stages
1. Definition: What is the strategy
2. Analyze: How is the strategy going to be implemented, what could be obstacles faced in implementing the strategy successfully
3. Approval: Before it implemented strategy needs to be run by the senior management and needs their approval before it can be implemented
4. Charter: Implement the strategy after completing the above steps
Scope and Value of ITIL Service Strategy[5]
Scope of ITIL Service Strategy The ITIL Service Strategy is intended for usage by both internal and external service providers. The scope of service strategy includes:
Defining a strategy where a service provider can deliver services to meet the business outcomes of the customer.
Defining a sound strategy for managing the services.
Value of ITIL Service Strategy An investment which is made in service strategy by a service provider should deliver sufficient business value in return. Some of the benefits typically obtained by the adoption and implementation of service strategy best practice include:
An increased ability to understand and express the links between the IT service assets of the service provider, its activities and the crucial outcomes achieved by its customers as a result of using their services.
A flexible and timely ability to adapt its IT services to take preventive action and meet the changing business needs to ensure an increased competitive advantage over time.
The service provider is seen as contributing to value and cost by its organization and its customers.
A maintained portfolio of qualified services.
Improved IT investment usage where the investment in service development is driven mainly by business priorities and a proper Return on Investment (ROI) analysis.
IT Service Strategy gives an explanation regarding how IT Services will be utilized to enable the IT department to achieve the required objectives. It explains how IT services underpin the overall business strategy, which makes it a vital part of IT service operations today.
The Four Ps of Strategy[6]
The below mentioned Four Ps identify the different forms of a service strategy and are considered as entry points to service strategy.
Perspective: It describes a vision & direction and articulates the business philosophy of interacting with customer.
Positions: It describes the decision to adopt a well defined stance. It is expressed as distinctiveness in minds of customers. This means competing in the same space as others but with differentiated value proposition that is attractive to the customer. Whether it is about offering a wide range of services to a particular type of customer or being the lowest cost option, it is a strategic position.
Plan: A plan describes "How do we offer high value or low cost services?" or "How do we achieve and offer our specialized services?"
Pattern: It describes the organization's fundamental way of doing things.
Key Principles of Service Strategy[7]
Utility and warranty – a powerful concept called upon from all other lifecycle stages.

Utility or fit for purpose: it says what the service is.
Warranty or fit for use: explains how it works.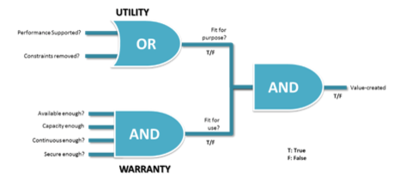 Value Creation – how the customer perceives what the service does for him.
Assets – Assets are resources or capabilities – stuff that helps us to deliver the service.

Resource – physical assets: infrastructure elements, people, capital, applications.
Capabilities – intangible assets: usually the ability to create value.

Patterns of Business Activity (PBA) – customer has activities generating demand for services.
Governance – we need to define strategy, policies, and processes. Governance deals with how we implement and follow them.
Service Strategy Process Areas[8]
Service Strategy defines five processes, three of them being new in ITIL 2011 edition:
Service Portfolio Management: Service portfolio management (SPM) is a means by which you can dynamically and transparently govern resource investment. The goal of SPM is to maximize value to the business while managing risks and costs. We do this by ensuring that the content of the service portfolio is in line with the organization's service management strategy. In cooperation with the change management process it evaluates proposed services. As well as major changes to existing services. SPM is a cradle to grave process. It monitors services in the pipeline. First as they proceed through funding, then through design, development, testing, and deployment. Once operational it monitors to ensure we are achieving expected returns. And finally, when the service has reached the end of its useful life, it works with Service Transition processes to ensure an orderly retirement and preservation of essential records and assets.
Financial Management for IT Services: Financial management for IT services ensures we track and associate IT investment and spending with the services provided. Why do we need to do this? We want to deliver the best quality service at the lowest possible cost. We want to create business value and increase the opportunity to take on extra projects that result in even greater value to the business. The three major activities which take place within financial management for IT services are (The "ABCs" of financial management):

Accounting: Accounting involves applying cost accounting principles to IT spending. We do this to answer the question, "What does it cost to provide each service?"
Budgeting: We use Budgeting to show the funding required to support the defined services at a given level of business activity. The budget assures that IT Service Management will have adequate funding to deliver promised services.
Charging: Charging is the process of assuring that IT Service Management will "capture" value. That is, that the consumers of services are aware of the cost of providing services to them.

Demand Management: ITIL demand management helps a business understand and predict customer demand for services. Every business is subject to cyclical behavior. According to ITIL, the purpose of demand management is to understand, anticipate, and influence customer demand for services. This means that demand for services can grow or shrink with the business cycle. In deciding whether to provide a service, IT Service Management must understand the patterns of business activity (PBAs) related to the service. While it is important to avoid having inadequate capacity, excess capacity is also a business risk, involving expense which typically cannot be recovered, since customers cannot be expected to pay for capacity they are not using. Demand management rationalizes and optimizes the use of IT resources. It ensures that the amount of technical and human resources that has been budgeted matches the expected demand for the service. If the prediction is too low, the agreed-upon service levels may not be delivered. If the predictions are too high, resources will have been allocated to a service that will not be used (or paid for). Demand management bridges the gap between service design, capacity management, and business relationship management to ensure that the predictions are accurate.
Business Relationship Management: ITIL business relationship management works closely with service portfolio management and strategy management. It helps IT services to inform and implement the strategy and service selection. Participants in this process seek to form a relationship with customers to understand their needs for service. This involves:

ensuring that services provided are delivering the value expected by the customer
understanding the customer's environment well enough to identify opportunities for new services or new applications of existing services
being aware of changes in the customer's business environment which may impact service needs
The most important key performance indicator (KPI) for business relationship management is customer satisfaction.
Strategy Management for IT services: ITIL strategy management for IT services seeks to enable IT Service Management to become a strategic asset to the organization. It's not enough to align IT with the business; IT should also integrate with the business. Any service provider, to be successful, must have a thorough understanding of the market space in which they operate. They must know what their strengths and weaknesses as a provider are, as well as what opportunities are available. Strategy management for IT services seeks to answer questions such as the following:

Who are our customers?
What business outcomes do they need?
How do the services we provide support those outcomes?
How can we position ourselves to be the only logical provider of these services?
What market spaces do we operate in?
Are there ways to expand our current service offerings into new markets?
Are there unmet needs in our current market spaces for which we can develop services?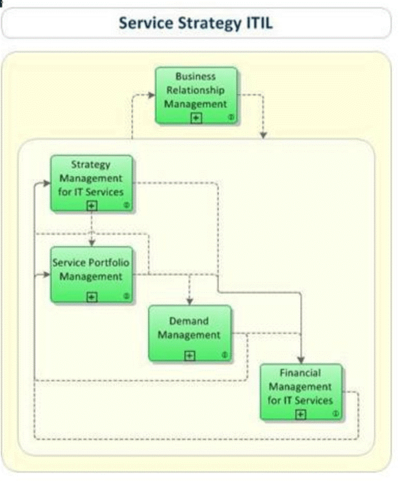 source: Hanung Nindito Prasetyo

No organization acts in a vacuum. Customers always have alternatives. Even government and nonprofits where social services compete for tax dollars and contributions. Competitive forces demand that an IT organization do its job better than the alternatives. What service strategy is about is positioning your organization as non-optional.
ITIL Service Strategy Roles[9] This list contains all the important roles that are defined within the ITIL Service strategy module.
IT Steering Group (ISG):

The IT Steering Group (ISG) sets the strategy and direction for IT Services. It includes members from senior management and from business and IT.
The ISG reviews the business and IT strategies in order to ensure that they are aligned with each other.
It also sets priorities to the service development projects/programs.

Service Strategy Manager:

The Service Strategy Manager is a new role introduced in ITIL 4 edition.
The Service Strategy Manager primarily supports the IT Steering Group in developing and maintaining the IT service provider's strategy.
This role is also accountable for communicating and implementing the service strategy.

Service Portfolio Manager:

The Service Portfolio Manager helps to determine on a strategy to serve customers.
This role works in cooperation with the IT Steering Group to improve the service provider's offerings and capabilities.

Financial Manager:

The Financial Manager is responsible for managing an IT service provider's accounting, budgeting, and charging requirements.
Responsible for formulating the annual IT budget and submit them for review and approval by the IT Steering Group
This role also helps to negotiate prices at the time of procuring CI's and service components.

Demand Manager:

The Demand Manager is a new role introduced in ITIL 4 to execute activities related to Demand Management process.
The Demand Manager is responsible for understanding, anticipating and influencing customer demand for services.
Identifying and analyzing patterns of business activity to find out the levels of demand that will be placed on a service.
The Demand Manager works jointly with the capacity manager to ensure that the IT service provider has adequate capacity to meet the expected demand.

Business Relationship Manager:

The Business Relationship Manager is a new role introduced in ITIL 4.
The responsibilities of Business Relationship Manager includes maintaining a positive relationship with customers, identifying customer needs, and ensuring that the service provider will be able to fulfill those needs with an appropriate catalogue of services.
The Business Relationship Manager works very closely with the Service Level Manager and sometimes in smaller organizations, these two roles are combined.

Strategy Analyst:

Assisting Service Strategy Manager in documenting and maintaining the organization's overall IT Strategy.
Helps in informing and communicating the key aspects of the IT strategy, so that all stakeholders like customers, staff, suppliers etc are aware of the IT strategy.
Assists IT steering group in successful implementation and operation of the IT strategy.
Responsible for reviewing the performance of the IT strategy and if required making minor changes to the IT strategic plans or the way they are enforced.
Creating an interface between "Strategy Management for IT Services" and other ITIL processes.

Finance Analyst:

Assisting Financial Manager in doing budgeting, accounting, and charging procedures.
Publishing statements of accounts to management to enable process managers to manage their own areas of the budgets.
Evaluating and reporting on the value-for-money analysis of all major activities, projects, and proposed expenditure items.

Demand Analyst:

This strategic role acts as a critical support to the Demand Manager in understanding, anticipating and influencing customer demand for services.
Defining and studying user profiles to find out the expected demand for services from different types of users.
Helping at designing services to meet the patterns of business activity and support business outcomes.
Optimizing the utilization of resources to encounter the fluctuation in the levels of demand for those services.
See Also
References