IT Strategic Plan (Information Technology Strategic Plan)
Definition of an IT Strategic Plan
An IT Strategic Plan is a document that details the specific steps, with dates and deliverables, taken to implement the IT Strategy of an organization.
These steps:
Are necessary and sufficient to implement an IT Strategy
They are prioritized
They are divided into distinct phases
They can be iterative and usually are
An IT Strategic Plan uses an IT Strategy Framework is created using an IT Strategy Template.
A Strategic Plan for IT must include the roles and responsibilities tasked with the implementation of each step in the plan. An IT Strategic Plan must also include relevant governance information.
An IT Strategic Plan follows a charter.
An Information Technology Strategic Plan (ITSP) aims at discovering the resources and IT in an organization, to direct the technological and information architecture to its strategic objectives.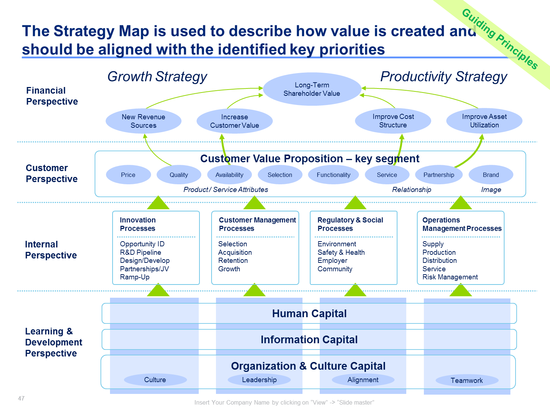 source: Slidebooks Consulting
What an IT Strategic Plan is Not[1]
An IT Strategic Plan is NOT Tactical or Prescriptive: A strategic plan is a framework for allowing departmental managers to make decisions and implement solutions that support the overall strategic plan. That decision-making ability is key in gaining support for the strategy. A tactical plan containing specific information about what must be done in order to meet strategic goals is a mandate, not a plan. This approach is guaranteed to turn the organization's lower-level managers against the plan.
A Strategic Plan is NOT Static Document That Should Never Change: The strategic plan should be built to allow for updates and adapt to changes in the market. The point of a strategic plan is to consider what the future may hold and align resources today to support that vision. By regularly considering what the future may hold, you can make small manageable course corrections rather than having to "right the ship" when unexpected change occurs.
Essential Elements or Components of an IT Strategic Plan[2]
To effectively support today's IT-informed business strategies, CIOs must embrace new approaches to IT strategic planning that are more business-driven, flexible, and frequently revisited than in years past
Start with Business Strategy: IT strategic planning must be firmly rooted in the business strategic plan — period. If the business strategy is to invest in digital transformation, for instance, IT must extrapolate what that means for existing architecture, operating processes, skills, sourcing, governance, and culture. The best IT plan is no longer simply a rundown of the financial investment required or a list of technologies to implement. Rather, it is an assessment of the changes demanded to achieve business goals. The line between business strategy and technology strategy has disappeared, says ServiceNow's CTO Chris Bedi. "They are one and the same." Fenwick goes so far as to suggest there should be no IT strategy separate from the business strategy, preferring to call the IT-specific component an operating plan.
Plan the Planning Process: At the outset, IT leaders should establish a plan to develop the plan. Gartner advises creating a "clear and achievable" process for developing the strategic plan, using any existing or previously used plan as a starting point.
Strategize Swiftly: While IT Strategic Planning is important, spending too much time to develop it can also be dangerous. Gartner advocates swift and focused strategic plan development in order to prevent loss of focus, scope creep, or diminished currency and relevance.
Focus on the Mid-term Horizon: Long-term roadmaps still have their place, but they have largely fallen out of favor, given today's era of rapid technology and business shifts. While IT leaders must ensure that their choices are flexible enough to adapt to longer-term technology change, the IT strategic plan should largely focus on the mid-term horizon, typically 12 to 18 months ahead. It can also address, in less granularity, plans in the two- to the three-year range and five-plus years. Whatever time period IT leaders decide to cover, they should be sure to clarify the difference between the more tactical operating portion of the plan, mid-term strategy, and long-term goals.
Nail the Key Components: An effective IT plan will include information on the people, staffing, partnerships, organizational changes, and governance required to achieve business outcomes. It can also include an investment portfolio roadmap, timeframes, goals, and a discussion of risks and other issues.
Build in metrics for success: The best IT strategic plans include measures of success that will serve as mile markers for progress over time. In today's technology-driven marketplace, however, those metrics should focus less on the inputs or outputs IT may have used as guideposts in the past and more on actual business outcomes. Having clear, outcome-based key performance indicators (KPI)s is essential. It is important to ensure tight integration with the business strategy. Those KPIs should be measured and reported at least monthly, although some should be tracked more frequently. Without defined measurable goals and measurement against them, a strategy can quickly become a pretty set of charts that get looked at once and filed away.
Tie Guiding Principles into the Corporate Vision: Many IT leaders will include a set of guiding principles or other explanations that guide IT's decision-making. Those guiding principles should tie into the overall corporate vision.
Match Planning Frequency to the Cadence of the Business: Most IT organizations will create a full IT strategic plan at least once a year, but the fast-changing business environment demands that most update their approaches more frequently. The best rule of thumb is to adjust the frequency of IT planning to the cadence of the business. For most companies, quarterly updates (at a minimum) will make the most sense. IT leaders in consumer-focused businesses, for instance, will want to make changes more frequently.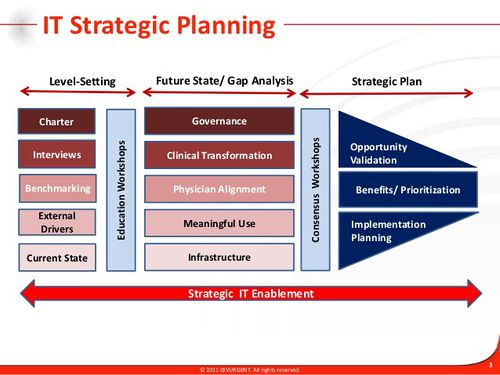 source: Divurgent (David Shiple)
IT Strategic Plan Model[3]
There are several ITSP development models, including the one proposed by Microsoft (Microsoft. 2011), named Microsoft Methodology Consulting Service (MCS) which is based on the technical recommendations of COBIT and developed jointly with partners who specialize in this practice. This model is divided into five stages and each stage has activities related to its responsibility. The first stage deals with the generation of the IT strategic plan, the second includes a survey of IT needs, the third one maps the desired situation, the fourth prepares the strategic IT plan, and the fifth one is for ITSP implementation and monitoring.
The model proposed by some authors considers three steps in ITSP development. The first one is preparation, generated throughout the framework to create an ITSP, the second step diagnoses the current situation, where the body has an exact notion of the stage, and the needs are raised. The final step is to plan the situation whose attainment is planned, at which point the ITSP is produced (Hazan, Claudia. 2010; Fagundes, Vladimir 2011; Cruz, Cláudio Silva da. 2009; Rezende, D. A. 2003).
In Brazil, the Department of Planning, Budget and Management (MPBM) issued a Normative Instruction (NI04) stating that the acquisition of IT (Products and Services) is preceded by Information Technology Strategic Plan (ITSP). The Information Technology Strategic Plan - ITSP provides a complete view of the current environment and Information Technology, according to current and future needs, and allows direct information architecture and technology aligned with the strategic objectives of the institution. The Information Technology Strategic Plan consists primarily of knowledge of its resources (services, Business Processes, Information Systems, Infrastructure, and Technology) from an analysis based on the purpose of the organization, definition, and planning of a strategy to IT evolution. An administration concerned about the ITSP is a company that uses modern principles of rationality, consistency, and quality, creating a policy for success. Looking to improve the construction process and its monitoring of the ITSP, an idea rose to develop a model to provide direction, control and monitor the development of ITSPs and after their production, to allow an effective management and monitoring.
The objective of this model is to define a set of steps that can help IT managers in the Federal Administration in the construction, monitoring, and management of its Information Technology Strategic Plan - ITSP. In the following sections details the development and management of ITSP. The model of design and construction of an ITSP was split into two parts: 1. Preparation, comprising the steps of Preparation, Diagnosis, and Planning (Actions and Risks); 2. Management and Control.
Phases in the Development of IT Strategic Plan[4]
Stakeholder Buy-In: The process followed to develop an IT strategic plan can be just as important as the plan itself. Successful IT strategic plan development should follow a comprehensive process focused on obtaining full stakeholder involvement. Since many stakeholders are involved in funding and implementing parts of a plan, getting their buy-in is essential. The best way to obtain buy-in is to include them in the plan development process as much as possible, and by doing so, it can help ensure that specific goals and objectives in the plan receive the necessary funding and resources to implement. The project must also receive full support from upper management so that stakeholders understand the importance of the project and will commit their time and resources to it. Many organizations utilize consultants to undertake the process of creating a plan. This helps ensure objectivity and dedicates resources that can efficiently create a plan, usually within a three- to four-month timeframe depending on the scope of the project and the size of the organization. If an organization believes it has the expertise and resources to undertake the plan creation in-house, it's important that stakeholders outside of IT are directly involved in the plan's creation, as this will help with objectivity and buy-in across the organization.
Create Project Charter; Define Roles and Resposibilities" Plan creation also need to follow best practices in project management. This means creating a project charter, developing and following a detailed project plan, and forming a project team with a project manager to guide and oversee the process. It is important to define roles and responsibilities upfront. The project team will still play a significant role in the project, and it's essential that the project team is composed of representatives from all major departments.
Discovery: The next stage in creating a plan is the discovery phase. This is where information is gathered and feedback from stakeholders is garnered. A variety of documents will be needed, including hardware and software inventories, telecommunications services, organization charts, network topology diagrams, policies and procedures, disaster recovery/continuity of operations plans, and other pertinent documents. The Project Lead should also facilitate collecting feedback from all stakeholders. This can be accomplished in a variety of ways, including employee surveys, focus groups, and stakeholder interviews. The goal of the feedback is to assess how IT is performing and gather perspectives on what challenges and opportunities IT faces. Feedback should also be obtained from outside agencies, external customers, and gather industry best practices data.
Analysis: The next phase of the project is the analysis phase. After all the data has been collected, the Project Lead will analyze the data, look at best practices, and perform gap analysis to determine what deficiencies exist in IT and develop initial findings and recommendations. It's important to obtain feedback from the project team to ensure the initial findings are on target. Some of the specific recommendations will likely require additional research and might include emerging technologies that may not be widely deployed.
Documentation: The next phase is the document phase. The Project Lead will form the goals and objectives, develop guiding principles, and write the plan. Guiding principles help with decision-making and are intended to assist IT and management when issues or technologies come up that are not part of the goals and objectives. For instance, "IT will take a cloud-first approach when purchasing new software." The project team will need to provide plenty of feedback in the document phase and help with prioritizing the strategic initiatives or plan objectives. The group will also want to ensure that funding, resource, and timeframes are realistic and achievable. The Project Lead will then write the detailed plan and obtain feedback from the project group and other designated stakeholders.
Review and Revise: The final phase is the review and revise phase. This is where the Project Lead takes the feedback and then revises and finalizes the plan. Often, the Project Lead or Project Manager will present the plan to senior management, IT staff, and other key stakeholders and publish it for internal, and sometime external, distribution, depending on the organization.
Implementation: After the plan is completed, it's just as important to implement the objectives and initiatives within the specified timeframe and within the planned budget specified. Since a lot can happen during the span of a three- to five-year plan, it's important to track progress and update the plan. A Chinese proverb states it best, "A good plan is always under construction." No plan will be perfectly implemented, as external factors like the economy, funding, and emerging technologies could alter the course of the plan. Disruptive technologies can especially alter the implementation. For instance, no one could have predicted the impact that the original Apple iPhone had on mobile computing, which forced nearly every organization to change plans and embrace this new, groundbreaking technology. After three to five years, the organization should plan on developing a new IT strategic plan and begin the process all over again.
Challenges in Successfully Implementing an IT Strategy Plan[5]
There are many challenges that organisations face when implementing a successful strategic IT plan. These largely stem from the mystery that is "Information Technology" and the lack of experience building such plans in the past. This blog will outline these challenges and present ways in which organisations may overcome them.
A Business Person, not an IT Person: Organisations are typically not made up of IT people. Senior management such as the CEO are first and foremost business people; they understand business strategy and objectives, but the world of IT is often a mystery. Topics ranging from databases to networking, from business intelligence to infrastructure can be overwhelming, especially when they don't immediately appear to have a direct influence on the organisation's objectives. Using senior managers to create the high level critical success factors for strategic IT planning is very effective, however often they need assistance with defining the more detailed elements of a complete IT strategy. Senior managers often struggle with the risk management elements of a strategic plan as they may lack a comprehensive understanding of all the technical elements of IT environments.
Internal Bias: There may be issues when implementing a strategic IT plan internally, as bias can come into play. For instance, when someone has been given the task of implementing a strategic IT plan for the organisation. Because each person has only ever worked in a handful of different environments, the strategic objectives and technology drivers can often be biased around their personal experience. A not for profit company in Victoria developed a strategic objective to use the CRM product Salesforce to manage their constituents, however, while this is a great product, the recommendation was biased due to the experience the CFO had in a previous role. Subsequently, the implementation was hugely costly and did not deliver on the underlying core objectives - they ultimately needed an ERP instead of a CRM and had challenges with the SaaS (Software as a service) model. As every organisation has a unique set of requirements, it is crucial to understand the needs of each individual organisation and base the strategic IT plan on these specific needs.
Required Expertise to Cover the Broad Range of IT: The world of IT is vast and without the right knowledge, very confusing. Elements of IT extend from hardware] and infrastructure to software platforms as well as phones, networking, business intelligence, databases, spreadsheets and even programming. All of this requires many professionals with an expertise in each specific field, so trying to create a cohesive strategy to tackle the varied field of IT internally can be difficult.
Helping Stakeholders to Understand the Value of IT: Another challenge that organisations must overcome when implementing a strategic IT plan is figuring out how to help stakeholders (who typically don't have much IT knowledge) to understand the value that formal and comprehensive strategic IT planning will deliver to the organisation. Many issues arise from a lack of understanding of the return on investment in IT planning. Often it seems that a strategic IT plan is not necessary for the goals of your organisation, but that is far from the case. The effective use of Information Technology can bring any organisation positive tangible and intangible benefits that need to be articulated in a way that makes sense to stakeholders. Whether this is through TCO (Total Cost of Ownership) analysis or ROI (Return on Investment) calculators stakeholders must understand the true value of developing a documented strategic IT plan, and formalised strategic IT planning processes.
See Also
References
Further Reading