Management Consulting
What is Management Consulting
Management Consulting is the practice of helping organizations to improve their performance, primarily through the analysis of existing organizational problems and the development of plans for improvement. Organizations may draw upon the services of management consultants for a number of reasons, including gaining external advice and access to the consultants' specialized expertise. As a result of their exposure to and relationships with numerous organizations, consulting firms are also said to be aware of industry "best practices." However, the transferability of such practices from one organization to another may be limited by the specific nature of the situation under consideration. Consultancies may also provide organizational change management assistance, development of coaching skills, technology implementation, strategy development, or operational improvement services. Management consultants often bring their own proprietary methodologies or frameworks to guide the identification of problems and serve as the basis for recommendations for more effective or efficient ways of performing work tasks.[1]
A strong understanding and application of industry best practices are what give the clients of management consulting firms a strategic advantage over their competition. Businesses today are likely dealing with an assortment of issues that involve specific multidisciplinary challenges. It can be a daunting task to seek out consultants who qualify to help in each respective discipline. Today's complex organizational environment calls for sound business models that offer agility in the short term and stability in the long. Management consulting firms provide strategic business consulting services that offer uncommon insight into key business problems in their specific industry, delivering clients a new perspective that can lead to sustainable competitive advantage. Management consultants have decades of combined experience building new businesses and innovating new revenue streams in financial services, global management, and varied industries. Management consulting groups are experts in evaluating business risks and opportunities to generate resourceful strategies which reduce operating costs and cultivate long-term growth for their clients, and we're no different. Advisors can review and analyze a product and/or service delivery model and help fill the gaps. Management consultants collectively have extensive hands-on experience helping government agencies and businesses accelerate the design and implementation of their transformational process. The primary goal of a management consulting firm's organizational performance advisory practice is to assist their clients in enhancing some aspect of their overall performance. They offer extensive experience within many industries, providing a range of performance improvement services to their clientele. Their work spans all functional areas of an organization and provides the foundation to prepare an environment for growth, efficiency, and increased profitability.[2]
Management Consulting Objectives[3]
Management consulting includes a broad range of activities, and many firms and their members often define these practices quite differently. One way to categorize the activities is in terms of the professional's area of expertise (such as Competitive Analysis, Corporate Strategy, Operations Management, or human resources). But in practice, as many differences exist within these categories as between them. Another approach is to view the process as a sequence of phases—entry, contracting, diagnosis, data collection, feedback, implementation, etc. However, these phases are usually less discrete than most consultants admit.
Perhaps a more useful way of analyzing the process is to consider its purposes; clarity about goals certainly influences an engagement's success. Here are consulting's eight fundamental objectives, arranged hierarchically (see the figure below):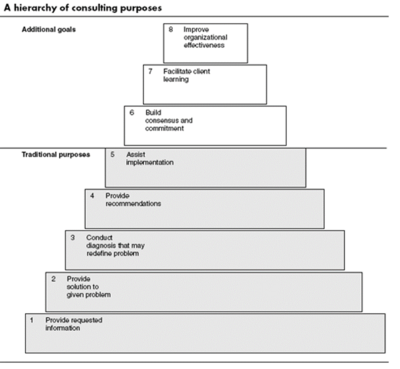 source: Harvard Business Review

1. Providing information to a client.
2. Solving a client's problems.
3. Making a diagnosis, which may necessitate a redefinition of the problem.
4. Making recommendations based on the diagnosis.
5. Assisting with the implementation of recommended solutions.
6. Building a consensus and commitment around corrective action.
7. Facilitating client learning—that is, teaching clients how to resolve similar problems in the future.
8. Permanently improving organizational effectiveness.
The lower-numbered purposes are better understood and practiced and are also more requested by clients. Many consultants, however, aspire to a higher stage on the pyramid than most of their engagements achieve.
Purposes 1 through 5 are generally considered legitimate functions, though some controversy surrounds purpose 5. Management consultants are less likely to address purposes 6 through 8 explicitly, and their clients are not as likely to request them. But leading firms and their clients are beginning to approach lower-numbered purposes in ways that involve other goals as well. Goals 6 through 8 are best-considered by-products of earlier purposes, not additional objectives that become relevant only when the other purposes have been achieved. They are essential to effective consulting, even if not recognized as explicit goals when the engagement begins.
Moving up the pyramid toward more ambitious purposes requires increasing sophistication and skill in the processes of consulting and in managing the consultant-client relationship. Sometimes a professional tries to shift the purpose of an engagement even though a shift is not called for; the firm may have lost track of the line between what's best for the client and what's best for the consultant's business. But reputable consultants do not usually try to prolong engagements or enlarge their scope. Wherever on the pyramid the relationship starts, the outsider's first job is to address the purpose the client requests. As the need arises, both parties may agree to move to other goals.
What Management Consultants Do[4]
The core work of a management consultant tends to fall within one or more of these three categories:
Functional Expertise and Specializations. Management consultants provide industry counsel, advice, and functional expertise in specialized areas such as strategy, mergers, governance, reorganizations, organization design, strategic leadership, operations, finance, risk management, digital transformation, information technology, organizational change management, organization development, human resources, talent management, advertising, and marketing to name a few.
Objective Analyses and Assessments. A management consultant serves as an objective third party to conduct in-depth research and analysis and then provides an unbiased opinion and perspective on difficult matters and complex business problems and issues.
Project Management. Management consultants work directly with senior leadership and internal project teams to deliver hands-on project management and leadership consulting to include project implementation, execution, and measurement.
The Problem-Solving Approach[5]
A big part of management consulting involves taking a strategic approach to problem-solve. By exploring all angles to a particular challenge, consultants are able to provide more useful and practicable solutions to their clients. Most consultants follow five main steps when approaching a business problem.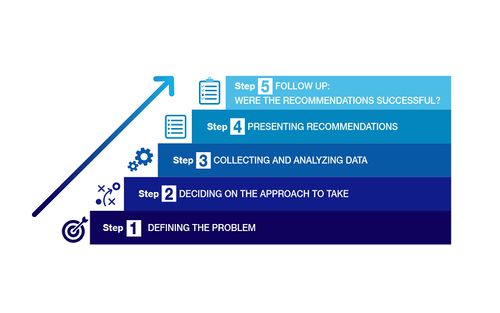 source: Case Interview dot com
Defining the Problem: Anyone experienced in management consulting will tell you how important it is to clearly define a problem. The issues being faced need to be identified specifically so that you can decide on the best approach to take. As a client explains the challenges they're facing, they may present mixed information or a biased perception. Let's use the example of a business that's seeking to relocate. Your client may present the issue in a biased manner. They may mix separate issues or expect that their previous strategies will work in a new market. The role of a management consultant will be to filter information from the client so you can identify the specific challenges being faced. In this case, you may determine that gaining market share will be your client's biggest challenge. With the scope of the problem clearly defined, you can begin framing your approach.
Deciding on the Approach to Take: Most consultants have specific approaches they take toward solving client problems. This is typically the second step in the problem-solving process. During this step, the management consultant will find out more about the problem being faced by their client. This may involve traveling to the client's site to collect data, interview employees, and examine daily operations. With a deeper understanding of the client's business and the problems they face, you'll be in a better position to propose effective solutions.
Collecting and Analyzing Data: Management Consulting is known for its ability to implement data-driven solutions. What does this mean? Rather than providing general answers to problems being faced, consultants collect data, analyze it, and base their proposed solutions on this data. A data-driven approach is the best way of approaching a problem objectively and effectively. It's also the best way to propose solutions that are easy for the client to understand.
Presenting Recommendations: A management consultant spends much time working on deliverables. These deliverables are used to propose solutions to the client's problem. Perhaps the most important step in management consulting is presenting recommendations in a manner that's easy to understand. If your proposed solutions don't make sense to your client, then they're essentially useless. So, take the time to break down your recommendations into easily digestible portions. These solutions are tailored to the needs of the clients.
Follow Up: Were the Recommendations Successful? After proposing recommendations to your client, you must determine whether your solutions work. Management consultants develop specific criteria to measure the success of their recommendations. Success may be evaluated by tracking sales, calculating savings on operational costs, or counting new customer acquisitions.
History of Management Consulting[6]
Management consulting grew with the rise of management as a unique field of study. One of the first management consulting firms was Arthur D. Little Inc., founded in 1886 as a partnership and later incorporated in 1909. Though Arthur D. Little later became a general management consultancy, it originally specialized in technical research.
As Arthur D. Little focused on technical research for the first few years, the first management consultancy was started by Frederick Winslow Taylor, who, in 1893, opened an independent consulting practice in Philadelphia. His business card read "Consulting Engineer – Systematizing Shop Management and Manufacturing Costs a Specialty". By inventing Scientific Management, also known as Taylor's method, Frederick Winslow Taylor invented the first method of organizing work, spawning the careers of many more management consultants. One of Taylor's early collaborators, Morris Llewellyn Cooke, for example, opened his own management consultancy in 1905. Taylor's method was used worldwide until the industry switched to a method invented by W. Edwards Deming.
The initial period of growth in the consulting industry was triggered by the Glass–Steagall Banking Act in the 1930s. It was driven by the demand for advice on finance, strategy, and organization. From the 1950s onwards, consultancies not only expanded their activities considerably in the United States but also opened offices in Europe and later in Asia and South America. After World War II, a number of new management consulting firms were formed, bringing a rigorous analytical approach to the study of management and strategy. The postwar years also saw the application of cybernetics principles to management through the work of Stafford Beer.
The industry experienced significant growth in the 1980s and 1990s, gaining considerable importance in relation to the national gross domestic product. In 1980 there were only five consulting firms with more than 1,000 consultants worldwide, whereas, by the 1990s, there were more than thirty firms of this size.
A period of significant growth in the early 1980s was driven by demand for strategy and organization consultancies. The wave of growth in the 1990s was driven by strategy and information technology advice. In the second half of the 1980s, big accounting firms entered the IT consulting segment. The then Big Eight, now Big Four, accounting firms (PricewaterhouseCoopers; KPMG; Ernst & Young; Deloitte Touche Tohmatsu) had always offered advice in addition to their traditional services, but after the late 1980s, these activities became increasingly important in relation to the maturing market of accounting and auditing. By the mid-1990s, these firms had outgrown those service providers focusing on corporate strategy and organization. While three of the Big Four legally divided the different service lines after the Enron scandals and the ensuing breakdown of Arthur Andersen, they are now back in the consulting business. In 2000, Andersen Consulting broke off from Arthur Andersen and announced their new name: Accenture. The name change was effective starting January 1, 2001, and Accenture is currently the largest consulting firm in the world in employee headcount. They are publicly traded on the NYSE with ticker ACN.
The industry stagnated in 2001 before recovering after 2003 and then enjoying a period of sustained double-digit annual revenue growth until the financial crash of 2008/9. With Financial Services and Government being two of the largest spenders on consulting services, the financial crash and the resulting public sector austerity drives hit consulting revenues hard. In some markets, such as the UK, there was even a recession in the consulting industry, something which had never previously happened and has not happened since. There has been a gradual recovery in the consulting industry's growth rate in the intervening years, with a current trend towards a clearer segmentation of management consulting firms. In recent years, management consulting firms actively recruit top graduates from Ivy League universities, Rhodes Scholars, and students from top MBA programs.
In more recent times, traditional management consulting firms have had to face increasing challenges from disruptive online marketplaces that are aiming to cater to the increasing number of freelance management consulting professionals.
The Main Management Consulting Firms[7]
Three companies are often referred to as the Big Three consulting firms. They include McKinsey & Company, Boston Consulting Group, and Bain & Company. They all consult on a variety of projects and specialisms.
The Big Four accountancy firms (PwC, EY, Deloitte, and KPMG) also have large management consulting arms. There are other firms, like CIL Management Consultants and Steer, which specialize in management consulting.
Management Consulting Market[8]
The management consulting (MC) market consists of the sales of MC services and related goods by entities (Organization|organizations, sole traders, and partnerships) that provide a range of services providing advice and assistance on organizational planning, financial budgeting, marketing strategies, human resource practices, administration policies, and production and logistics scheduling. Such services include solutions for administrative management issues, strategic and organizational planning, business process improvement, human resource, and personnel policies, developing marketing planning and strategy, productivity improvement, quality assurance, and quality control. Management consulting providers undertake processes where human capital is the major input. They make available the knowledge and skills of their employees, often on an assignment basis, where an individual or team is responsible for delivering services to the client.
Management Consulting Market Size
The global management consulting market was expected to reach a value of nearly $977.3 billion in 2018, having grown at a compound annual growth rate (CAGR) of 8.6% since 2014, and is expected to grow at a CAGR of 10.6% to nearly $1,460.2 billion by 2022. Growth in the historic period resulted from strong economic growth in emerging markets, regulatory reforms in the financial sector, outsourcing of back-end operations to low-cost economies, and public investments. Factors that negatively affected growth in the historic period were shortages of skilled workers and political and social instability. Going forward, faster economic growth, the emergence of digital consulting, and the rise of globalization will drive growth. Factors that could hinder the growth of this market in the future include rising costs and decreasing margins, advances in artificial intelligence with the potential to replace management consultants, and in-house management consulting teams in big technological companies.
Management Consulting Market Drivers
The key driver of the management consulting market includes:
Digital Consulting To Drive Growth – Integration of analytics, cloud, media, and social media with business models is expected to drive the management consulting market during the forecast period. Digital consulting services are the fastest-growing segment within the consulting industry and are forecast to increase by more than 60% from 2015 to 2020. This will increase the market for cyber security, IT transformation, and social media marketing and boost the digital consulting services market in the forecast period.
Management Consulting Market Restraints
The key restraints on the management consulting market include:
Advances In Artificial Intelligence – The rise of artificial intelligence (AI) projects in the management consulting field will likely limit the growth of the management consulting market in the forecast period. It is expected that advanced AI technology in the forecast period will replace some share of management consultants in the industry. For instance, after collaborating with UBS Group AG, a Swiss multinational investment bank and financial services company, Amazon's Alexa, a virtual assistant developed by Amazon, can answer economic questions for clients of UBS Group AG. A new partnership allows some of UBS's European wealth-management clients to ask Alexa certain financial and economic questions, which Alexa answers with the information provided by UBS's chief investment office without any external search online. The offering of business services by AI is likely to expand in the forecast period, restraining the growth of the management consulting market.
Management Consulting Market Trends
Major trends influencing the management consulting market include:
Virtual Firms In The Management Consulting Industry – Rapid technology change, increased pressure to reduce costs, and increased use of smartphones are introducing the concept of virtual firms to market players in the management consulting industry. It is expected that a high number of management consulting firms will go virtual and have few permanent offices. By hiring contract employees, placing the entire infrastructure in the cloud, and utilizing a small number of physical offices, management consulting firms will be able to cut costs and increase revenues. Companies like Aepiphanni Business Consulting have already adopted a virtual firm concept and provide management consulting to their clients online.
IT Transformation In Management Services –With the emergence of information communication and technology, the world is rapidly moving towards the process of digitalization. Investor expectations, rising competition, new regulatory pressures, and increasing opportunities put organizations under pressure to digitalize their processes and management. Management consulting firms provide IT transformation services to businesses, banks, and other organizations to overcome challenges such as rising stakeholder expectations and flat or declining budgets. Such services include identifying critical technologies, setting an IT agenda, and consolidating, standardizing, and harmonizing IT solutions across business divisions in a cost-effective manner. For example, Accenture Consultancy increased its revenues from the communications, media & technology divisions by 16.6% from 2017 to 2018 due to increased demand for digital transformation for management services.
Opportunities And Recommendations In The Management Consulting Market
Opportunities – The top opportunities in the global management consulting market will arise in the financial advisory segment, which will gain $163.34 billion of global annual sales by 2022. The management consulting market size will gain the most in the UK at $57.61 billion. Market-trend-based strategies for the management consulting market include modularization of services, increased focus on technology advisory, and adoption of value-oriented revenue model and others. Player-adopted strategies in the management consulting industry include reinforcing M&A strategies, expansion in other geographies, and expanding advisory services to small and medium social enterprises.
Recommendations – To take advantage of the opportunities, The Business Research Company recommends that management consulting companies to consider focusing on technology advisory offerings, launching virtual management consulting firms, expanding in emerging markets, focusing on expanding their product portfolio through collaborations, and offering services to pre-retirees, among other strategies.
See Also
References