Product Lifecycle Management
Definition of Product Lifecycle Management (PLM)
Product Lifecycle Management (PLM) is an integrated, information-driven strategy that speeds the innovation and launch of successful products. It is built on common access to a single repository of all product-related knowledge, data, and processes. As a business strategy, PLM lets distributed organizations innovate, develop, support, and retire products throughout their lifecycles as a single company. It captures best practices and lessons learned, creating a storehouse of valuable intellectual capital for reuse. Product lifecycle management is the process of managing the entire lifecycle of a product from its conception, through design and manufacture, to service, and disposal. PLM integrates people, data, processes, and business systems and provides a product information backbone for companies and their extended enterprises. It can be represented as shown below

Product lifecycle management, sometimes "product life cycle management", represents an all-encompassing vision for managing all data relating to the design, production, support, and ultimate disposal of manufactured goods. PLM concepts were first introduced where safety and control have been extremely important, notably in the aerospace, medical device, military, and nuclear industries. These industries originated the discipline of configuration management (CM), which evolved into electronic data management systems (EDMS), which then further evolved into product data management (PDM). Over the last ten years, manufacturers of instrumentation, industrial machinery, consumer electronics, packaged goods, and other complex engineered products have discovered the benefits of PLM solutions and are adopting efficient PLM software in increasing numbers.[1]
Effective product life cycle management brings together the many companies, departments, and employees involved with the product's production to streamline their activities, with the ultimate goal of producing a product that outperforms its competitors, is highly profitable, and lasts as long as consumer desire and technology permit. PLM systems help organizations cope with the increasing complexity and engineering challenges of developing new products. They can be considered one of the four cornerstones of a manufacturing corporation's information technology structure, the others being the management of communications with their clients (customer relationship management or CRM), their dealings with suppliers (supply chain management or SCM), and their resources within the enterprise (enterprise resource planning or ERP). Identifying which stage of its life cycle a product is in determines how it will be marketed. For example, a new product (one in the introduction stage) needs to be explained, while a mature product needs to be differentiated. PLM can affect more fundamental elements of a product, too. Even after it reaches maturity, a product can still grow—especially if it is updated or augmented in some way.[2]
A History of Product Lifecycle Management (PLM)[3]
Inspiration for the burgeoning business process now known as PLM came when American Motors Corporation (AMC) was looking for a way to speed up its product development process to compete better against its larger competitors. In 1985, AMC began the development of a new model, that later came out as the Jeep Grand Cherokee.
The first part of its quest for faster product development was a computer-aided design (CAD) software system that makes engineers more productive. The second part in this effort was the new communication system that allowed conflicts to be resolved faster, as well as reduced costly engineering changes because all drawings and documents were in a central database. The product data management was so effective that after AMC was purchased by Chrysler, the system was expanded throughout the enterprise connecting everyone involved in designing and building products. As an early adopter of PDM technology, Chrysler was able to become the auto industry's lowest-cost producer, recording development costs that were half of the industry average by the mid-1990s. This innovation motivated the software companies and the OEMs to invest in the development of various CAD and PDM tools.
Some of the milestones in the evolution of PDM/PLM include:
1960's: New display methods and equipment, the first CADD draft and design applications, sketchpads, and light pens bringing innovation into the design process
1970's: Introduction of CAD/CAM systems, automated 2D drafting, first independent production workstations
1980's: PC systems were born into the real world, introducing 3D systems, PDM problem grows in importance
1990's: Parametric CAD/CAM/CAE systems integrate together with other PLM components, the global market brings large PLM systems cooperation all over the world, HW components prices and introducing IT systems rapidly grows the CAx/PLM market area.
The Essential Elements of PLM[4]
PLM can be thought of as both
(a) a repository for all information that affects a product, and
(b) a communication process between product stakeholders: principally marketing, engineering, manufacturing, and field service. The PLM system is the first place where all product information from marketing and design comes together, and where it leaves in a form suitable for production and support. A few analysts use "PLM" as an umbrella term that includes engineering CAD (for "information authoring"). But product information creation tools include word processors; spreadsheet and graphics programs; requirements analysis and market assessment tools; field trouble reports; and even emails or other correspondence. In our view, a PLM tool focuses exclusively on managing data that covers the breadth of a product's lifecycle, without regard to how that data is developed. The essential elements of PLM:
Manages design and process documents
Constructs and controls bill of material (product structure) records
Offers an electronic file repository
Includes built-in and custom parts and document metadata ("attributes")
Identifies materials content for environmental compliance
Permits item-focused task assignments
Enables workflow and process management for approving changes
Controls multi-user secured access, including "electronic signature"
Exports data for downstream ERP systems
The PLM Development Process[5]
The core of PLM (product lifecycle management) is in the creation and central management of all product data and the technology used to access this information and knowledge. PLM as a discipline emerged from tools such as CAD, CAM, and PDM, but can be viewed as the integration of these tools with methods, people, and processes through all stages of a product's life. It is not just about software technology but is also a business strategy
For simplicity, the stages described are shown in a traditional sequential engineering workflow ( see figure below). The exact order of events and tasks will vary according to the product and industry in question but the main processes are:
Conceive

Specification
Concept design

Design

Validation and analysis (simulation)
Tool design

Realise

Plan manufacturing
Manufacture
Build/Assemble
Test (quality control)

Service

Sell and deliver
Use
Maintain and support
Dispose
The major key point events are:
Order
Idea
Kickoff
Design freeze
Launch
The reality is however more complex, people and departments cannot perform their tasks in isolation and one activity cannot simply finish and the next activity start. Design is an iterative process, often designs need to be modified due to manufacturing constraints or conflicting requirements. Whether a customer order fits into the timeline depends on the industry type and whether the products are, for example, built to order, engineered to order, or assembled to order.

Proper tool implementation ensures that the data which is critical for product development is controlled, and accessible throughout the product lifecycle. PLM is an overall business integration approach providing an end-to-end solution to close the loop between the design process and product support. The PLM environment provides a common operating platform enabling multiple departments within the enterprise to work with the same data concurrently. Product developers retain rapid-fielding capabilities and cross-platform compatibility while in-service support maintainers acquire the most up-to-date product information.
As Additive Manufacturing (AM) becomes part of the supply chain, there will be new processes and data types to incorporate. These processes can be documented and actualized within any of the PLM tools. Standards for AM are still being developed and can encompass much more than just part geometry. Establishing an environment that ties modeling, simulation, and all manufacturing data into the AM process enables the enterprise to build a better understanding of the technology and feasibility for widespread application. PLM systems can incorporate processes and capture the data that constitutes the digital thread of NAVAIR systems. The implementation will support a consolidated single source of authenticated information that can be tied into many tools and shared with other IT systems. It is important to evaluate the best overall data management environment, not just what appears to be the cheapest PLM license cost. Total cost is heavily dependent on what other software—especially CAD programs—will be accessing and contributing to PLM both through plug-ins and customizations. Custom software interfaces can have significant long-term costs once regular software updates are accounted for. Additionally, utilizing open standards where possible can help reduce cost and risk. The better defined the data to be managed by the PLM, the more accurate the overall pricing estimates will be.
A single PLM tool can combine all of the data that defines a system, assimilating roles and processes into an interconnected framework. When placed in the context of major defense systems, these roles and processes can be related as shown:[6]
The Product Lifecycle Management Stages[7]
Since many companies need to coordinate their resources and people in different places, the processes need to be cohesive if there is a chance at minimizing waste. Cohesiveness also keeps the process product-centric and gives it a better chance of success in the marketplace. Many industry models of PLM are in use today. The one featured below is a compilation of the best and most widespread methods used with the necessary steps annotated. To start, PLM has three overarching stages:
Beginning of Life (BOL): The beginning of life phase includes all of the design and manufacturing, which consists of the initial conceptualization and development, and any prototypes built. Initial development has multiple sub-actions that identify all the requirements, concepts, and necessary testing. Regardless of the structure of production, the company must maintain the BOL stage. BOL is your product coming to life, along with its specifications, production process, and supply needs.
Middle of Life (MOL): The middle of life phase is post-manufacturing, when your product is distributed, used, and serviced. At this point, your product is in the hands of the end user. You can collect data on any failures, maintenance rates, and user experience to get information for immediate fixes and future development.
End of Life (EOL): The end-of-life phase is the retiring, recycling, or disposing of your product. At this point, the reverse logistics happen for the company. EOL starts when users no longer have a need for the product. At this stage, companies collect information about what parts and materials are still valuable.
Maintaining Successful Product Lifecycle Management[8]
Every company will have a unique PLM that encompasses all relevant business processes and data. There is no one successful plan that all can follow. But four best practice steps identified and articulated by Accenture come close to ensuring maximum benefit from any PLM process. These are:
Create an enterprise-wide framework to define PLM capabilities: Here, the company needs to identify what the actual PLM activities are and then re-evaluate existing PLM capabilities. All processes, their applications, relevant metrics and data that follow the product through its lifecycle need to be carefully studied and their effectiveness critically evaluated. This process can help identify any incoherent or disconnected areas and work on streamlining these. This activity can also help ensure that all metrics measure what they should.
Link PLM framework's capabilities to key corporate and product priorities: Based on the company's strategic focus, a few relevant metrics should be identified to measure the performance of the product development activities. These should not be linked to the performance of one function or team but to the entire cross-functional activity.
Use the prioritized PLM framework as an investment planning tool: The results gathered from the metrics put in place can feed directly into investment planning activities. Stakeholders can assess this information and make relevant decisions regarding future products and their potential impact.
Establish a group to own and update the PLM framework and corporate roadmap: To make the PLM and its output a permanent feature in the organization rather than alone project, it is a necessary step to form a special team to work on making the PLM process sustainable and ensure its continued relevance to the organization. This team needs to have complete support from senior management and a sponsor from amongst the executive group.
PLM & ERP[9]
An ERP and a PLM system go well together, acting as collaborative tools that can communicate with each other and support the various distinct needs of a business. The basic difference between the two interchangeable systems lies in the names; while PLM is product-specific, more focused on the creation of a product or the product line in particular, ERP is enterprise-specific and has a broader scope, which involves gathering information and tracking a business's resources throughout a year/cycle. PLM focuses on managing the development of the product, while ERP intends to manage the resource planning for production. A PLM system stores the initial product data such as product design, and once it is ready to be produced, the ERP system, integrated with the PLM, comes into play in order to manage the resources. According to a CIM Data report, a PLM—ERP integration across the enterprise can result in:
75% reduction in terms of time, cost, and efforts associated with entering data from one system to the other.
75% reduction in the BOM-error cost, since BOMs are created only once and then managed consistently across both the PLM and ERP systems.
15% reduction in inventory cost, since designers and engineers are aware of which components are already on hand.
An 8% reduction in scrap generated.
Since PLM manages product development, and ERP aims to manage the resource planning for production, it only makes sense to use these tools in sequential order. But if the sequence is not followed and ERP software is implemented before a PLM, the risk of submitting inaccurate product data to an ERP system, inefficient spending, product recalls, and violating compliance regulations gets high. By integrating ERP software with PLM, the most up-to-date product data is available at any time and can be shared with the necessary departments to ensure accurate financial planning. Thus, both an ERP system, and a PLM system, are critical components in a company's growth and ability to innovate.
The Role of PLM in the Future Society[10]
In the current changing business environment, companies are seeking new ways of providing maximum value to customers and gaining a competitive advantage. As a consequence, a stronger focus on product design and the entire PLM has emerged as a critical area for the success of the modern industry. This change in value characteristics is reflected in the Figure below, which emphasizes the shift of company attention from the manufacturing phase to the design and middle-end-of-life stages. The massive investments of the past in just in time, total quality management, and total productive maintenance focused on the improvement of the product cost, quality, and time to market. Nowadays they are no longer sufficient to gain a competitive advantage. The focus, today, is on innovation to ensure that the customer obtains holistic satisfaction from the product that goes beyond the traditional definitions of product quality and cost. Issues, such as environment, risk, lifecycle cost, and quality of service are also important. Products have changed their meaning and composition. A product is no more a mere artefact to be sold for generating revenue, but a complex system, composed of a tangible core (the physical product) and a series of intangible assets like services provided to customers. This corresponds to a definitive shift towards the product-service paradigm, where a product is seen as being a part of human society. However, the ability of the industry to enable such holistic products and supporting services is currently limited by the information gap in the product lifecycle (i.e. the flow of information between the BOL phase and MOL–EOL phases).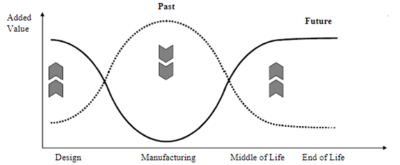 source: Sergio Terzi et al. (Adapted from Ferguson and Browne (2001))
PLM Implementation Challenges[11]
PLM implementation challenges can be broadly categorized as follows:
Preparation of the vision document
Gathering employee support for change
Software evaluation and selection
Implementation management
Mapping of the current process to the features of the selected software system
Identifying customizations and prioritization
Legacy data loading into the newly built PLM system
Technical training on PLM software for maintenance
Hands-on user training on the usage of a new system.
Kickoff of new PLM system
Benefits of PLM[12]
Companies as well as manufacturers nowadays need to source, design, distribute and produce products across the world. So it is essential to have a single source to deal with all the data and processes. Having the PLM system is the best method to achieve this. It has become essential as the single source for managing all product aspects from primary development to product retirement. Below mentioned are the benefits of having the Lean IT PLM system:
Short time to market: The product development can be finished faster. The experienced and skilled design team will work so fast and speed up the transfer of design data to manufacturing. In this situation moving fast can be important, quicker product development and a short time to market are essential to staying competitive.
Decrease compliance risks: The PLM has the ability to manage a single account of truth for entire product data. This serves to ease fulfillment risks. Cost prevention is the main benefit of product legal fees, recalls, lost productivity, and many others.
Reduce cost: By using the PLM it gives more chances to decrease material as well as production costs. This reduction comes from the two sources such as prototyping and scrap.
Increase productivity: This is another benefit of using the PLM software. It aids to increase productivity. Another advantage is that it will work on product development.
Excellent data analysis: The PLM is a simple and easy process that involves product organizing or service tools, cycle, workflow, and information all through a variety of departments of a company. The process permits an improved flow and communication between employees, customers, processes, and IT tools. Complete documentation is particularly significant when it comes to medical device management. It is because they have a straight association with human beings and the system in order to protect them. The history file of the design is recorded from the planning stages via many manufacturing changes of the product.
Integrated business functions: These days most business owners have many numbers of departments with each and every company. From the supplies and manufacture to compliance and financial divisions. It has the primary purpose to make the company well-organized. When you are necessary to fulfill FDA rules & regulations and other essential issues, the PLM allows each and every one of your departments to labor on the racing bike without missing any steps. In addition to incorporating a variety of departments, you can also computerize processes, go into different products, and keep a close-up watch on costs.
Transparency: Transparency is an essential element of a company's success. It is because it is helpful in the policy disclosing and decision-making process. It is a line of a message between the owners, customers, managers, and other employees. This open conversation affords a company the opportunity to study its data to observe what works and what does not work. The product life cycle management can also suggest a video recording of several items credits, purchased, and another significant sequence of which a business has to remain on track.
Available in one place: Basically, the PLM knows how essential device compliance is to the company. The device master records in it can capture each and every part, drawing, instruction, process, document, and cost related to the medical devices. This aid and provides your business with a reliable and apparent image that is both centrally situated and easily reached all in a single place.
Enhance product quality: The PLM generally makes it simple and easy to control and manage all the facts that affect general product quality. By using the PLM, the manufacturers are capable to execute all the procedures and processes essential to sustain product quality as well as customer satisfaction. This is particularly essential for instances when teams are extending across dissimilar places, to make sure that quality does not cooperate.
See Also
References
Further Reading