E-Governance
E-governance, expands to electronic governance, is the integration of Information and Communication Technology (ICT) in all the processes, with the aim of enhancing government's ability to address the needs of the general public. The basic purpose of e-governance is to simplify processes for all, i.e. government, citizens, businesses, etc. at the National, State, and local levels. In short, it is the use of electronic means, to promote good governance. It connotes the implementation of information technology in the government processes and functions so as to cause simple, moral, accountable, and transparent governance. It entails the access and delivery of government services, dissemination of information, and communication in a quick and efficient manner.[1]

Scope of e-Governance[2]
Governance is all about flow of information between the Government and Citizens, Government and Businesses and Government and Government. E-Governance also covers all these relationships as follows:
A. Government to Citizen (G2C): Government to Citizen relationship is the most basic aspect of E-Governance. In modern times, Government deals with many aspects of the life of a citizen. The relation of a citizen with the Government starts with the birth and ends with the death of the citizen. A person transacts with the Government on every corner of his life. May it be birth registration, marriage registration, divorce or death registration. The G2C relation will include the services provided by the Government to the Citizens. These services include the public utility services i.e. Telecommunication, Transportation, Post, Medical facilities, Electricity, Education and also some of the democratic services relating to the citizenship such as Certification, Registration, Licensing, Taxation, Passports, ID Cards etc. Therefore E-Governance in G2C relationship will involve facilitation of the services flowing from Government towards Citizens with the use of Information and Communications Technology (ICT).

e-Citizenship - E-Citizenship will include the implementation of ICT for facilitation of Government Services relating to citizenship of an individual. It may involve online transactions relating to issue and renewal of documents like Ration Cards, Passports, Election Cards, Identity Cards, etc. It will require the Government to create a virtual identity of every citizen so as to enable them to access the Government services online. For the same, Government would need to create a Citizen Database which is a huge task.
e-Registration - E-Registration will cover the online registration of various contracts. An individual enters into several contracts during his life. Many of these contracts and transactions require registration for giving it legality and enforceability. Such registration may also be made ICT enabled. E-registration will help to reduce a significant amount of paperwork.
e-Health - E-Health services would be ICT enablement of the health services of the Government. Under this interconnection of all hospitals may take place. A patient database may be created. A local pharmacy database may also be created. All this can be done.
e-Education - E-Education would cover the implementation of ICT in imparting of education and conducting of Courses. Distant as will as classroom education will be facilitated with the use of ICT. Use of internet can reduce the communication time required in Distance education; Internet may also help in conducting online classes.
e-Help - E-Help refers to facilitation of disaster and crisis management using ICT. It includes the use of technologies like internet, SMS, etc. for the purpose of reducing the response time of the Government agencies to the disasters. NGOs help Government in providing help in situations of disasters. Online information relating to disasters, warnings and calls for help can help the Government and the NGOs coordinate their work and facilitate and speed up the rescue work.
e-Taxation - E-Taxation will facilitate the taxing process by implementing ICT in the taxing process. Online tax due alerts and online payment of taxes would help transact faster.
e-Transportation - E-Transportation services would include ICT enablement of services of Government relating to Transport by Road, Rail, Water or Air. This may involve online –

B. Citizen to Government (C2G): Citizen to Government relationship will include the communication of citizens with the Government arising in the Democratic process like voting, campaigning, feedback, etc.

e-Democracy - The true concept of Democracy includes the participation of the citizens in the democratic and governing process. Today due to the increased population the active participation of the citizens in governing process is not possible. The ICT can help enable the true democratic process including voting, public opinion, feedback and Government accountability.
e-Feedback - E-Feedback includes the use of ICT for the purpose of giving feedback to the Government. Lobbying is pursuing the Government to take a certain decision. Use of ICT can enable online feedback to the Government, online debates as to the Government services.

C. Government to Government (G2G):G2G relationship would include the relationships between Central and State Government and also the relationship between two or more Government departments.

e-administration - E-administration would include the implementation of ICT in the functioning of the Government, internally and externally. Implementation of ICT can reduce the communication time between the Government Departments and Governments. It can substantially reduce paperwork if properly used. E-administration will also bring morality and transparency to the administration of Government Departments.
e-police - The concept of E-police is little different from Cyber-Police. Cyber Police require technology experts to curb the electronic/cyber crimes. E-police refers to the use of ICT for the purpose of facilitating the work of the Police department in investigation and administration. The concept of E-police includes databases of Police Officers, their performances, Criminal databases – wanted as well as in custody, the trends in crimes and much more. ICT can help reduce the response time of the Police department and also reduce cost by reducing paperwork.
e-courts - The concept of E-Court will include the ICT enablement of the judicial process. Technology may help distant hearing, online summons and warrants and online publication of Judgments and Decrees.

D. Government to Business (G2B): **e-Taxation - Corporate sector pays many taxes, duties and dues to the Government. Payment of these taxes and duties will be made easier by E-Taxation. Online taxing and online payment of taxes can help reduce cost and time required for physical submission of taxes. ICT can also help crosscheck the frauds and deficiencies in payment, further bringing accuracy and revenue to the Government.

e-Licencing - Companies have to acquire various licences from the Government, similarly the companies have to acquire various registrations. ICT enablement of the licensing and registration can reduce time and cost.
e-Tendering - E-Tendering will include the facilities of online tendering and procurement. It will online alerts as to new opportunities of business with the Government and also online submission of tenders and online allotment of work. It will reduce time and cost involved in the physical tendering system.

Aspects of e-Governance[3]

Information Management: Information management is gathering and storing at one place, the information relating to the Government and Governing process. It is the systematic arrangement/classification of information. If the information of the Government is gathered at one place without any arrangement or management, it would prove difficult for the users to find the required information. Managing information is an important aspect of E-governance. Information management addresses the issues like – How to provide? What to provide? Whom to Provide? When to provide? Where to provide? Why to provide? The process of information management may further be divided into three aspects
Database Management involves bare compilation and organisation of data and information at one place. Indicator Management involves storing with the information the catch words, labels, tags, meanings and context relating to the information. Knowledge Management involves managing the skills and know-how of the employees/experts of the Government for benefit of the Government. Information management is an integral aspect of E-commerce. It also proves essential for E-Governance. It helps transform the governing process in a business-like efficient and cost-effective process. Information management aims at reducing cost, improving performance, differentiating of products and services of Government, specialized/customized information, and citizen focus.
Identity and Access Management: Identity management is a set of processes and infrastructure for the creation, maintenance and use of digital identities for the purpose of access to E-governance portals and the information on those portals. Well established Identity management system helps setup an Access management system. The object of Identity Management is to create scalable, extensible and secure standards based framework for identity data acquisition and storage. Access management involves authentication of identity of the user and giving access to the Government and public information available online. Access management is necessary to give a secure access to information to the public. Securing of public information available online is very important due to recent online piracy and attacks on websites through hacking. e-governance would involve huge of sensitive public information up for grabs for the hackers of other countries. Further there are certain things which require to be accessed by only the Government officials. So online security of information is very necessary which can be done through Access management. Access management is only possible if there is an Identity Management system is already online and running successfully.
Content Management: Content management is the process of organizing, distributing and tracking information/data through a website over the internet. It helps to make users more knowledgeable or informed by offering instant access to correct information online. It deals with providing right information, to right people at right time. Contents of a website can be divided as follows: Text, Graphics, Audio, Video, Diagrams, Links, etc. Managing this various type of content is important. It is necessary to decide where to provide text and where images and graphics.
Standards Management: ICT provides many ways to achieve E-governance. There are multiple formats to deal with web pages, text, graphics, audio, and video. However, as seen currently, there is no uniformity in the e-governance websites as to the use of formats. There are also various levels of technologies, basic and advanced. For e-governance, basic technologies are not sufficient because of the security concerns of sensitive data/information. Therefore, e-governance websites have to maintain standards.

Phases of e-Governance[4]

In the first phase, e-Governance means, a presence on the web, providing the public (G2C & G2B) with relevant information. The format of the early government websites is similar to that of a brochure or leaflet. The value to the public is that government information is publicly accessible; processes are described and become more transparent, which improves democracy and service. Internally (G2G) the government can also deliver static information with electronic means, such as the Internet.
In the second phase, the interaction between government and the public (G2C & G2B) is stimulated with various applications. People can ask questions via e-mail, use search engines, and download forms and documents. These save time. In fact the complete intake of (simple) applications can be done online 24 hours per day. Normally this would only have been possible at a counter during opening hours. Internally (G2G) government organisations use LANs, intranets and e-mail to communicate and exchange data.
With phase three, the complexity of the technology is increasing, but customer (G2C & G2B) value is also higher. Complete transactions can be done without going to an office. Examples of online services are filing tax, extending/renewal of licenses, visa and passports and online voting. Phase three is made complex because of security and personalisation issues. E.g. digital (electronic) signatures will be necessary to enable legal transfer of services. On the business side, the government is starting with e-procurement applications. In this phase, internal (G2G) processes have to be redesigned to provide good service. Government needs new laws and legislation to enable paperless transactions.
The fourth phase is when all information systems are integrated and the public can get G2C & G2B services at one (virtual) counter. One single point of contact for all services is the ultimate goal. The complex aspect in reaching this goal is mainly on the internal side, e.g. the necessity to drastically change culture, processes and responsibilities within the government institution (G2G). Government employees in different departments have to work together in a smooth and seamless way. In this phase cost savings, efficiency and customer satisfaction are reaching highest possible levels.

e-Governance Models (Figure 1.)[5]
There are five models of e-governance as given by Prof Dr. Arie Halachimi which can be used as a guide in designing e-government initiative depending on local situation and governance activities that are expected to be delivered.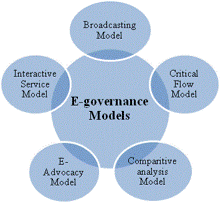 Figure 1. source: Dristi
Broadcasting Model: In this as name implies information is broadcast to wider public domain through use of ICT and convergent media. This models strength is its focus on spreading information to wider mass and through this citizen will be able to judge functioning of existing government mechanism and able to take informed decision. This empowers them and they are in a better position to exercise their rights and responsibilities. It's applications would be:

Displaying governmental laws and legislation online.
Making available details of local/ regional/ national government officials online.
Making available information such as governmental plans, budgets, expenditures, and performance reports online.
Putting key judicial decisions which are of value to general citizens and create precedence for future actions online. viz. key environmental decisions, state vs. citizen decisions etc.

The Critical flow Model: In this information of critical value (which by its very nature will not be disclosed by those involved with bad governance) is channelized to targeted section into the public domain through use of ICT. Targeted audience may include media, affected parties, opposition parties, judicial bench, independent investigators or the general public. This model is more focused in terms of its information content and intended users. Due to critical aspect of information this model exposes weakest aspects of governance and decision making process inform people about failure in specific cases and bad governance and build up momentum for concerted action. At the same time it builds pressure on concerned government organizations / institutions and individuals to take into cognizance the opinions and interest of masses in decision making mechanism. Examples: Wikileaks, Global Transparency International, India Central Vigilance Committee etc. It's applications would be:

Making available corruption related data about a particular Ministry / Division/ Officials online to its electoral constituency or to the concerned regulatory body.
To make available Research studies, Inquiry reports, Impact studies commissioned by the Government or Independent commissions to the affected parties.
To Make Human Rights Violations cases freely available to Judiciary, NGOs and concerned citizens.
Making available information that is usually suppressed, for instance, Environmental Information on radioactivity spills, effluents discharge information on green ratings of the company to concerned community.

Comparative Analysis Model: This model continuously incorporates best practices in the area of governance and uses them as benchmark to evaluate other governance practices. It uses the result to advocate positive changes or influence public opinion on these governance practices. Comparison could be made over a time scale to get a snapshot of the past and present situation or could be used to compare the effectiveness of an intervention by comparing two similar situations. The model is based on using immense capacity of ICT and social media tools to explore given information sets with comparable information available in the public or private domain. Example: Human Development Indicators. It's applications would be:

To learn from past policies and actions and derive lessons for future policy-making.
To evaluate the effectiveness of the current policies and identify key learnings in terms of strengths and weaknesses in the policies.
To effectively establish conditions of precedence, especially in the case of Judicial or legal decision-making (example for resolving patent-related disputes, public goods ownership rights), and use it to influence/ advocate future decision-making.
To enable informed decision-making at all levels by enhancing the background knowledge and also providing a rationale for action.
To evaluate the performance and track-record of a particular decision-maker/ decision-making body.

e-Advocacy Model: It is based on setting up a planned, directed flow of information to build strong virtual allies to complement action in the real situation. It builds the momentum of real world processes by adding the opinions and concerns expressed by virtual communities. Virtual communities come together because they share similar view points or idea or concerns or issues and these communities in turn join together to support real life group activities for concerted action. The strength of this is in its diversity of the virtual community, and the ideas, expertise and resources accumulated through this virtual form of networking. The model is able to mobilize and leverage human resources and information beyond geographical, institutional and bureaucratic barriers, and use it for concerted action. Ex. PRS legislative, Green Peace, etc. It's applications would be:

Fostering public debates on global issues, namely on the themes of upcoming conferences, treaties etc.
Formation of pressure groups on key issues to force decision-makers to take their concerns into cognizance.
Making available opinions of a suppressed groups who are not involved in the decision-making process into wider public domain.
Catalyzing wider participation in decision-making processes.
Building up global expertise on a particular theme in absence of a localized information to aid decision-making.
Amplifying the voices of marginalized who are traditionally marginalized from decision making processes.

The Interactive Service Model: This model opens government door for direct participation of citizens in governance and thus brings greater objectivity and transparency in decision-making processes through use of ICT tools. Government services are directly available to it's citizen in an interactive manner and is done by opening interactive Government to consumer to government (G2C2G) channels in various aspect of governance. Some examples are : Grievance Redressal Portal, online passport etc. It's applications would be:

Establishing interactive communication channels with key policy-makers and members of Planning Commissions.
Conducting electronic ballots for the election of government officials and other office bearers.
To conduct public debates / opinion polls on issues of wider concern before formulation of policies and legislative frameworks.
Filing of grievances, feedback and reports by citizens with the concerned governmental body.
To establish decentralized forms of governance.
Performing governance functions online such as revenue collection, procurement etc

e-Governance Vs. e-Government[6]
Both terms are treated to be the same; however, there is a difference between the two. "E-government" is the use of the ICTs in public administration – combined with organizational change and new skills – to improve public services and democratic processes and to strengthen support to public. The problem in this definition to be congruence definition of e-governance is that there is no provision for governance of ICTs. As a matter of fact, the governance of ICTs requires most probably a substantial increase in regulation and policy-making capabilities, with all the expertise and opinion-shaping processes along the various social stakeholders of these concerns. So, the perspective of the e-governance is "the use of the technologies that both help governing and have to be governed". The public–private partnership (PPP) based e-governance projects are hugely successful in India. Many countries are looking forward to a corruption-free government. E-government is one-way communication protocol whereas e-governance is two-way communication protocol. The essence of e-governance is to reach the beneficiary and ensure that the services intended to reach the desired individual has been met with. There should be an auto-response to support the essence of e-governance, whereby the Government realizes the efficacy of its governance. E-governance is by the governed, for the governed and of the governed. Establishing the identity of the end beneficiary is a challenge in all citizen-centric services. Statistical information published by governments and world bodies does not always reveal the facts. The best form of e-governance cuts down on unwanted interference of too many layers while delivering governmental services. It depends on good infrastructural setup with the support of local processes and parameters for governments to reach their citizens or end beneficiaries. Budget for planning, development and growth can be derived from well laid out e-governance systems.

Models of e-Government[7]
Just as 'governance' varies from place to place, so does e-governance and we are mistaken if we view the technology as 'neutral' or take too deterministic a view of e-governance. E-governance will be different in Australia, or France or Malaysia, just as it will be different at the local level – in Inner London or rural Scotland for example. The technological processes may be similar, but the norms, assumptions, and political drivers will vary hugely. There are at least three main models of e-government currently operating:
The 'New Economy' Model – this stresses the similarities between e-government and e-business, is focused on delivering high quality public services and on moving to a more 'self service' citizenship, which over time will shrink the size of the state. E-governance is seen both as a response to the demands of businesses and of citizens used to dealing with e-businesses and hence stresses convenience, 24-hour access and so on. It is also seen as a regional and local tool for economic development – the development of e-governance will help attract high technology businesses to an area, perceived as technology friendly. In this model, the development of infrastructure tends to follow the market, with a consequent 'digital divide.' The US is the best example of this, but other countries such as New Zealand or the UK have adopted elements of this model.
The 'e-Community Model' – more favored in continental European societies, particularly those such as the Netherlands or Scandinavians which have a strong tradition of civil society and freedom of information, high levels of education and technology penetration and a relatively even distribution of wealth. Civic networks and public access have always been importance in this model and where digital divides exist, there is often local level public intervention to mitigate the worst aspects. This model stresses potential social innovations resulting from widespread access and the role of citizens as co-producers of services.
The Planned Economy Model – used in countries such as Singapore or Malaysia, which traditionally use interventionist public sector tools to drive and shape private sector activity and investment. As in the 'new economy' model, economic development is very much a driver, but the development of infrastructure and the skills to use it is seen as a government responsibility, with heavy subsidies for the construction of (particularly broadband) networks.
National models, as mentioned above, do not fall neatly into these categories and the UK for example contains elements of all three. The early rhetoric was very much about the 'new economy' model, but the dot.com bust and subsequent skepticism about new technology hype has lead to a redressing of this rhetoric. A good example of this can be seen in the 2005 targets, initiated by Prime Minister Tony Blair. These have been widely criticized for measuring availability, rather than take-up or benefits and in recent months, attempts have been made to switch the focus of these targets to those services which will have a measurable social or economic benefit. In addition, while broadband deployment had been left largely to the market, concerns about slow take-up and uneven economic development have recently prompted moves for public intervention in broadband deployment. Although the models vary widely, all three can perhaps be criticized for sometimes being too 'top down' or supplier-driven. The first model responds to the needs of businesses, but not those of less affluent citizens. The third is paternalistic – 'you will have access to technology, because it's good for you!' And even the second, which develops from a stronger 'community' model, privileges some types of communities (those that want to get involved) over others (those that want to be left alone).

Benefits of e-Governance (Figure 2.)[8]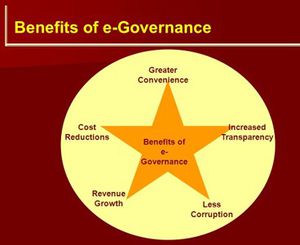 Figure 2. source: Jagran Josh
1. Revenue Growth
2. Enhances transparency, efficiency, accountability and citizen participation.
3. Cost Reduction
4. Guides the government to make improvement in the key areas.
5. Citizen empowerment through access to information.
6. Increases the reach of the government to the last beneficiary.
See Also
References
Further Reading