Records Management
The ISO 15489-1: 2016 standard defines Records Management as "the field of management responsible for the efficient and systematic control of the creation, receipt, maintenance, use and disposition of records, including the processes for capturing and maintaining evidence of and information about business activities and transactions in the form of records." Record is a document or content that an organization needs to keep as evidence for an important transaction, activity or a business decision for regulatory, compliance and governance purposes. Not all documents are Records. Only a subset of documents that an organization needs to preserve as evidence are called Records. Paper records may be stored in physical boxes on-premises or at a storage facility. Digital records may be stored on storage media in-house or in the cloud.
While records are often considered synonymous with documents, they include one important characteristic that makes them unique: records, whether physical or digital, include evidence of a particular business activity, requiring them to be stored and retained over an extended period. While the definition of a record is often identified strongly with a document, it includes any tangible object or digital information, which has value to the organization. Common records are:
Documents created in the course of business (correspondence, agreements, studies).
Items that require organizational action (FOIA requests, controlled correspondence).
Documented organizational activities and actions (calendars, meeting minutes, project reports).
Items mandated by statute or regulation (administrative records, legal/financial records, dockets).
Items supporting financial obligations or legal claims (contracts, grants, litigation case files).
Items needed to communicate organizational requirements (guidance documents, policies, procedures).
In addition, some industries require organizations to treat items posted on social media sites (Twitter, Facebook, Instagram, etc…) as records.[1]
Record Lifecycle[2]
All information and records go through a lifecycle. Knowing what stages records go through helps with identifying the most important activities that need to happen to protect and properly organize the Organization's records.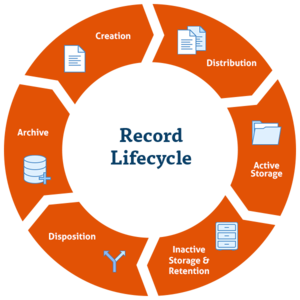 source: Laserfiche
The first phase - Create/receive - starts when records are either received from an external source or created internally. The objectives of this initial stage are:

Create complete and accurate records that provide evidence of the organization's functions, activities, decisions, transactions, procedures, etc.
Identify and apply an appropriate security classification
Distinguish between records and non-record copies or working documents, to be able to appropriately segregate them in the filing system
Place the record in an organizational classification scheme (or file plan) either in paper (e.g. in a filing cabinet or a binder) or in electronic version (e.g. on a shared drive or in a system) to ensure that it's preserved within its context

After the first phase records immediately enter an Active phase of the lifecycle. It means that they are often used, shared between colleagues, retrieved to support day-to-day business and referred to. The objectives of this stage are: Create complete and accurate records that provide evidence of the organization's functions, activities, decisions, transactions, procedures, etc.

Identify and apply an appropriate security classification
Distinguish between records and non-record copies or working documents, to be able to appropriately segregate them in the filing system
Place the record in an organizational classification scheme (or file plan) either in paper (e.g. in a filing cabinet or in a binder) or in electronic version (e.g. on a shared drive or in a system) to ensure that it's preserved within its context
Preserve the integrity of the record, which means ensuring that it has not been altered after completion
Maintain its usability which means making it available for all colleagues who need an access to the record to do their job
Facilitate identification and preservation of records with permanent retention

The active phase of the lifecycle may be short for some records (e.g. payroll records' active phase usually is only about two months) and long for others (e.g. a MoU between a field mission and a Host country government may be in its active stage for the entire duration of the mission's operations). All records, however, move through the lifecycle and with time the retrieval rate often diminishes. At some point, they reach a stage when they are not needed anymore in the primary office space but must still be kept for evidentiary, legal, financial, or historical purposes, as dictated by the retention schedule. This is when they enter an Inactive phase of the lifecycle. During this stage, we should free up space in our offices to new records, but we need to ensure keeping inactive records handy. The objectives of this stage are:

Identify the records that are not required to be stored in the primary office space (paper) or systems/shared drives (electronic)
Organize and list them
Transfer them to the local Records Center (for field missions the local Records Center within mission area; for HQ offices the ARMS Records Center)
Retrieve only those records that are needed from time to time

Finally, at the end of the lifecycle, records enter the stage a decision is made (usually based on an approved retention schedule) on what happens with records that entered the final stage of their life. It's called a Disposition phase. In the United Nations, there are two available disposition actions: either Archive or Destroy. It means that some portion of the records, usually about 5% of the total records' holdings of an office or a mission, that due to their historical value have a permanent retention, will be transferred to ARMS while the rest will be destroyed at some point. The objectives of this stage are:

Identify records with archival value (permanent retention), list them, organize them and sent them to ARMS
Identify records due for disposal/destruction, list them, gather necessary approvals for the destruction and proceed with an environmentally friendly destruction process
Components of a Records Management[3]
Components of a Records Management Program May Include:
policy and procedure development;
records inventory, appraisal, retention, and disposition;
inactive files management and control (records center);
helping develop or dealing with digital information systems, data collection (forms management), management of active files, correspondence, reprographics, micrographics, reports, mail, and vital records; and establishing training and outreach programs.
Fundamental areas of a basic records management program include:

1. Policy and procedure development: Policies should provide authority and define parameters of the program, define relationships with other institution units (See C. above), and denote levels of responsibility and services provided. The records manager/archivist should produce a records management manual to specify the institution's records program policies and procedures.
2. A records retention and disposition program.

a) Inventory and appraise records to gather basic information about the organization's records to facilitate records appraisal, to establish retention and disposition schedules, to achieve economies in the storage and disposition of inactive records, and to identify the institution's vital records.
b) Develop schedules to define retention and disposition responsibilities. During the schedules' development, they must incorporate legal, audit, administrative and historical values of the institution's records and information. The archivist should consult the institution's legal counsel and internal auditor while reviewing or approving these schedules. This review can be the responsibility of the advisory group described in D. above.
c) Records managers/archivists can use a variety of methods to implement retention and disposition policies.

Make them available to those in the working offices; i.e., office administrative staffs.
Publicize them using the most accessible communication vehicle; e.g., administrative manuals, Web pages or other online communication technologies.
Share retention and disposition policies with information technology staffs and with those responsible for the institution's information resource planning.
Implementation should also include provision for periodic audits and reviews to insure that the retention policies are up to date and that campus offices are implementing them appropriately.

3. Data collection/forms management.

Systems analysis and design should improve information flow, ensure that data collection supports the business applications of the organization, streamline data collection instruments and systems, enhance the use of collected data, ensure that state and federal rules and regulations regarding data collection are satisfied, and select appropriate tools for data collection.
Forms and inventory control should maintain control of official institutional forms and document revisions to them, eliminate duplicate forms, ensure that all forms representing the institution have been officially approved, and control printing supplies and costs.
Increasingly, institutions will purchase e-forms (electronic forms) software packages to support institutional processes. These packages, while useful, greatly encourage the proliferation of unofficial forms. The records manager should be involved in the development of specifications for software, so that the objectives in place for paper forms will also be applied to the electronic systems. This involvement will also help appropriately define official records and deal with retention and disposition issues during the design process.

4. Active records management.

Develop filing systems and file naming standards. The records manager/archivist should be prepared to provide advice on types of filing systems appropriate for particular types of processes and records. Some institutions may request the development of file naming standards to support electronic filing systems.
Deal with electronic information management systems. Adequate protection of institutional information resources and appropriate management of them throughout their life cycle can only be accomplished effectively by the early involvement of records professionals in the systems development phase. Records manager/archivists should be knowledgeable/keep abreast of technological developments in this area on their campuses and maintain ongoing involvement in information systems' growth and development.
Supervise filing supplies and storage equipment. The records manager/archivist should have the authority to recommend types of file equipment purchases that will support uniformity of filing practices and to request justification for the purchase of highly specialized filing systems.
Assist with micrographics/imaging. Many colleges and universities maintain micrographics operations; imaging and workflow systems are becoming more prevalent. They can be effective tools to reduce bulk and to preserve information stored on fragile media. If not a part of the institutional archives or records management program, a working relationship must be established and maintained with such operations or systems.

5. Inactive records management

Records center management ensures the protection, access and retrieval of institutional records until their retention value has been met. It includes accession and inventory control, security and access provisions, and environmental controls.
The records manager should work with the data manager and information technology staff to ensure the retention of electronic data in accordance with retention and disposition policies and that data remain accessible and retrievable throughout their life cycle.
Records disposition ensures the destruction of records in accordance with approved retention policies, appropriate handling of confidential materials, the end of all activity on the records, and the transfer of records designated for permanent preservation to the institution's archives.

6. Training and outreach program: To be effective, the records manager/archivist will have to rely on others in the institution to assist in carrying out the objectives of the records management program. The training and outreach program should:

regularly provide workshops and other training which outline basic program policies and procedures and office responsibilities;
establish a system of records liaisons/coordinators within the major units of the institution to serve as basic contacts for the records management program;
use other tools which may be helpful, e.g., articles in campus newsletters, brochures on various records management topics, and electronic communication technologies to inform and educate the campus community about the records program.
Why Implement Records Management?[4]
Records management is a requirement for many governmental agencies, and other companies also have systems in place. RM provides a framework to gain control over piles of paperwork and locate documents, and ensures that needed information is easily accessible and readily available. According to PRISM, an organization's active files grow at an annual rate of approximately 25 percent, and paperwork is a huge overhead expense. Proper records management can free up precious office space. PRISM says that at any given time, between three and five percent of an organization's files are lost or misplaced. Proper organization can help provide consistent service to clients and partners while simultaneously increasing staff efficiency and productivity. Records management is also a way to tell an organization's history, but that job often falls under the expertise of an archivist, rather than under that of a records manager.
Having proper records can also help a company that ends up in court. Records can show conformity to statutory requirements, provide proof of transactions, and offer protection against unauthorized access. Additionally, in the event of an emergency, records management can allow for continuity. After 9/11, many businesses located in or near the twin towers were only able to reopen because they had system and record redundancy. A records management redundancy plan should address the following:
Creating a records and information inventory
Labeling vital records and designating them for redundancy
Identifying who has access to records and including a third party located off site
As part of planning for an emergency, it's important to identify potential scenarios and to communicate the disaster plan. Simply backing up computer hard drives to a portable drive would not do a company any good in a flood or fire.
Consequences for Not Implementing Records Management
Although the consequences are not the same for every business or organization, there can be severe penalties for not having proper records management systems in place. In some cases, such as with government grants or at government agencies, there might be financial penalties or possible requirements to return grant funds.
In other situations, the penalty might be fines, criminal charges, or imprisonment, as was the case for some individuals at Enron, WorldCom, Imclone, Arthur Andersen, and Morgan Stanley. Audits and other investigations of records at those companies found irregularities in record keeping, falsified documents, and improper destruction of documents.
It is important to keep in mind that it could be illegal to destroy records during an open court case or investigation, even if the destruction is in line with company policy. The legal tenet of spoliation comes into play in these cases. According to Black's Law Dictionary, "Spoliation of evidence is the intentional, reckless, or negligent withholding, hiding, altering, fabricating, or destroying of evidence relevant to a legal proceeding."
The Sarbanes-Oxley Act of 2002, also known as Sarbox or SOX, created new requirements for public companies concerning records. The legislation came about after the public scandals involving Enron, WorldCom, and others. Section 802(a) reads: "Whoever knowingly alters, destroys, mutilates, conceals, covers up, falsifies, or makes a false entry in any record, document, or tangible object with the intent to impede, obstruct, or influence the investigation or proper administration of any matter within the jurisdiction of any department or agency of the United States or any case filed under title 11, or in relation to or contemplation of any such matter or case, shall be fined under this title, imprisoned not more than 20 years, or both."
The law also allows fines of up to $1 million and prison sentences of up to ten years for CFOs and CEOs who falsely report their company's financial status.
Sarbanes-Oxley isn't just about penalties. It also spells out whistleblower protection for employees who may be the ones to become aware of inappropriate behavior within an organization. Since records management professionals have extensive knowledge of their company's records and processes, they might be the first to notice a problem.
Benefits of Records Management[5]
Whether a business handles sensitive medical records, historical archives, or financial records, how they handle their physical and digital documents affects their bottom line and achievement of objectives. Here are the reasons a records management solutions prove to be a success for any business.
Lower operating costs: A proper records management system will decrease the time and labor associated with searching for lost records when there is not an organized system in place. Records keeping and administration already take a large amount of money to maintain with filing systems, office space, and staff.
Ensure productivity and efficiency: When staff is searching for misplaced information, that time spent is non-productive, and could be used in a more valuable way. An organizational upgrade to record keeping methods enhances information retrieval while simultaneously improving the efficiency and flow of all office activities. Whether a business has a digital or physical document management system, an effective index will deliver the right information to users exactly when they need it.
Comply with Regulations and Reduce Legal Risks: The United States places heavy regulations on records keeping. Keeping track of these laws can pose a large compliance challenge for many businesses. The only way to reduce the risks of potential compliance penalties and litigations are to have a consistently implemented document management system. This reduces the likelihood of being liable for records disposal, and having to pay legal fines.
Better Decision Making: Big data is booming in the modern business world. Data is seen with extremely high value. Records created today hold vital background data that can be used in the future to make important business decisions. Managers use this data to plan for the future, but if it is not accessible or correct, there is no way to apply information found in data to their decision making.
Maintain a Proper Working Environment: A messy office is an opportunity for a variety of problems. Files and boxes stacked everywhere create a less than ideal working environment. Customers see this as unprofessional, and staff sees this as a hazard. Even the best, most organized system will not help if there is not enough space for it. Investing in high density storage or going digital with documents will help organize more information into a smaller space.
Data Security: Every organization has vital records that if lost, would cause major costs to the business. Natural disasters happen without warning. Weather, fire, and termites can damage and destroy irreplaceable records. With safe physical storage with a digital backup, a business can ensure they are protecting their vulnerable records from catastrophe. It is also important to protect the privacy of sensitive documents, such as medical records, legal records, and other vital documents. Exposure of this information can damage a brand, and can cause an array of legal problems.
Current Issues of Records Management[6]
Compliance and legal issues: While public administration, healthcare and the legal profession have a long history of records management, the corporate sector has generally shown less interest. This has changed in recent years due to new compliance requirements, driven in part by scandals such as the Enron/Andersen affair and more recent problems at Morgan Stanley. Corporate records compliance issues including retention period requirements and the need to disclose information as a result of litigation have come to be seen as important. Statutes such as the US Sarbanes-Oxley Act have resulted in greater standardization of records management practices. Since the 1990s the shift towards electronic records has seen a need for close working relations between records managers and IT managers, particularly including the legal aspects, focused on compliance and risk management.
Security: Privacy, data protection, and identity theft have become issues of increasing interest. The role of the records manager in the protection of an organization's records has grown as a result. The need to ensure personal information is not retained unnecessarily has brought greater focus to retention schedules and records disposal.
Transparency: The increased importance of transparency and accountability in public administration, marked by the widespread adoption of Freedom of Information laws, has led to a focus on the need to manage records so that they can be easily accessed by the public. For instance, in the United Kingdom, Section 46 of the Freedom of Information Act 2000 required the government to publish a Code of Practice on Records Management for public authorities. Similarly, European Union legislation on Data Protection and Environmental Information, requiring organisations to disclose information on request, create a need for effective management of such records.
Adoption and implementation: Implementing required changes to organisational culture is a major challenge, since records management is often seen as an unnecessary or low priority administrative task that can be performed at the lowest levels within an organization. Reputational damage caused by poor records management has demonstrated that records management is the responsibility of all individuals within an organization. An issue that has been very controversial among records managers has been the uncritical adoption of Electronic document and records management systems.
Impact of internet and social media: Another issue of great interest to records managers is the impact of the internet and related social media, such as wikis, blogs, forums, and companies such as Facebook and Twitter, on traditional records management practices, principles, and concepts, since many of these tools allow rapid creation and dissemination of records and, often, even in anonymous form.
Records life cycle management: A difficult challenge for many enterprises is tied to the tracking of records through their entire information life cycle so that it's clear, at all times, where a record exists or if it still exists at all. The tracking of records through their life cycles allows records management staff to understand when and how to apply records related rules, such as rules for legal hold or destruction.
Conversion of paper records to electronic form: As the world becomes more digital in nature, an ever-growing issue for the records management community is the conversion of existing or incoming paper records to electronic form. Such conversions are most often performed with the intent of saving storage costs, storage space, and in hopes of reducing records retrieval time. Tools such as document scanners, optical character recognition software, and electronic document management systems are used to facilitate such conversions.
References