Action Research
Action research is inquiry or research in the context of focused efforts to improve the quality of an organization and its performance. It typically is designed and conducted by practitioners who analyze the data to improve their own practice. Action research can be done by individuals or by teams of colleagues.[1]
Action research is a process in which participants examine their own educational practice systematically and carefully, using the techniques of research. It is based on the following assumptions: • Teachers and principals work best on problems they have identified for themselves • Teachers and principals become more effective when encouraged to examine and assess their own work and then consider ways of working differently • Teachers and principals help each other by working collaboratively • Working with colleagues helps teachers and principals in their professional development (Watts, 1985, p. 118)[2]

The Action Research Process[3]
Educational action research can be engaged in by a single teacher, by a group of colleagues who share an interest in a common problem, or by the entire faculty of a school. Whatever the scenario, action research always involves the same seven-step process. These seven steps, which become an endless cycle for the inquiring teacher, are the following: • Selecting a focus • Clarifying theories • Identifying research questions • Collecting data • Analyzing data • Reporting results • Taking informed action

The Origin of Action Research[4]
The term "action research" was coined in the 1940s by Kurt Lewin, a German-American social psychologist who is widely considered to be the founder of his field. The research needed for social practice can best be characterized as research for social management or social engineering. It is a type of action-research, a comparative research on the conditions and effects of various forms of social action, and research leading to social action. Research that produces nothing but books will not suffice (Lewin 1946, reproduced in Lewin 1948: 202-3) His approach involves a spiral of steps, 'each of which is composed of a circle of planning, action and fact-finding about the result of the action' (ibid.: 206). The basic cycle involves the following: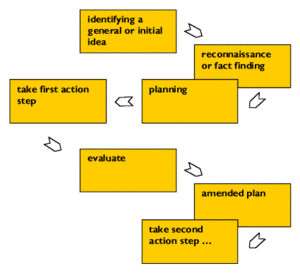 source: infed.org
This is how Lewin describes the initial cycle:
The first step then is to examine the idea carefully in the light of the means available. Frequently more fact-finding about the situation is required. If this first period of planning is successful, two items emerge: namely, "an overall plan" of how to reach the objective and secondly, a decision in regard to the first step of action. Usually this planning has also somewhat modified the original idea. (ibid.: 205)
The next step is 'composed of a circle of planning, executing, and reconnaissance or fact finding for the purpose of evaluating the results of the second step, and preparing the rational basis for planning the third step, and for perhaps modifying again the overall plan' (ibid.: 206). What we can see here is an approach to research that is oriented to problem-solving in social and organizational settings, and that has a form that parallels Dewey's conception of learning from experience.
The approach, as presented, does take a fairly sequential form – and it is open to literal interpretation. Following it can lead to practice that is 'correct' rather than 'good' – as we will see. It can also be argued that model itself places insufficient emphasis on analysis at key points. Elliott (1991: 70), for example, believed that the basic model allows those who use it to assume that the 'general idea' can be fixed in advance, 'that "reconnaissance" is merely fact-finding, and that "implementation" is a fairly straightforward process'. As might be expected there was some questioning as to whether this was 'real' research. There were questions around action research's partisan nature – the fact that it served particular causes.
See Also
References
Further Reading