Customer Relationship Management (CRM)
Customer Relationship management (CRM) is a term that refers to practices, strategies and technologies that companies use to manage and analyze customer interactions and data throughout the customer lifecycle, with the goal of improving business relationships with customers, assisting in customer retention and driving sales growth. CRM systems are designed to compile information on customers across different channels - or points of contact between the customer and the company - which could include the company's website, telephone, live chat, direct mail, marketing materials and social media. CRM systems can also give customer-facing staff detailed information on customers' personal information, purchase history, buying preferences and concerns.[1]

Phases of Customer Relationship Management[2]
Efficient Customer Relationship Management consists of four different phases. First is about the identification of profitable and unprofitable groups through customer value analysis. Second it involves winning a target customer who has been identified through the analysis. Third, it involves developing ties with the target customer. Fourth, a relationship developed with profitable target customers and efforts made to expand consumer spending. In the established consumer goods market, customer retention is regarded as the core of customer relationship management.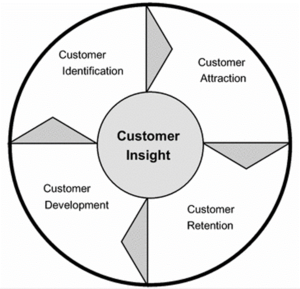 source: Kracklauer, Alexander H., Mills, D. Quinn, Seifert, Dirk (Eds.)

Types of Customer Relationship Management (CRM)[3]


Customer Relationship Management (CRM) Models[4]
There are number of CRM models that have been developed to learn how to manage customers. CRM models are helpful to understand and regulate the modern concept of CRM.

Benefits of Customer Relationship Management (CRM)[5]


CRM Paradox[6]
Part of the paradox with CRM stems from the challenge of determining exactly what CRM is and what it can do for a company. The CRM Paradox, also referred to as the "Dark side of CRM," may entail favoritism and differential treatment of some customers. This may cause perceptions of unfairness among other customers' buyers. They may opt out of relationships, spread negative information, or engage in misbehavior that may damage the firm and its reputation. Such perceived inequality may cause dissatisfaction, mistrust and result in unfair practices. A customer shows trust when he or she engages in a relationship with a firm under the idea that the firm is acting fairly and adding value to his or her life somehow. However, customers may not trust that firms will be fair in splitting the value of their products or services. For example, Amazon's test use of dynamic pricing (different prices for different customers) ended with very poor public relations for the company. As seen in the Amazon example, although firms use both human and technological factors to assess a proper CRM process, experts suggest that focusing on the human factors, like management, increases the potential of successful CRM, since managers can make a coordinated effort on organizational changes within a company, which often affects customer satisfaction. CRM technologies can easily become ineffective if there is no proper management, and they are not implemented correctly. The data sets must also be connected, distributed, and organized properly, so that the users can access the information that they need quickly and easily. Research studies also show that customers are increasingly becoming dissatisfied with contact center experiences due to lags and wait times. They also request and demand multiple channels of communications with a company, and these channels must transfer information seamlessly. Therefore, it is increasingly important for companies to deliver a cross-channel customer experience that can be both consistent as well as reliable.
See Also
References
Further Reading