Analytical CRM
Analytical CRM comprises the analysis and systematic evaluation of customer data using Business Intelligence functions. The aim is to filter out the key facts from gathered information and gain customer knowledge. Analytical CRM allows customer satisfaction to be measured, for example, or trends among customers to move to other suppliers to be detected. Knowledge of customers' behavior can also be used specifically for communication and addressing customers in operational CRM, such as in campaign management.[1]

Analytical CRM provides customer segmentation. To illustrate, it divides customers into those that may or may not utilize your services again, or gives you information that helps in the process of your service. Not only does it determine profitability or which customers generally lead to the most profit over time, it also provides the ability to market specifically to individual customers based on the data collected. As a predictive modeling tool, Analytical CRM can help your company compare future successes based on the customer knowledge database. Over time, the analysis helps with business decisions founded on earlier analysis. When it comes to sales, marketing and service, the benefits of CRM analytics are many and usually lead to better and more productive customer relations. Rather than struggling to find out what makes your customer tick, with CRM Analytics you know which people are going to be your best customers and how to find your prospects, quickly and efficiently. The customer information acquired through Analytical CRM can be priceless. As a marketing strategy, it can deliver results across multi-departments. Analytics CRM helps you find out where they are, who is your most profitable customer and what are their behaviors. Evaluating or identifying potential clients can help deliver far more effective results.[2]

Analytical CRM gathers information by relying heavily on techniques such as information gathered through a data warehouse, data mining, CRM software (see below) and information gathered by business intelligence to better understand and have insight into customer behaviors. It comprises all CRM programs mentioned and analyzes data about a company's customer and presents it in a method that is straightforward so that the results will lead to faster as well as better business decisions that would help improve selling techniques to their targeted customers. Analytical CRM may also provide information for better measuring the effectiveness of a company's market campaigns for their products as well as analyzes customer data for a variety of purposes such as:
Campaign Analysis - To analyze and measure the effectiveness of a customer's response to a market campaign, promotions, and advertisement and other activities.
Customer Attrition Analysis – To better understand the reason and the impact of a loss of a company's client.
Customer Behavior - To understand the customer trends, purchase activity and patterns. To help understand the condition of the company's products and services to provide better service to the community.
Customer Interaction Analysis – To better understand how a company's interaction with its customers and help to measure the effectiveness of communication with its customers to better understand the products.
Customer Loyalty - To understand the loyalty that a customer has to the company and its products. And to understand how to keep customers with continuing the use of their products and services of the company.
Lead Analysis - To help better understand and identify potential customers for a company's new product and/or services.
Market Analysis - To help identify and determine how to attract the demographics of customers of a particular market.[3]

Primary goal of analytical CRM is to develop, support and enhance the work and decision making capability of an organization by determining strong patterns and predictions in customer data and information which are gathered from different operational CRM systems.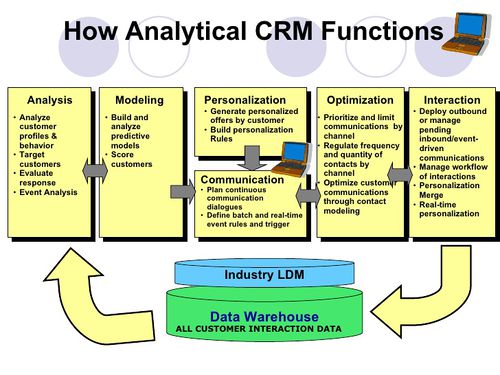 source: Apurv Gourav

The following are the key features of analytical CRM:

Seizing all the relevant and essential information of customers from various channels and sources and collaboratively integrating and inheriting all this data into a central repository knowledge base with a overall organization view.
Determining, developing and analyzing inclusive set of rules and analytical methods to scale and optimize relationship with customers by analyzing and resolving all the questions which are suitable for business.
Implementing or deploying the results to enhance the efficiency of CRM system and processes, improve relationship and interaction with customers and the actual business planning with customers.
Combine and integrate the values of customers with strategic business management of organization and value of stakeholders.

Advantages of implementing and using an analytical CRM are described below.

Leads in making more profitable customer base by providing high value services.
Helps in retaining profitable customers through sophisticated analysis and making new customers that are clones of best of the customers.
Helps in addressing individual customer's needs and efficiently improving the relationships with new and existing customers.
Improves customer satisfaction and loyalty.[4]

Analytical CRM - What Works and What Doesn't[5]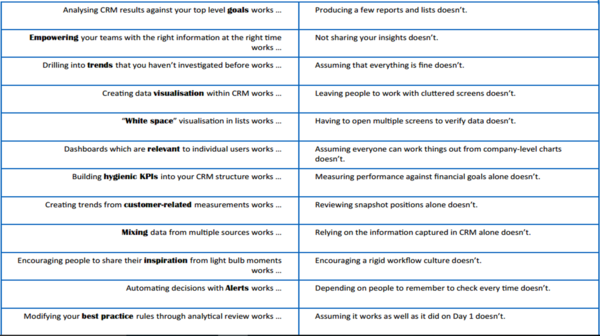 source: Colliard Pickard
See Also
Customer Relationship Management (CRM)
Collaborative CRM (CCRM)
Operational CRM
References
Further Reading