Customer Lifecycle
The customer lifecycle refers to the process people go through to learn about, engage with, and buy from a company. Its stages fall under the processes of attracting, engaging, and delighting customers, and the specific steps involve awareness, conversion, purchase, activation, renewal, and referral.[1]
Definition of Customer Lifecycle[2]
The customer lifecycle is a term that describes the different steps a customer goes through when they are considering, buying, using, and remaining loyal to a particular product or service. This lifecycle has been broken down into five distinct stages: reach, acquisition, conversion, retention, and loyalty. An important point to understand the customer lifecycle is that because it follows a cyclical pattern, it never truly ends. The ultimate goal is to build strong brand loyalty and to create customers that will become advocates for your company, referring your product or service to their friends and family. To achieve this, companies must make sure they stay relevant and are continuing to offer value to their customers.
The customer life cycle describes the points in the continuum where you:
Importance of the Customer Lifecycle[4]
Understanding the customer lifecycle is essential to the ongoing success and growth of a business. The lifecycle should be overseen as a whole and not segmented into silos. For example, if a business focuses all of its attention on the early stages (e.g., reach, acquisition, conversion), but disregards the post-purchase stages, it will suffer in the long run -- the business will successfully acquire new customers, but those customers will become unsatisfied and leave, creating customer churn.
Stages of the Customer Lifecycle
There are different stages in the customer life cycle and there are various methods to define them. One approach is that of Jim Sterne and Matt Cutler, as published in 2000 in a paper called "E-Metrics, Business Metrics For The New Economy" In the mentioned paper, Sterne and Cutler divided the phases of the customer life cycle (later other elements were added that were more based upon the customer interaction), and to be more precise, the actions we can take in order to engage them through the customer life cycle, as follows: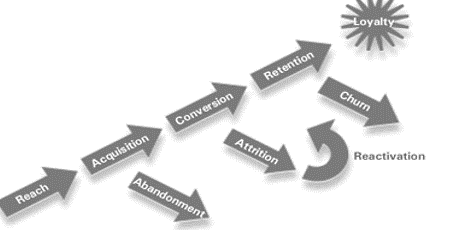 source: Jim Sterne and Matt Cutler

Of course, models are models and the interaction and buying patterns, as well as conversion paths, are often more complex in a multi-channel world than the models we use to capture them. The customer's – ever evolving – buyer journey is not [linear and funnel models don't match with an increasingly complicated behavior, that necessitates a fully connected or integrated marketing 2.0 approach. Certainly with the advent of social media people have more choice and power. Now they are in the influence sphere of your business, next they are not. Since Sterne and Cutler came up with their model, many other representations of the customer life cycle were made.
Below is a model explaining six stages of the Customer Lifecycle. They represent the journey a customer takes to move from first learning about a brand to being the one telling others about it.
The Customer Lifecycle Interrupted[7]
Every salesperson has a story about the well-qualified prospect that got away. Even a well-planned persuasion process is filled with opportunities for the prospect to be swayed by the competition or simply lose interest. Despite our best efforts, not every prospect passing through the customer life cycle reaches the desired conclusion. Prospects demonstrate their lack of enthusiasm through abandonment; existing customers, through attrition.
Traditional vs. Modern Customer Lifecycle[8]
Customers have traditionally moved through the customer life cycle stages in a linear fashion, but as social networking and product reviews and ratings sites have evolved and increased in popularity, customers no longer primarily proceed through each stage of the cycle in order and may instead skip stages or bounce back and forth between various stages. The increased reliance on social networking and product review sites has also resulted in companies having to compete with more information about their products from a variety of sources and customers outside of the company's marketing department. Companies can harness these modern trends by successfully optimizing each stage of the customer lifecycle to ensure customer satisfaction and in turn create a higher likelihood of brand loyalty and positive advocacy for the company and its products.
The Omnichannel Customer Lifecycle[9]
An omnichannel, 'always-on' customer lifecycle strategy needs to be able to unify every customer touchpoint, from all channels to create what is called the 'Golden Record'. The customer journey is managed via one centralized strategy and one platform rather than scattered across many marketing platforms. Using email tools to execute email campaigns, a separate SMS platform, another personalization tool etc. leads to a fragmented and disconnected customer experience. In the realms of marketing automation, a brand needs to be able to plan and trigger email, SMS, the website, the CRM and any other marketing channels, via the same workflow that can stitch them together to talk to each other. Below are three components that are needed to create an omnichannel marketing solution:
See Also
Customer
Customer Acquisition Cost (CAC)
Customer Centricity
Customer Data Integration (CDI)
Customer Data Management (CDM)
Customer Demographics
Customer Due Diligence (CDD)
Customer Dynamics
Customer Effort Score (CES)
Customer Churn
Customer Engagement Hub (CEH)
Customer Experience Management (CEM)
Customer Engagement
Customer Lifetime Value
Customer Loyalty
Customer Needs
Customer Retention
Customer Service
Customer Service Management
Customer Relationship Management (CRM)
References