Employee Engagement
Employee Engagement is the emotional commitment the employee has to the organization and its goals. This emotional commitment means engaged employees actually care about their work and their company. They don't work just for a paycheck, or just for the next promotion, but work on behalf of the organization's goals.[1]

What Employee Engagement is not![2]
Employee engagement cannot be achieved by a mechanistic approach which tries to extract discretionary effort by manipulating employees' commitment and emotions. Employees see through such attempts very quickly and can become cynical and disillusioned.
Definitions of Employee Engagement[3]
If you search for "definition of employee engagement," you'll come up with a seemingly unending list of definitions from consultants to multinational corporate conglomerates—and everyone in between. Here's a selection of some definitions:
"The emotional commitment the employee has to the organization and its goals." Kevin Kruse, Forbes Contributor and NY Times Best Selling Author
"The art of getting people to believe what you want them to believe." Jim Whitehurst, CEO of Red Hat
"Emotional connection an employee feels toward his or her employment organization, which tends to influence his or her behaviors and level of effort in work-related activities." Business Dictionary
"A business management concept that describes the level of enthusiasm and dedication a worker feels toward his/her job. Engaged employees care about their work and about the performance of the company, and feel that their efforts make a difference." Investopedia
" Employee engagement is the emotional attachment employees feel towards their place of work, job role, position within the company, colleagues and culture and the affect this attachment has on wellbeing and productivity. " HR ZONE
"An emergent and working condition as a positive cognitive, emotional, and behavioral state directed toward organizational outcomes." Michael Shuck and Karen Wallard
Components of Employee Engagement[4]
There are two primary factors that drive employee engagement. These factors are based on statistical analysis and widely supported by industry research.
Engagement with The Organization: measures how engaged employees are with the organization as a whole, and by extension, how they feel about senior management. This factor has to do with confidence in organizational leadership as well as trust, fairness, values, and respect - i.e. how people like to be treated by others, both at work and outside of work.
Engagement with "My Manager": is a more specific measure of how employees relate to their direct supervisors. Topics include feeling valued, being treated fairly, receiving feedback and direction, and generally, having a strong working relationship between employee and manager based on mutual respect.
Beyond the Two Core Engagement Factors
High performance organizations, and highly engaged employees, also excel in these areas:
Strategic Alignment: Do employees have clarity of purpose and direction? Do employees understand how the work they do contributes to the organization's success? Strategic Alignment ensures that employees have clarity of purpose and direction, and that their efforts are focused in the right direction. If those efforts are not focused in the right direction, they could be wasted.
Managing Execution: The most effective managers excel at the people skills, but they also provide clear expectations, hold people accountable, and stay focused on delivering results.
Leader and Manager Competency is measured as part of the employee survey via upward feedback. For a more complete assessment of manager competency,using a 360 Degree Feedback Survey is recommended
Who should be involved in employee engagement initiatives?
Research shows that many organizations struggle to bridge engagement survey results to its financial impact on the organization. It is important to understand how engagement affects a company's bottom line.
A high-performing workforce is necessary to remain competitive, even survive. Developing programs to raise levels of employee engagement must be intentional, have meaning, purpose based on survey results.
HR can lead the charge to create an effective employee engagement strategy, but it needs to be embraced by the entire organization. There is a clear gap between the optimism of upper management and what middle managers experience with their teams. To understand the whole-organization picture, it's essential to have an effective, multi-directional communication strategy in the organization. Effective communication is one of the most important factors that is most likely to bring company success. Organizations that thrive are able to articulate and communicate what success looks like – as individual employees, teams and departments, and the company as a whole. This increases engagement organization-wide.
Types of Employee Engagement[5]
Employees fall under one of three categories of engagement:
Engaged – The employee believes in the business, wants to improve their work and the work of those around them, is willing to do what it takes to help the organization succeed and is motivated by their leaders. Efficiency and enthusiasm are the hallmark traits of an engaged worker.
Disengaged – The employee does little more than the bare minimum, exhibits little passion for their job and sees work as an exchange of time for a steady paycheck. Disengaged workers are often engaged workers who've lost their enthusiasm for one reason or another.
Actively disengaged – The employee dislikes their job and makes that misery known wherever they go, spreading negativity across the organization and often dragging operational efficiency down with them.
Engaged employees often become your company's high performers – those who are self-motivated, innovative, proactive and are eager to learn new skills. Studies have shown that these valuable achievers can deliver as much productivity as four average employees. A bonus is that these employees are often your company's best ambassadors, speaking well of your business. On the other hand, disengaged employees will cost your company. A Gallup poll estimates actively disengaged employees cause U.S. companies between $450 – $550 billion in lost productivity per year. Actively disengaged employees can cost the business owner even more. Their negative attitudes impact overall productivity, lower company morale or may even scare away talent from joining your team.
Employee Engagement Drivers[6]
Extensive research has been conducted to determine the factors that influence employee engagement levels. The research has indicated that there are both organizational drivers and managerial drivers. In today's digital age, less person-to-person interaction and increasing on-demand technology from chats and texts to social media updates and news feeds, is eroding employee engagement.
Organizational Drivers: Some of the research identifies organization wide drivers of employee engagement. Quantum Workplace (the research firm behind the "Best Places to Work" programs in more than 47 metro areas) has identified six drivers of employee engagement that have the greatest impact:

The leaders of their organization are committed to making it a great place to work.
Trust in the leaders of the organization to set the right course.
Belief that the organization will be successful in the future.
Understanding of how I fit into the organization's future plans.
The leaders of the organization value people as their most important resource.
The organization makes investments to make employees more successful.

Management Drivers: Employee engagement increases dramatically when the daily experiences of employees include positive relationships with their direct supervisors or managers. Behaviors of an employee's direct supervisors that have been correlated with employee engagement include:

The Gallup "Q12," which are 12 core elements that link strongly to key business outcomes. These elements relate to what the employee gets (e.g., clear expectations, resources), what the employee gives (e.g., the employee's individual contributions), whether the individual fits in the organization (e.g., based on the company mission and co-workers) and whether the employee has the opportunity to grow (e.g., by getting feedback about work and opportunities to learn).
Employees enjoy a good relationship with their supervisor.
Employees have the necessary equipment to do the job well.
Employees have authority necessary to accomplish their job well.
Employees have freedom to make work decisions.

The Roles of HR and Management: Employee engagement is influenced by many factors—from workplace culture, organizational communication and managerial styles to trust and respect, leadership, and company reputation. In combination and individually, HR professionals and managers play important roles in ensuring the success of the organization's employee engagement initiatives.
The role of HR: To foster a culture of engagement, HR should lead the way in the design, measurement and evaluation of proactive workplace policies and practices that help attract and retain talent with skills and competencies necessary for growth and sustainability.
The role of Managers: Middle managers play a key role in employee engagement, creating a respectful and trusting relationship with their direct reports, communicating company values and setting expectations for the day-to-day business of any organization. Studies show that people leave managers, not companies and ensuring managers are actively participating in and managing employee engagement is paramount. But middle managers need to be empowered by being given larger responsibilities, trained for their expanded roles and more involved in strategic decisions. If an organization's executives and HR professionals want to hold managers accountable for the engagement levels, they should:

Make sure that managers and employees have the tools to do their jobs correctly.
Periodically assign managers larger, more exciting roles.
Give managers appropriate authority.
Accelerate leadership development efforts.
Ask managers to convey the corporate mission and vision and to help transform the organization.
According to a 2017 Dale Carnegie study, "Just 26% of leaders surveyed say that [employee engagement] is a very important part of what they think about, plan, and do every day. Another 42% say they work on it frequently, and the rest only occasionally, rarely or never."
Measuring Employee Engagement [7]
The simplest and most accurate way to understand and measure employee engagement is by using an employee engagement survey. Because employee engagement is an outcome, you can use a survey to ask questions about different factors that affect it to see what's most impactful. That's what an engagement survey can show you – what's driving employee engagement in your unique organization. Here are five things you should know before measuring:
It takes more than one question to understand employee engagement: Because of its complexity, engagement is best understood through a series of questions in a survey rather than a single question. Culture Amp's Chief Scientist, Dr. Jason McPherson says, "In general, statisticians agree that well-constructed, multiple-item indicators are more reliable and tend to provide better external validity than single-question metrics." In other words, asking a handful of questions on a specific topic will give you a more reliable and clear picture of what's going on rather than just asking, "How satisfied are you at work?" The Employee Net Promoter Score (eNPS) was long regarded as the go-to metric for measuring employee engagement. The eNPS typically consists of a single question about whether someone would recommend their company as a great place to work. While this is valuable information, recommendation on its own doesn't capture everything about engagement. It's important to get a holistic view of what different factors influence engagement so action planning is based on the whole picture and relevant data.
Using the best employee engagement survey questions gets you an accurate view of engagement in your company: Since engagement encompasses connection, motivation and commitment, an engagement survey should ask questions that provide data on these factors. For this reason, Culture Amp's surveys use five questions to understand engagement that encompass pride, recommendation (Net Promoter Style), present and future commitment, and motivation. Here are the five engagement questions that encompass the outcomes of employee engagement:

"I am proud to work for [Company]"
"I would recommend [Company] as a great place to work"
"I rarely think about looking for a job at another company"
"I see myself still working at [company] in two years' time"
"[Company] motivates me to go beyond what I would in a similar role elsewhere"

Employee engagement driver analysis gives you better insight on where to take action: Companies that use surveys like Culture Amp's can see what's influencing engagement through a technique called driver analysis. Driver analysis shows you which factors are most related to employee engagement. Dr. Jason McPherson explains how this works in our platform: "If the top driver of engagement is a learning and development question, this means that people who respond most positively to that question are also likely to be the most engaged. If you act to improve responses to that question then you have an improved chance of making your employees more engaged overall."
Knowing the common drivers of employee engagement is helpful for understanding overall trends of engagement:T he drivers of engagement can change from company to company, and even within the same company over time. However, there are some trends that we've seen across our customer data over the years. In 2018,a CultureAmp Employee survey of 1200+companies showed the top drivers were:
Learning and development
Leadership
Service and quality focus
The graphic shows the specific employee engagement questions used in the survey mentioned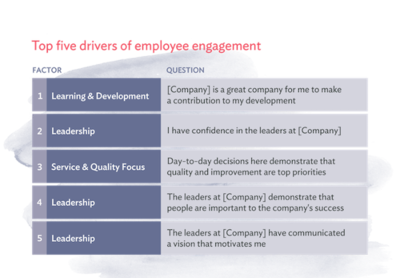 Benchmark data gives you useful context for your survey results: When measuring employee engagement, it's important to have internal year over year comparisons in your survey data as well as external benchmarks. "Benchmarks are great at giving you context," says Dr. Jason McPherson, "For example, when you get a poor score on a particular survey question you can look at a relevant benchmark and see that your score is actually normal for most companies. The benchmark makes sure you don't panic about the wrong things." He explains that hitting the benchmark shouldn't be your goal. "A common mistake people make is fixating on trying to hit the benchmark. It's not necessarily important to get to 72% if you're currently on 70%, particularly if that question or factor is something that your people don't value that much. It's more important to look at the data and the relationships in the data so that you can focus on the things that matter to your people." Use benchmarks to provide context to your survey results, and make sure you're using a diverse benchmark with reference to your talent pool.
Improving Employee Engagement[8]
When you improve employee engagement, you improve performance. Below are a few key steps to ensure better employee engagement and effective communication. Here are some key drivers presented by the report published by Gallup on employee engagement:
Develop clear internal lines of communication and execute the strategy effectively within the company.
Enable and promote better organization transparency through communication.
Effectively communicate business plans and strategies for every member of the team.
Encourage open lines of communication within the company between employees.
Recognize the efforts made by employees on various grounds and reward them well.
Use a workforce communication platform to integrate your communication channels (intranet, email, mobile app, etc.) to target, personalize, and measure your internal communications. This will help you understand how best to communicate with your employees on the channel of their choice, and will vastly improve your employee engagement.
Encourage your employees to use social media. More than 82% of employees believe that their work relationships, including communication, can improve greatly through social media channels.
Benefits of Employee Engagement[9]
Increased employee productivity: Research shows engaged employees are 17% more productive than their peers. They're more likely to work diligently and expend discretionary effort in their jobs.
Higher employee retention: Engaged employees don't have a reason to look elsewhere for work. Engaged employees turn over less often because:

They know they will be recognized for their contributions
They see opportunities for professional growth and career development
They understand when organizational change happens and why
These three pillars enable employees to connect to the present and the future.
Increased customer satisfaction: 72% of executives strongly agree that organizations with highly engaged employees have happy customers. Engaged employees care deeply about their jobs, and thus, customers.
Lower absenteeism: When employees are committed to your mission, they're going to show up. Highly engaged workplaces see 41% lower absenteeism.
Better employee health: Engaged employees are less likely to be obese, less likely to suffer from chronic disease, more likely to eat healthier, and more likely to exercise. Having healthier employees positively impacts your bottom line.
Decreased workplace injury: Engaged employees are more aware of their surroundings and can focus on the task at hand. Research has shown that 70% fewer safety incidents occur in highly engaged workplaces.
See Also
References