360 degree feedback
In human resources or industrial psychology, 360-degree feedback, also known as multi-rater feedback, multi source feedback, or multi source assessment, is feedback that comes from members of an employee's immediate work circle. Most often, 360-degree feedback will include direct feedback from an employee's subordinates, peers (colleagues), and supervisor(s), as well as a self-evaluation. It can also include, in some cases, feedback from external sources, such as customers and suppliers or other interested stakeholders. It may be contrasted with "upward feedback," where managers are given feedback only by their direct reports, or a "traditional performance appraisal," where the employees are most often reviewed only by their managers.[1]

360 Degree - A Diagrammatic Overview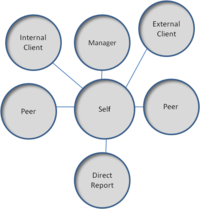 Source: Effective Employee Performance Appraisals
There are no prohibitions in law or regulation against using a variety of rating sources, in addition to the employee's supervisor, for assessing performance. Research has shown assessment approaches with multiple rating sources provide more accurate, reliable, and credible information. The use of multiple rating sources is an effective method of assessing performance for formal appraisal and other evaluative and developmental purposes. The circle, or perhaps more accurately the sphere, of feedback sources consists of supervisors, peers, subordinates, customers, and one's self. It is not necessary, or always appropriate, to include all of the feedback sources in a particular appraisal program. The organizational culture and mission must be considered, and the purpose of feedback will differ with each source. For example, subordinate assessments of a supervisor's performance can provide valuable developmental guidance, peer feedback can be the heart of excellence in teamwork, and customer service feedback focuses on the quality of the team's or agency's results. The objectives of performance appraisal and the particular aspects of performance that are to be assessed must be established before determining which sources are appropriate.[2]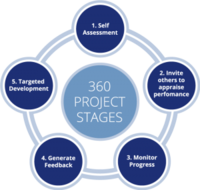 Source: Leapership.com

360 Degree Evaluation Sample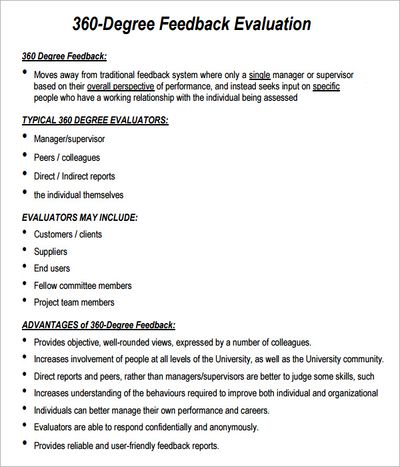 Source: Sampletemplates.com
See Also
References
Further Reading