IT Operating Model
What is an IT Operating Model
IT Operating Model (Information Technology Operating Model) is the unique configuration of people, processes, and infrastructure used to conduct the day-to-day operations of an organization. In effect, an IT Operating Model implements an IT Strategy and IT Strategic Plan.
Definition of IT Operating Model
An IT Operating Model translates strategic intent into operational capabilities. It serves as the foundation for execution and provides a clear guide for the enterprise leadership team, line managers, and operational teams. A well-defined and articulated operating model is the bridge between strategy and day-to-day operations that guides the team, provides the context, and enables behaviors that will realize the strategy and vision. IT Operating models aren't just reserved for large companies – regardless of size, all companies should have an operating model of some kind. In some cases, it might be brief or not very prescriptive, but should still exist and be maintained to help bridge the gap between the why and how. IT organizations without an operating model of any shape at all run the risk that strategy won't be realized, processes will not be optimized, and IT staff won't be aligned to a common view of how the IT organization should work to deliver business value.[1]
The CIO and the IT organization establish the appropriate IT operating model after strategic planning is complete. The IT operating model seeks to answer the "how" to the IT strategy's "what."

The operating model in its simplest form dictates where and how critical work gets done across a company. It serves as a vital link between a company's strategy and the detailed organizational design that it puts in place to deliver on the strategy. - Bain & Company
An IT operating model is a combination of organizational structure and processes that comprehensively covers the IT department. It spans the whole IT lifecycle from IT strategy, architecture, demand and supply management, project management, and infrastructure to support services such as accounting and HR. In essence, it is how the IT organization is set up to serve its users, the business. Chief Information Officers (CIOs) and IT executives are facing constant pressure to optimize their IT operating model to fit the ever-changing business models of their users. The guidance information systems (IS) research provides on this issue is scarce. The IS literature contains little specific advice on how organizations should develop and adapt IT operating models. While the literature has extensive studies on components of IT operating models, such as enterprise architecture, research on IT operating models as a whole is surprisingly sparse.[2]
Elements of an IT Operating Model
The IT operating model consists of four elements, which when optimally combined, enable IT to deliver technology services to consumers in a manner that matches their business realities and patterns of technology consumption.
IT Processes – the procedures to gather business requirements, develop products/applications, procure products/applications, provide IT support and delivery and support enterprise architecture
IT Governance – key roles involved in ensuring information flow from business into IT
Sourcing – the selection and management of external vendors
Organizational Structure – IT functions are organized and interfaced with each other
Importance of an IT Operating Model
Interface between business and IT
Standard functions and processes
Single, approved snapshot of the process view
Designing an IT Operating Model
An IT Operating Model is designed by conducting detailed interviews and meetings with key stakeholders, from business and IT, to understand:
Key roles
Key functions
Information exchanged between functions
Process definitions
Detailed procedures
Governance model
Roles and Responsibilities
Dimensions of an IT Operating Model
The Operating Model for IT must incorporate many dimensions, in harmony as a "system" if IT is to deliver optimal value from the IT portfolio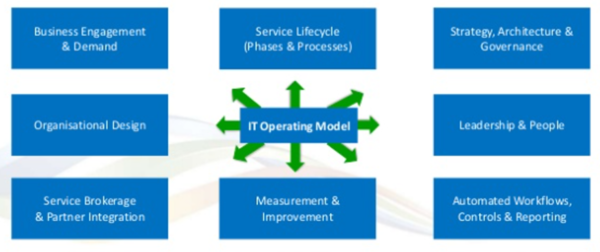 source: ServiceNow

The IT operating model is not a static entity and it should evolve according to changing business needs. However, business needs are very diverse and groups consume technology in different patterns. The IT operating model needs to support and enable multiple groups of technology service consumers, while continuously adapting to changing business conditions and needs". - Gopi Bheemavarapu, Senior Manager, CIO Advisory Info-Tech Research Group