Organization Design
Organization Design refers to the process of coordinating the structural elements of an organization in the most appropriate manner. It is developments in or changes to the structure of an organization.[1]
Organization Design is a deliberate effort to line up your structure, systems, measures, people, and policies with the vision and goals that you have as an organization. The Star model by Dr. Jay Galbraith holds that organization design is more than just "structure," but rather a holistic approach that seeks to create alignment among five major components: The first is strategy, which determines direction. The second is structure, which determines the location of decision-making power. The third is processes, which have to do with the flow of information; they are the means of responding to information technologies. The fourth is rewards and reward systems, which influence the motivation of people to perform and address organizational goals. The fifth category of the model is made up of policies relating to people (human resource policies), which influence and frequently define the employees' mindsets and skills.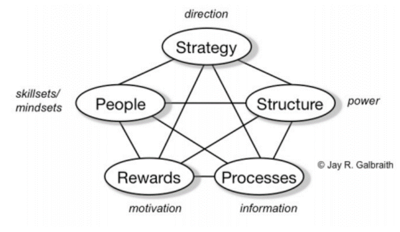 source: Jay Galbraith
Organization Design Methodology
The Organization Design Process[2]
Although adaptable to the size, complexity, and needs of any organization, the design process consists of the following steps.
Charter the design process: Senior leaders within the organization come together to discuss current business results, organizational health, environmental demands, etc. and the need to embark on such a process. They establish a charter for the design process that includes a "case for change," desired outcomes, scope, allocation of resources, time deadlines, participation, communications strategy, and other parameters that will guide the project. (At times, senior teams may go through either a strategic planning process or an executive team development process prior to beginning a redesign initiative, depending on how clear they are about their strategy and how well they work together as a team.)
Assess the current state of the business: Don't begin making changes until you have a good understanding of the current organization. Conduct a comprehensive assessment of your organization to understand how it functions, its strengths and weaknesses, and alignment to your core ideology and business strategy. The assessment process is astounding in the clarity it brings an organization's leaders and members, not only regarding how the organization currently works but how the various parts are interrelated, its overall state of health and, most importantly, what needs to be done to make improvements.
Design the new organization: Look to the future and develop a complete set of design recommendations for the "ideal future." At a high level, the steps in this process include the following:

Defining your basic organizing principle. (Will you organize primarily around functions, processes, customer-types, technologies, geographies, etc.?)
Streamlining core business processes—those that result in revenue and/or deliverables to customers.
Documenting and standardizing procedures.
Organizing people around core processes. Identifying headcount necessary to do core work.
Defining tasks, functions, and skills. What are the performance metrics for each function/team? How are they evaluated and held accountable?
Determining facility, layout and equipment needs of various teams and departments throughout the organization.
Identifying support resources (finance, sales, HR, etc.), mission, staffing, etc. and where should these should be located.
Defining the management structure that provides strategic, coordinating and operational support.
Improving coordinating and development systems (hiring, training, compensation, information-sharing, goal-setting, etc.).
At some point the design process morphs into transition planning as critical implementation dates are set and specific, concrete action plans created to implement the new design. And a key part of this step includes communicating progress to other members of the organization. A communications plan is developed that educates people in what is happening. Education brings awareness, and everyone's inclusion brings the beginning of commitment.
Implement the design: Now the task is to make the design live. People are organized into natural work groups which receive training in the new design, team skills and start-up team building. New work roles are learned and new relationships within and without the unit are established. Equipment and facilities are rearranged. Reward systems, performance systems, information sharing, decision-making and management systems are changed and adjusted. Some of this can be accomplished quickly. Some may require more detail and be implemented over a longer period of time.
Elements Of Organization Design
Organization Degsign Building Blocks[3]
Organization design can seem unnecessarily complex; the right framework, however, can help you decode and prioritize the necessary elements. There are eight universal building blocks that are relevant to any company, regardless of industry, geography, or business model. These building blocks will be the elements you put together for your design. (see figure below)

The blocks naturally fall into four complementary pairs, each made up of one tangible (or formal) and one intangible (or informal) element. Decisions are paired with norms (governing how people act), motivators with commitments (governing factors that affect people's feelings about their work), information with mind-sets (governing how they process knowledge and meaning), and structure with networks (governing how they connect). By using these elements and considering changes needed across each complementary pair, you can create a design that will integrate your whole enterprise, instead of pulling it apart.
If you are tempted to make changes with all eight building blocks simultaneously, note that too many interventions at once could interact in unexpected ways, leading to unfortunate side effects. Pick a small number of changes — five at most — that you believe will deliver the greatest initial impact. Even a few changes could involve many variations. For example, the design of motivators might need to vary from one function to the next. People in sales might be more heavily influenced by monetary rewards, whereas R&D staffers might favor a career model with opportunities for self-directed projects and external collaboration and education.
Implementing Organization Design
Critical Factors in Implementing Organization Design[4]
When it comes to reorganizing, companies have little room for error. The following six factors are critical to flipping the odds of success in a reorganization:
Synchronize design with strategy. Regardless of the precipitating factor, the reorganization must align with the organization's strategy and business priorities in the simplest way possible.
Clarify roles and responsibilities. Of all the organizational capabilities most required for a successful reorganization, this set—clarifying roles and responsibilities, assigning accountabilities, and determining decision rights—is one of the most difficult to get right.
Deploy the right leaders and the right capabilities. In reorganizations, a common pitfall is tailoring the redesign around the individual capabilities of a few important executives. Another pitfall is overlooking the capabilities required for the new design to succeed.
Design layer-by-layer, not just top-down. A [cascading approach to design puts companies in a better position for success. Address the needs of each layer, according to consistent design principles, rather than using a top-down-only design approach.
Lower execution risk. Execution is by far the most important capability for achieving a successful reorganization—applying a step-by-step, disciplined approach to implementation is crucial to avoid missteps.
Don't wait for a crisis to reorganize. Reorganizations that take place prior to a crisis have a much better chance of success. During a crisis, the odds of a successful reorganization are only 50/50.
Common Organizational Design Mistakes
The Stumbling Blocks of Organizational Design[5]
In their eagerness to improve the organization, uninformed leaders can sometimes "scramble the cube," often creating new problems without resolving existing ones. The eight most common problems are listed below.
Boxology: Changing an organization's structure alone is rarely enough to create change. Instead, focus on ensuring all aspects of an organization are aligned to its strategy.
Off-the-Shelf Organizations: There's no ready-made template for an organization's structure. Instead, ensure that your structure is tailored to your strategy; consider both strategic design and strategic trade-offs.
The Secret Society: Don't limit organization design work to a select few. Involving a wide range of participants will help increase the acceptance of change and allow the organization to benefit from diverse backgrounds and opinions.
Starting with Names: Designing an organization to top talent.
"Real" Work: Hastening through alignment to get on with the real work of leadership.
Grow or Cut: Believing that organizations cannot increase revenues and reduce expenses at the same time.
The Simplicity Complex: Offering simplicity to customers without adapting the enterprise accordingly.
One and Done: Striving for a perfect organization, once and for all.
See Also
References