Sarbanes Oxley Act (SOX)
The Sarbanes-Oxley Act of 2002, sponsored by Paul Sarbanes and Michael Oxley, represents a huge change to federal securities law. It came as a result of the corporate financial scandals involving Enron, WorldCom and Global Crossing. Effective in 2006, all publicly-traded companies are required to implement and report internal accounting controls to the SEC for compliance. In addition, certain provisions of Sarbanes-Oxley also apply to privately-held companies. Executives who approve shoddy or inaccurate documentation face fines of up to $5 million and jail time of up to 20 years.[1]
The rules and enforcement policies outlined by the SOX Act of 2002 amend or supplement existing legislation dealing with security regulations. The Act swept reforms in the following four areas:
Sarbanes Oxley Act - Historical Overview
History and Context of Sarbanes Oxley Act[3]
A variety of complex factors created the conditions and culture in which a series of large corporate frauds occurred between 2000–2002. The spectacular, highly publicized frauds at Enron, WorldCom, and Tyco exposed significant problems with conflicts of interest and incentive compensation practices. The analysis of their complex and contentious root causes contributed to the passage of SOX in 2002. In a 2004 interview, Senator Paul Sarbanes stated:
The Senate Banking Committee undertook a series of hearings on the problems in the markets that had led to a loss of hundreds and hundreds of billions, indeed trillions of dollars in market value. The hearings set out to lay the foundation for legislation. We scheduled 10 hearings over a six-week period, during which we brought in some of the best people in the country to testify ... The hearings produced remarkable consensus on the nature of the problems: inadequate oversight of accountants, lack of auditor independence, weak corporate governance procedures, stock analysts' conflict of interests, inadequate disclosure provisions, and grossly inadequate funding of the Securities and Exchange Commission.
SOX Timeline
The figure below presents the timeline for the implementation of the SOX Act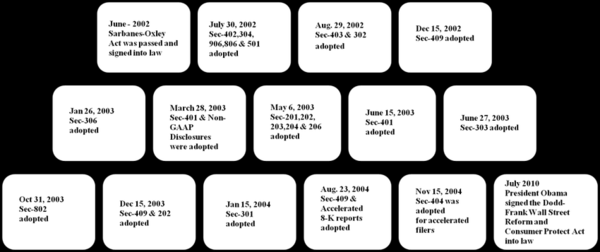 source: Abayomi Alase
Components of SOX
Principal components of the Sarbanes-Oxley Act of 2002[4]

Key Sections of the Sarbanes Oxley Act
The Sarbanes-Oxley Act is arranged into eleven titles. As far as compliance is concerned, the most important sections within these are often considered to be 302, 401, 404, 409, 802 and 906. Key Sections[5]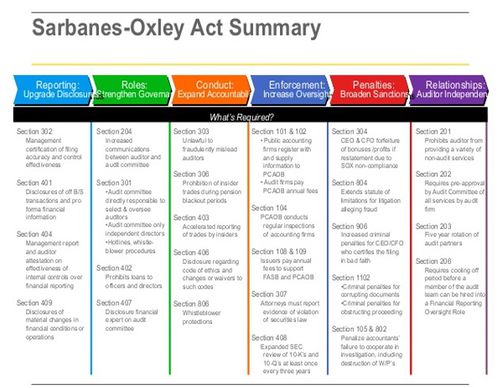 source: Ernst and Young
Sarbanes-Oxley Act: Key Provisions
The Key Provisions of SOX[6]
Sarbanes-Oxley made numerous reforms to corporate financial reporting and the accounting profession. SOX requires corporate executives to certify the accuracy of their company's financial statements; maintain and assess internal controls to prevent wrong, misleading, or fraudulent financial data; and imposes criminal penalties for misleading shareholders and altering documents to impede an investigation. Sarbanes-Oxley also established an oversight board for the accounting profession, regulates the relationship between corporations and accounting firms, and shields corporate whistleblowers from retaliation.
See Also
Governance
IT Governance
Compliance
Financial Accounting Standards Board (FASB)
Financial Analysis
Risk Management
Data Governance
References
Further Reading