Ad Ops
Ad Operations (aka "online ad operations", "online advertising operations", "online ad ops", "ad ops", and "ops" in the trade) refers to processes and systems that support the sale and delivery of online advertising. More specifically this is the workflow processes and software systems that are used to sell, input, serve, target and report on the performance of online ads. Digital or online advertising is a subset of the advertising industry that references electronic communication promotions and marketing. This can include but is not limited to website display advertising (banner ads or rich media advertising), text advertising, search advertising (paid search results), online video advertising, mobile and device advertising (sms, wap display ads, video, application ads), email display ads and text advertising. These advertisements are a form of revenue generation for content providers. The primary function of ad operations is to fulfilling the order of sale (also called an "ad campaign" or "media ad buy") purchased directly by or on behalf of an advertiser (also called a "direct marketer" or a "client"). Therefore ad operations is a group that directly responsible for revenue generation.[1]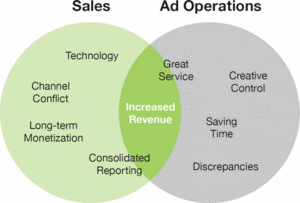 source: ExactDrive

Ad Ops Team - The Main Objective[2]
Ad Operations teams input, serve, target, optimize, manage, and report on the performance and traffic of online ads. Ad Operations doesn't leave the fate of a campaign to chance. After campaign launch, an Ad Ops team closely monitors the ads to ensure they are doing their job: make the website publisher money. A competent Ad Operations team monitors ad traffic continuously. It is an ongoing relationship that is tweaked and adjusted based on data collected by the invisible hands of the Ad Operations department, team, or company. But not every Ad Operations team is created equal. Some are separate entities and others are departments within digital content publishers or ad agencies. Whether it's a solo group or distinct part of a larger company, the primary function of Ad Operations is the same: fulfill the ad campaign. What is the role of the ad campaign? To bring in and retain revenue. In more technical terms, Ad Operations implement the ad buy, the amount of advertising a client wants to run for a definitive window of time, which is dictated by the insertion order or "IO." Ad Ops work with sales departments, advertisers, technology teams, and clients to ensure smooth delivery of the campaign. A good Ad Operations team "takes the temperature" of the insertion order regularly by generating ad server reports that communicate a campaign's status and directly inform the team's next steps.

Before consumers' attention was fragmented between desktop, mobile, and tablets as it is today, there were less moving parts involved in the end-to-end, brand-to-consumer advertising process. We now live in a multi-screen digital world, and publishers and advertisers have turned to programmatic buying and selling technology to capitalize on this fragmentation. While more screens offer new opportunities, connecting with target audiences across multiple devices comes with its own set of challenges. Struggling to keep pace with consumers' viewing patterns, pubs and advertisers have turned to 3rd-party ad tech vendors to fill in the gaps created by the changes in viewership behavior. The role of Ad Ops has never been more important because there have never been so many moving parts to the brand-to-consumer advertising funnel. Ad Ops has a great opportunity to empower decision makers by providing some clarity to the currently-murky ad tech ecosystem.[3]
References
Further Reading