Applicant Tracking System (ATS)
An Applicant Tracking System (ATS) manages the recruiting and hiring process, including job postings and job applications. It organizes and makes searchable information about job seekers. As its name implies, an ATS tracks candidates through the hiring process. It helps scheduling, issues notification alerts and sends automated emails to candidates. But these systems are far more than organizers. An ATS is also used to cull candidates. It conducts a preliminary analysis of the applicants to find the best fits for a job. The goal is to speed HR's review of job applications and resumes. It may look for keywords or use AI-type algorithms that run a deeper analysis of the job applicant.[1]
During the Great Recession, employers were flooded with applications and wanted features that discouraged and filtered out unqualified candidates. This resulted in many of the bloated application processes and indiscriminate filters found in ATS today. Unfortunately, improving unemployment rates won't mark the end of ATS. While outdated systems are still in use at some large companies, we are seeing new ATS being developed for the modern age. As employers fight for the best talent, candidate experience is becoming more of a priority. Automation and ranking systems aren't going away; they're just becoming more technical as recruiting software begins leveraging AI. An ATS-optimized resume is the first step to getting past the bots and face-to-face with an actual person. Jobscan tests and researches common ATS to help job seekers avoid the traps of these systems, from the outdated to the cutting edge.[2]

Functions of Applicant Tracking System (ATS)[3]
A dedicated ATS is not uncommon for recruitment specific needs. On the enterprise level it may be offered as a module or functional addition to a human resources suite or Human Resources Information System (HRIS). The ATS is expanding into small and medium enterprises through open source or software as a service offerings (SaaS). The principal function of an ATS is to provide a central location and database for a company's recruitment efforts. ATSs are built to better assist management of resumes and applicant information. Data is either collected from internal applications via the ATS front-end, located on the company website or is extracted from applicants on job boards. The majority of job and resume boards (LinkedIn.com, Monster.com, Hotjobs, CareerBuilder, Indeed.com) have partnerships with ATS software providers to provide parsing support and ease of data migration from one system to another. Newer applicant tracking systems (often referred to as next generation) are platforms as a service whereby the main piece of software has integration points that allow providers of other recruiting technology to plug in seamlessly. The ability of these next-generation ATS solutions allows jobs to be posted where the candidate is and not just on job boards. This ability is being referred to as Omnichannel Talent Acquisition. Recent enhancements include use of artificial intelligence (AI) tools and natural language processing (NLP) to facilitate intelligent guided semantic search capabilities offered through cloud based platforms that allow companies to score and sort resumes with better alignment to the job requirements and descriptions. With the advent of ATS, resume optimization techniques and online tools are now used by applicants to increase their chances of landing an interview call.

How Applicant Tracking Systems Work[4]
When applicants apply for a job online, their contact information, experience, educational background, resume, and cover letter are uploaded into the database. The information then can be transferred from one component of the system to another as candidates move through the hiring process. Company recruiters can review the applications, applicants can be sent automated messages letting them know their applications have been received, online tests can be given, hiring managers can schedule interviews, rejection letters can be mailed, and human resources personnel can use the same information to put individuals on the payroll once they are hired. These integrated systems streamline the recruiting and application process for employers.

Choosing an Applicant Tracking System (ATS)[5]
Below is our infographic highlighting these essential steps, followed by an overview of what you should cover throughout each of these stages.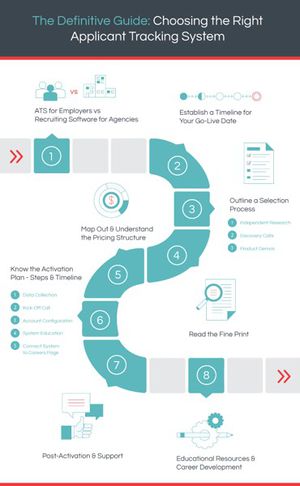 source: Newton
Know the difference between Applicant Tracking Systems for employers & Recruiting Software for external agencies: Applicant Tracking Systems for Employers – Designed for HR and recruiting to manage and organize internal hiring processes. These systems maintain the one to one relationships between an employer's candidates and the internal staff that interviews them. Recruiting Software for Agencies – Used by recruiting agencies, executive search firms, and staffing agencies to manage external recruiting projects. These systems are designed to help recruiting firms manage candidates and their contact information for many employers.
Establish a timeline for your go-live date

When do you want to have your applicant tracking system fully activated? Take that date and work backwards.

Outline a selection process:

1. Independent Research – Identify a core group of potential ATS's for your company
2. Discovery Calls – Refine your list down to a select few
3. Product Demos – Determine which ATS fulfills your core needs

Read the fine print: Contracts can be tedious but it is very important that you understand the terms set forth by them. Be wary of vendors that require multi-year contracts. They may be looking to "lock you in" so that you don't have the freedom to switch systems.
Understand the pricing]] structure: The most common pricing strategy is to charge by user and/or by feature. Avoid systems that charge per job (posting) or per employee.
Know the activation plan – Steps and Timeline:

Stage 1. Data Collection
Stage 2. Kick-off Call
Stage 3. Account Configuration
Stage 4. System Education
Stage 5. Connect the System to Your Careers Page

Post-activation and support: You're looking for a partner, not just another vendor. Ongoing support is essential for the successful roll-out and adoption of an applicant tracking system at your company.
Educational resources and career development: Beyond support, your ATS vendor should provide you with ongoing educational resources that not only improve your knowledge of the application but also help you grow in your career.

Benefits of Applicant Tracking System (ATS)[6]
Many employers have already implemented or are thinking to implement new recruiting solutions and tools such as applicant tracking systems to help them cope with the changes, but what are the actual key benefits of using an ATS? These undeniable benefits of using an ATS might prove crucial to your business, be it either on short or long term, so they must definitely be taken into account when re-thinking your recruiting strategies.
Streamlines and automatizes the recruitment process by providing a powerful software interface that helps manage the recruiting process and ensure best practices.
Helps employers focus on growing a quality workforce, instead of overburdening their schedule with the administration related to the hiring process.
Assists in finding candidates by leveraging existing traffic due to its integration with job boards, job board aggregators and social media channels.
The cloud environment makes it instantly available and it proves to be easier and more cost-efficient than using an in-house software managed on the premises.
Increases social reach due to its mobile functionality, since 78% of candidates use mobile job search apps, and interact in the social media environment.
Lets you build an updated talent database by giving you easy access to the quality resumes it collects and that you can draw from when needs arise.
It is cost efficient and improves the cost per hire, by automating time-consuming tasks and reducing the usual recruitment-related costs.
It is time saving and reduces the time to hire since the sorting and filtering through the resume overload is now automated.
Refines the candidate experience by providing a positive hiring experience to candidates and converting them into brand ambassadors.
Redefines employment metrics by providing real-time analytics which offer valuable insights into the recruiting process.
Helps materialize your sourcing strategies by evaluating the best performing sources, since it can provide insights on where the candidates are coming from.
Automates data collection by receiving applications in multiple ways, requiring no effort from neither employer nor candidate, thus eliminating data entry errors.
Centralizes all candidates in a single talent database, where employers can easily find, filter and screen them.
Automates communication by allowing employers to create automated email templates and quickly respond to candidates informing them about recruitment decisions.
Enhances collaboration in the recruiting team by allocating different roles & responsibilities and also providing the possibility of rating candidates and adding feedback for other team members.

Challenges to ATS Implementation[7]
Most companies get an ATS to solve existing problems, so it can be unpleasant when there are challenges that inhibit implementation of the system. Fortunately, anticipating these challenges can help your company to be prepared, so that implementation and subsequent use goes as smooth as possible.
Issues with Integration: Issues integrating ATS software can be a real thorn in the side when you are pushing to get to the "go live" date quickly. This is a challenge that should be addressed during the ATS selection process by making sure that the chosen system is compatible with the systems that your company is currently using. Integrating the ATS with currently used employee databases, payroll systems, Learning Management Systems (LMS), and document management programs will help to create synergy.
Difficulties Streamlining Hiring Process: While an ATS can do a lot to streamline the hiring process, the software cannot work miracles. If the hiring process was choppy and problematic before the ATS was implemented, recruiters must find a way to make the actual system better by changing steps, clarifying workflow check points, or otherwise internally shifting focus before automating those steps using the ATS. Doing this may take training and collaboration between all team members included in the hiring process.
Trouble Converting Processes: A technical difficulty may come up in the form of an inability or lack of understanding in how to convert processes from analog to digital. The individual that defines the rules in the new system should have an integral understanding of the way that the company handles referrals, referral tracking, reference checks, onboarding, and many other key aspects of the hiring process so that these can be effectively converted without being completely transformed. This aspect of implementation can make or break the ATS project.
Disappointing User Adoption: After the technical part of ATS implementation has been completed, it is necessary to manage the changeover to the new hiring system. It is common for recruiters to default to old systems such as emailing rather than using the new system for as long as possible, so establishing a changeover date or other guidelines for the transition may help to clarify expectations. Beware of complaints, as these may actually be veiled excuses not to use the new system, but be sure to look into all feedback given.
Poorly Defined Goals: Poorly defined goals can be a roadblock to success with a new system and can hold up the implementation process. In some cases, goals are poorly defined because the separate departments responsible for hiring know only their part in the hiring process as opposed to understanding the entire process from start to finish. Holding a company meeting to define ATS goals before implementation may help to streamline implementation and yield better results after go live.
Issues with Making ATS Mobile Friendly: While ATS may be accessible by mobile, a company may miss the mark by failing to create a mobile-friendly website through which employees can find out more about the company. Failure to use mobile options available with an ATS may also cause a company to miss out on mobile traffic that could form a huge part of the candidate pool. Additionally, a company may miss this opportunity by selecting an ATS that doesn't support mobile, which is a mistake that could affect future system relevancy and ROI.
See Also
References
Further Reading