Collaborative CRM (CCRM)
Collaborative Customer Relationship Management (Collaborative CRM or CCRM) is a CRM approach in which the customer interaction data of an organization is integrated and synchronously shared to enhance customer satisfaction and loyalty for maximized profitability and revenue. Collaborative CRM integrates customers, processes, strategies and insight, allowing organizations to more effectively and efficiently serve and retain customers.[1]
Collaborative CRM, a highly effective method of communication as it covers direct interaction with customers including feedback and issue reporting. Interaction can take place through web pages, email and Automated Voice Response. As an important approach to customer relationship management, Collaborative CRM greatly improves on services offered and addresses such issues as sales, technical support and marketing. As a dynamic tool it allows a business to share any information collected from interactions with customers. By way of example, as a company you might want customer feedback that is gathered from a technical support session, which could inform your marketing staff about services of interest to customers. Overall, the primary purpose of Collaborative CRM is to improve the quality of customer service and to increase customer satisfaction.[2]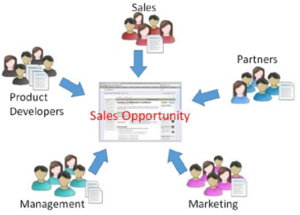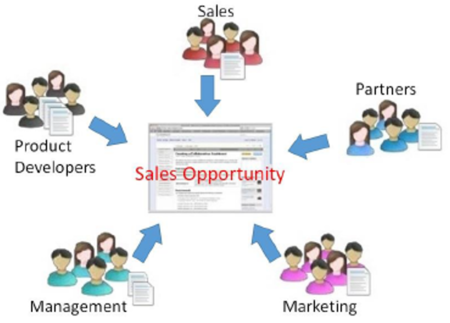 source: Tutorials Point

Aspects of Collaborative CRM[3]
Collaborative CRM can be broadly identified by two aspects:
Interaction Management- This management process deals with designing the communication or interaction channel process within an organization which is specific to customer interaction and finally enhancing the extent of communication between both the parties. The communication channel depends on the customers' preference on how they require the interaction to be dealt with. Some customers prefer to be contacted via phone and email because of more comfort ability or non availability of manual interaction due to no time or unavailability of resources. Some of them prefer to have live online meeting or web meeting to reduce the travel time and lack of time or may be they prefer more clarified real time environment by sitting at desk and transact. Some of the customers insist for agent conducted services which is often face-to-face interaction as they believe that this way is more efficient and conclusive. Depending on these channels of interaction it is very important for organization to fulfill these needs of customers and gather information from them and implementing it into the CRM before interacting to enhance the interaction power.
Channel Management- After analyzing and implementing the interaction medium it's important to enhance the power of channels through which the customers are interacted. By using latest technological aspects for improving channel interaction could help to contact customers in an efficient way and gather information from them to help organization to understand the customers. Hence it is important for an organization to clearly arrange the channel responsibilities and duties.

Collaborative CRM and its importance to build a collaborative strategy[4]
Collaborative Strategy is a method where a company gives a common platform to build synergy among all stakeholders for business process improvement, product innovation and pricing, customer or employee retention. Steps to build a successful collaborative strategy:
Understand the business goal: An enterprise may have different collaborative strategy for different business needs. For example: Strategy for business process improvement may differ from employee retention strategy. So business must define their goal that they want to achieve using collaborative strategy.
Identify stakeholders: It is another important task for an enterprise to determine who can access business information. Data visibility rules must be set to protect data from being stolen or leaked.
Choose technology based on business needs: There are lots of fancy applications available in the market but all of them may not have same capabilities to meet your requirements. Beside business requirement, you must consider other factors also like software cost and scalability, development duration, maintenance effort. This is the place where collaborative CRM comes into Collaborative Strategy.
Measure the effectiveness of the strategy: Business must have some KPIs which will tell how effective the strategy was, can you continue with the same strategy or it needs any modification.

Advantages of Collaborative CRM[5]

Collaborative CRM enables valued customer interaction across the channels.
Entangles web or online collaboration to cut down service cost of customers.
Collaborative CRM integrates customer interaction with call centers to enable multi-channel interaction with customers and helps them make understand the overall process vales.
Collaborative CRM describes a view of integrated customer's details during interaction to server them in a better way.
This CRM solution brings customers, process and strategies and data together so that organizations could serve and retain customers more efficiently.
See Also
Customer Relationship Management (CRM)
Analytical CRM
Operational CRM
References
Further Reading
3 Ways Collaborative CRM Strengthens Engagement IT Toolbox
The Future of Collaborative Customer Relationship Management Springer
What is Collaborative CRM Techtarget