Human Capital Management (HCM)
Human capital management (HCM) is a set of practices related to people resource management. These practices are focused on the organizational need to provide specific competencies and are implemented in three categories: workforce acquisition, workforce management and workforce optimization.[1]

In a layman's language managing workforce of an organization refers to human capital management. Human Capital Management is defined as the process of acquiring, training, managing, retaining employees for them to contribute effectively in the processes of the organization. In simpler words, upgrading the existing skills of an employee and extracting the best out of him/her refers to human capital management. Senior management must ensure timely growth and development of every individual concerned for him/her to contribute efficiently when required. The key objective of every organization should be to train its employees so that they become efficient resources later on. In human capital management, organizations treat their employees as important resources that play an instrumental role in productivity of the organization. The development and management of individuals in line with their key responsibility areas not only make them an indispensable resource in the future but also ensure their hundred percent contribution towards the organization.[2]

Why Human Capital Management (HCM)[3]
Cloud-based solutions. HCM technology is extremely cost-effective. Cloud-based HCM applications reduce the need for IT support while providing access from any location, with any device. HCM allows multiple customers to access the same application simultaneously. Hardware/software upgrades. The cloud technology's multi-tenancy architecture assures you of always working with the latest version. No more down time while updates are processing. Data security. Data in a cloud-based HCM system provides secure data effortlessly, maintaining high standards and rigorous adherence to government compliance regulations. Important information is protected using superior firewalls and encrypted transmissions. Shorter learning curve. Using a single plug-and-play solution consolidates numerous tasks, leaving more time to focus on vital HR related issues. Tracking employee lifecycle.Capabilities for workforce management and core HR are commonly expected from HCM platforms, but some may overlook how beneficial HCM can be to the entire employee lifecycle. Better employee engagement. No matter where employees are located, they can access personal data, benefits information, requests for PT and payroll, relieving HR from time-consuming data management.

Functions of Human Capital Management (HCM)[4]
The functions of HCM software are generally organized into the following categories:
Core HR, including payroll, benefits administration, onboarding, compliance management and maintenance of employee data.
Talent management, is the collective term for the process of recruiting, developing, and retaining employees. Talent management suites consist of distinct yet integrated modules for recruitment, performance management, compensation management, learning, and succession planning.
Workforce management, the set of functions for deploying employees with the necessary skills to particular regions, departments or projects. It includes time and attendance management, workforce planning, labor scheduling, and budgeting.
Service delivery, including HR help desks, intranet portals, employee self-service, and manager self-service.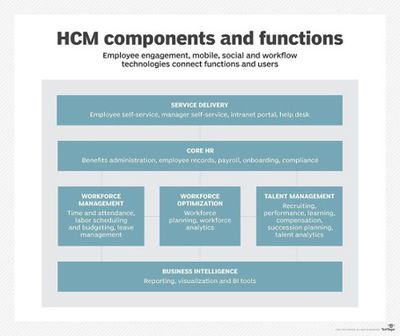 source: Techtarget

HCM suites also typically have technologies that cut across functional areas, notably analytics, social media, collaboration, and employee engagement. Many also allow mobile access to HR data and applications, especially the self-service features. Analytics is usually the critical element in strategic human capital management, which seeks to more closely align HCM with the financial success of the company. Sometimes the analytics tools are localized to a particular HCM function. For example, workforce analytics can help optimize decisions made in the workforce planning module, while social media and collaboration tools can facilitate the frequent feedback and communication required for continuous performance management.

HCM Vs.HRMS[5]
HCMThe lines between HCM software and other types of human resources management systems (HRMS) software are becoming more blurred as time passes. While the terms are often used interchangeably and some vendors offering one have started to adopt functionality that is common to the other, there are some distinctions that differentiate proper HCM software from HRMS when the terms are used strictly. On a basic level, the goal of HCM software is to strengthen the workforce, while the goal of HRMS is to make it as easy as possible to manage all tasks related to human resources management.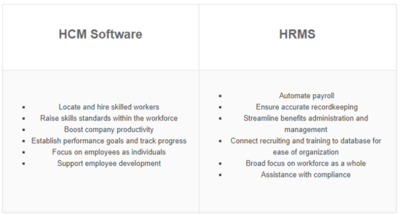 source: HrPayrollSystems.net

It is unlikely that HCM software will become more differentiated from other types of HR software in the future – it is much more likely that the types of software will become more intertwined until there really is no significant difference. As HCM blends and merges with other types of software, the efficiency with which information pertaining to human capital is collected, stored and used is bound to improve. Hopefully, the focus on the employee as an individual and the empowering characteristics of the solution will not be lost. With analytics utilized in more creative and constructive ways, the merging trend will likely continue until financial data and other pertinent company information can also be quickly cross referenced with HCM and HR data to spot patterns and make quick decisions. Since most systems already use cloud-based functionality, all of this is likely to be accessible from any mobile device by managers and employees with the proper authorizations in the near future.

Human Capital Management Metrics and Solutions[6]
Human capital management (HCM) is a business philosophy that emphasizes the enhancement of employees while viewing them as a quantifiable asset whose future value can be increased through investment. Employees are perceived as assets that can be provided with clear performance expectations, against which they can be rated and rewarded based on their progress over time. Human capital management involves providing employees with the tools and training needed to accomplish stated performance goals, as well as metrics for monitoring and assessing the progress made toward these goals. HCM is also typically a key component of a company's comprehensive enterprise resource planning (ERP) system.

Benefits of Human Capital Management (HCM)[7]
HCM is a vital part of any Human Resource Management System and can help a business enterprise reap immense benefits such as:
Cost Savings
Increased efficacy of payroll staff
Greater efficiency of HR department
Better employee engagement
Higher rate of retention of employees
Convenient payroll vendor match
Customised integrated payroll service
Increased efficiency of reporting
Better access to information
However, the advantages of an optimal HCM system are not confined to the above-mentioned benefits, they also extend to:
Increased Administrative Efficiency
Flawless Communications
Consistent Operations

Human capital management (HCM) refers to a systemized set of actions taken by a company in service of optimizing the value of its human resources. HCM strategy considers a company's human resources — or employees — to be assets, and that the value of these assets can be effectively increased through strategic management. These management tactics are deployed through the use of HCM software. The HCM definition is nearly synonymous with that of human resources management (HRM) software in modern business practice. HCM functions include any processes designed for employee recruitment, monitoring, management, and development, providing users with access to employee data, and providing valuable workforce reporting and analytics.[8]
See Also
References
Further Reading