Impact Sourcing
Impact Sourcing is a global initiative to bring internet-based jobs to disadvantaged communities.[1] Basically impact sourcing is a way to take digital work that is being offshored and direct it towards workers and areas that would not typically access it.[2]


source: Cloudfactory

Origins and Value Proposition of Impact Sourcing[3]

Impact sourcing first evolved as a new sub-sector of the BPO industry in India as rising costs in urban centers forced many BPO companies to focus on higher end services such as voice. New BPO companies sprang up in rural India where they enjoyed both lower costs and attrition rates. Those BPOs, such as RuralShores, employed high school graduates and university students from agrarian, low-income families. In 2008, the South African government launched the Monyetla Work Readiness Program in which over 1,000 unemployed youth, mostly high school graduates, were trained for work in the country's BPO sector; over 77% of the trainees found employment. In 2010, The Rockefeller Foundation launched an initiative focused on poverty reduction through employment to further its core activities related to supporting "sustainable livelihoods" among poor and vulnerable populations. The Monitor Group and Rockefeller Foundation, borrowing from impact investing terminology, formally coined the term "impact sourcing" in a 2011 report that focused on the beneficial job creation aspect of the BPO industry. In 2012, the William Davidson Institute partnered with The Rockefeller Foundation to assess barriers to partnerships between BPO providers and ISSPs, to assess which countries have the highest potential to develop impact sourcing sectors, and to perform field research to better understand service provider best practices and the impacts of employment on workers and their families.
Impact sourcing is viewed as an effective market-based solution to poverty alleviation and shows the potential to create millions of jobs for the young and those living in poverty. While long-term studies have yet to take place, impact sourcing has begun to demonstrate positive impacts on multiple aspects of well-being for workers and their families. Studies indicate that impact sourcing employees benefit with income increases of anywhere from 40 percent to 200 percent. Employment in Impact Sourcing also serves as initial entry point into the formal economy, which leads to valuable job experience that can help workers pay their way through school, receive higher education and move towards better careers. Impact sourcing also has the potential to benefit traditional BPO service providers, who are actively seeking alternate lower-cost destinations (i.e. smaller cities and/or rural towns) and pools of new and more affordable qualified workers. While the potential benefits of impact sourcing are compelling, the sector faces challenges that have prevented it from reaching its full potential. These obstacles include the ability of ISSPs to secure new work and clients, as well as the ability for ISSPs to partner with and sub-contract for larger, more traditional BPO service providers.

Impact Sourcing - Why it Matters[4]
Impact sourcing has the potential to engage high potential individuals in meaningful employment opportunities and make a real difference in their lives. These individuals in the absence of impact sourcing would not have access to jobs or their situation/background would put them at a disadvantage as compared to mainstream workers. Impact sourcing provides these individuals a platform that helps boost their confidence and provide opportunities to bring themselves at par with the mainstream workers through direct and indirect impact. So one impact worker can potentially lead to a much wider impact that uplifts many more in the community.
Direct impact: Our research shows that impact sourcing typically leads to an improvement in workers' lifestyle (40-200% increase in individual income), professional development, increase in confidence levels, reduction in tendency to migrate, and reduced stress levels.
Indirect impact: The increase in individual income typically benefits 3-4 family members due to increased spending power for family and household and facilitates a stable environment. This is especially empowering for women. In addition, it strengthens communities by creating a 3.5-4.0x multiplier effect on the local economy and improves future employability of disadvantaged individuals.

Benefits of Impact Sourcing[5]

Low cost: Impact sourcing offers significant cost arbitrage over source locations for offshore BPO. At 70 percent+, this arbitrage is comparable than the arbitrage offered by traditional offshoring. In fact, as compared to traditional sourcing, impact sourcing offers savings across both "in-house employment" and "outsourcing" models. For example, in South Africa, people costs for impact workers are 8-10 percent lower than traditional workers when averaged over a three year period for in-house employment. In India, impact sourcing offers 35-40 percent savings as compared to traditional BPO in an outsourced model.
Proven and reliable delivery: Research shows that the performance achieved from impact sourcing is comparable to traditional BPOs with a robust track record of meeting client SLAs/KPIs and expectations. There are multiple examples as illustrated in the case studies of Teleperformance, Accenture, RuralShores, and SureHire. Even in cases where the performance of impact workers is not tracked, there is strong endorsement of performance being comparable to traditional workers. Furthermore, companies have successfully mitigated the concerns (e.g., lack of talent, data security, and infrastructure) linked to service delivery using impact sourcing by focusing on skills development initiatives and replicating security infrastructure similar to traditional sourcing.
Large and untapped talent pool: Given most locations in Africa (South Africa, Kenya, Nigeria, Egypt, Ghana, Morocco) and Asia (India and Philippines) where impact sourcing is largely used have a high unemployment rate among the youth, impact sourcing provides an opportunity to access this large, untapped qualified pool. For example, there are over 155,000 unemployed graduates in South Africa. Over 35 percent graduate youth (age 15-29 years) in rural India are unemployed. Through impact sourcing companies tap into this alternate pool to augment talent supply. For example, impact sourcing has become TCS' primary source for entry-level talent during non-campus-hiring season and enables extending its recruitment throughout the year. A detailed case study on TCS illustrates this in greater detail and provides insights on its outcome. This talent pool is especially suited to serve the domestic market. Companies leverage this talent pool as source of competitive advantage for domestic service delivery, given local language capabilities and cost arbitrage. For example, RuralShores uses impact sourcing for vernacular language support for domestic market.
Stable and engaged workforce: One of the strongest elements of impact sourcing value proposition is the stability and motivation levels associated with impact workers. Our research shows that impact workers have 15-40 percent lower attrition than traditional BPO workers and exhibit high motivation levels that leads to improved performance over a period of time and lower hiring and training costs. This is endorsed by many companies using impact sourcing. A study by Careerbox comparing the performance of impact workers with traditional workers shows about 10 percent higher retention for impact workers measured after 90 days and 180 days of recruitment. The lower attrition rates are driven by the strong emotional bond and loyalty towards the employer that helped educate, train and provide employment to the disadvantaged worker. In addition, impact sourcing provides a strong fit with personal/family aspirations (e.g., opportunity to work in local community without migrating to urban centers). Furthermore, for most impact workers BPO is a preferred career option compared to alternatives (e.g. agricultural, industrial labor), as it offers higher salaries and better work environment.
Social Impact: These four benefits mentioned above — namely, low cost, reliable delivery, access to alternate talent, and stable workforce — are built around the fifth one — the social impact. In fact, the value proposition for impact sourcing exists because of the types of employees hired. Impact sourcing employees are high potential but disadvantaged economically, socially or some other way. For example, they may come from a low-income area or not have had the opportunity for a university education. Impact sourcing offers these types of people an opportunity to earn and build transferable workplace skills. As a result, employees improve their well-being, and the well-being of their families and communities. (See my previous post for a full explanation.) A study done by RuralShores among 650 respondents across 11 of its centers shows significant improvement in the living standards of its employees after joining RuralShores. To illustrate this with a few indicators, 46 percent of its employees purchased mobile phones, 56 percent purchased consumer durable goods, average of 20 percent increase in family savings. This is echoed in Accenture's experience of impact sourcing where annual income of impact workers increased by ~33 percent post employment.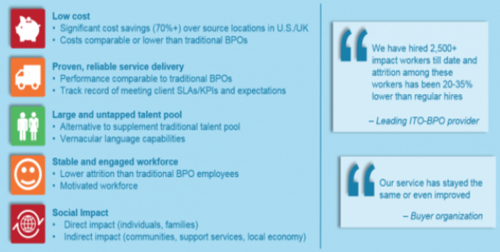 source: Rockefeller Foundation

The Global Impact Sourcing Coalition[6]
The Global Impact Sourcing Coalition is a forum of the world's leading companies committed to incorporate and scale impact sourcing as a business strategy. Members of the coalition are united behind a shared commitment to advocate for this inclusive employment practice and demonstrate how impact sourcing leads to business growth and employee diversity and engagement. Member companies share a commitment to provide skills training and career advancement opportunities for individuals around the world who previously had limited employment prospects. The Global Impact Sourcing Coalition will create a globally accepted standard and approach for impact sourcing. This will help global buyers scale up their commitment and employ a consistent approach across markets, while empowering service providers to communicate their impact sourcing capabilities and impact through a common methodology that meets their clients' needs.
See Also
IT Sourcing (Information Technology Sourcing)
Outsourcing
Economic Impact Analysis

References
Further Reading