Action-Centered Leadership
John Adair's simple Action-Centred Leadership model (action-centered if you prefer the US spelling) provides a great blueprint for leadership and the management of any team, group or organization. Action Centred Leadership is also a simple leadership and management model, which makes it easy to remember and apply, and to adapt for your your own situation. Good managers and leaders should have full command of the three main areas of the Action Centered Leadership model, and should be able to use each of the elements according to the situation. Being able to do all of these things, and keep the right balance, gets results, builds morale, improves quality, develops teams and productivity, and is the mark of a successful manager and leader.[1]
Action-Centred Leadership is so called because it highlights the key actions that leaders have to take when managing their teams. And it's particularly helpful because it groups these responsibilities together under three key areas:[2]
Task: Achieving the team's goal.
Team: Developing and building your team, so that it's ever more effective.
Individual: Helping individuals develop their full potential in the workplace.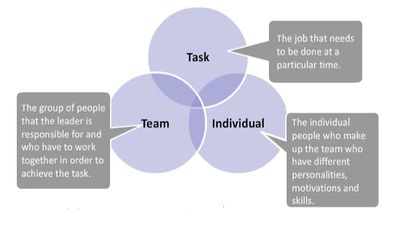 Source: Startup Pulse
See Also
Leadership<
Transactional Leadership
Autocratic Leadership
Democratic Leadership
Strategic Leadership
Team Leadership
Cross-Cultural Leadership
Facilitative Leadership
Laissez-Faire Leadership
Transformational Leadership
Coaching Leadership
Charismatic Leadership
Visionary Leadership
Action Logic
Action Inquiry
Action Learning
Action Priority Matrix (APM)
Action Research
Action Science

References