Adaptive Strategy
Adaptive Strategy is a strategy that breaks free of static plans and is an ongoing learning process of a self-correcting series of intentional experiments.

Adaptive Strategy Vs. Classic Strategy[1]
In an article in the Stanford Social Innovation Review on adaptive strategy, Dana O'Donovan and Noah Rimland Flower show how adaptive strategies differ from classical strategies in the image below: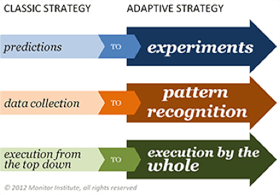 source: IntelligentHQ

They elaborate: "Creating strategies that are truly adaptive requires that we give up on many long-held assumptions. As the complexity of our physical and social systems make the world more unpredictable, we have to abandon our focus on predictions and shift into rapid prototyping and experimentation so that we learn quickly about what actually works."
To provide structure to this fluid approach, they focus on answering a series of four interrelated questions about the organization's strategic direction: what vision you want to pursue, how you will make a difference, how you will succeed, and what capabilities it will take to get there.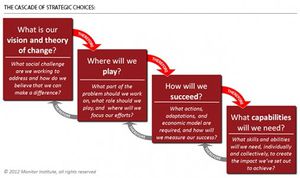 source: ssir.org

Adaptive Strategy - Why it Matters[2]
Here's why adaptive strategy design matters and how to get it started:

Styles of Adaptive Strategy[3]
There are many styles of adaptive strategy that can help companies achieve business sustainability during a turbulent environment. A company's optimal choices are mainly a function of the environment ― especially the rate at which it is changing, the predictability of change, and the degree of change required. There are four broad styles of adaptive strategy.
References
Further Reading